Il canto narrativo detto anche ballata (in inglese Ballad) è un canto che racconta una storia (il termine risale al medioevo, con il significato di "raccontare delle storie con il canto girovagando"), ossia è un canto epico.
In inglese il termine identifica ogni tipo di canzone narrativa e non necessariamente le canzoni popolari più antiche, ovvero con ambientazioni medievali.
La ballata cavalleresca riflette la vita contemporanea della piccola e grande nobiltà e tratta per lo più di storie d'amore anche se spesso infelice: sono affrontati temi "scottanti" come il rapimento, lo stupro, l'incesto, l'adulterio e l'omicidio per gelosia o per vendicare un tradimento, riflessi di un'antica civiltà in cui i deboli (di forza, di carattere o di cuore, di livello sociale basso) avevano ben poche aspettative di vita.
The narrative song also called ballad is a song that tells a story (the term dates back to the Middle Ages, with the meaning of "telling stories with singing wandering"), that is an epic song.
In English the term identifies each type of narrative song and not necessarily the oldest folk songs (medieval settings).
The chivalrous ballad reflects the contemporary life of the small and great nobility and deals mostly with stories of love even if often unhappy: "hot" themes are dealt with such as rapture, rape, incest, adultery and murder for jealousy or to avenge a betrayal, reflections of an ancient civilization in which the weak (of strength, character or heart, low social level) had very little life expectancy.
MURDER BALLADS
Un tempo la ballata, era il modo di rappresentare la realtà del quotidiano, figli o mariti che partivano per la guerra, episodi tragici tratti dalla cronaca.
Tali storie più truculente sono anche dette "street ballads" o "murder ballads" e si diffondevano di bocca in bocca creando dei gruppi di sostenitori accaniti; sono canzoni tipiche dell'Ottocento ma già diffuse e in pieno sviluppo dalla metà del 1600 riferite a fatti di cronaca popolare, anche se rappresentativi di cliché ancora attuali nostra società: la ragazza madre che uccide il figlio appena nato, l'amante che massacra di botte o uccide la donna che ha messo incinta, le innamorate tradite che si vendicano, fratelli e sorelle che si uccidono tra loro per gelosia, rivalità, eredità.
Il fatto di cronaca "scandalistica" diventa stereotipo (o meglio archetipo come Caino e Abele): così fratelli e sorelle si uccidono fra di loro per gelosia o per rivalità a causa di una ragazza o di un bel giovanotto e il tema dell'incesto fa spesso capolino mascherato da un eufemismo.
Once the ballad was the way of representing the reality of daily life, sons or husbands who left for the war, tragic episodes taken from the chronicle.
Such truculent stories are also called "street ballads" or "murder ballads" and they spread from mouth to mouth creating groups of avid supporters; They are typical songs of the nineteenth century but already widespread and in full development since mid-1600 referring to events of popular news, even if representative of clichés still current our society: the mother girl who kills the newborn son, the lover who massacres his woman who got pregnant, the betrayed lovers who take revenge, brothers and sisters who kill each other out of jealousy, rivalry, legacy.
The fact of tabloid chronicle becomes stereotype (or rather archetype as Cain and Abel): so brothers and sisters kill each other out of jealousy or rivalry because of a girl or a handsome young man and the theme of incest does often peeping out of a euphemism.
LOVE TROUBLES
Le ballate parlano spesso d'amore, sono delle "soap opera" ante litteram, e non tutte terminano con un lieto fine, spesso i due amanti per una serie di impedimenti, non possono congiungersi in matrimonio e finiscono per morire di crepacuore.
Corollario all'amore romantico ma non socialmente approvato, è il nodo d'amore tra rosa e rovo, (Rose-Briar motif) che cresciuti dalle rispettive tombe degli amanti si congiungono e intrecciano tra loro.
Nelle ballate anglo-scozzesi il nodo d'amore tra rosa e rovo simboleggia l'amore che prevale sempre, anche se nella morte!! 
Nelle ballate anglo-scozzesi il nodo d'amore tra rosa e rovo simboleggia l'amore che prevale sempre, anche se nella morte!! 
ARCHIVIO

The ballads often speak of love, they are "soap opera" ante litteram, and not all end with a happy ending, often the lovers for a series of impediments, can not join in marriage and end up dying of heartbreak.
A corollary to romantic love but not socially approved, it is the knot of love between rose and thorn, which from the respective lovers' graves they intertwines with each other.
Rose-Briar motif
BROKEN TOKEN BALLADS
Altro filone fecondo è quello delle "return songs" il protagonista (sotto mentite spoglie) Willie o John o George, o Thomas Riley -Rally, Reilly-, pone delle domande per indagare sulla fedeltà della donna rimasta sola perchè il suo vero-amore è partito per la guerra. Il modello a cui tutto il genere si riconduce ha un'origine medievale ossia la ballata "Hind Horn", a sua volta tratta dal romanzo cavalleresco King Horn (vedi). Nella maggior parte di queste storie l'uomo ritorna dopo molto tempo e, non riconosciuto dalla donna, mette alla prova la sua fedeltà corteggiandola. Ma la fanciulla rifiuta dicendo di non potergli dare il suo cuore perchè è in attesa del ritorno del suo vero amore. L'uomo così rassicurato, si rivela alla donna e i due coronano il loro amore con il matrimonio.
La storia richiama le figure archetipe di Ulisse e Penelope, quando Ulisse, che ritorna dopo vent'anni dalla guerra (e dalle sue peripezie nei mari) alla sua Itaca sotto mentite spoglie, non è riconosciuto dalla moglie, e la interroga per mettere alla prova la sua fedeltà.
E' anche un tipico tema da romanzo sugli uomini che ritornano dalla guerra cambiati nel fisico e nella psiche o che sono palesemente un'altra persona, accettata nonostante tutto dalla moglie per lo più per motivi pratici; la moglie finisce poi per preferire questa nuova o diversa persona al precedente marito!
Another fertile strand is that of the "return songs" the protagonist (in disguise) Willie or John or George, or Thomas Riley -Rally, Reilly-, asks questions to investigate the fidelity of the woman left behind because her true love is gone to war. The model to which the whole genre refers is of medieval origin, namely the "Hind Horn" ballad, in turn taken from the chivalric novel King Horn (see).
In most of these stories the man returns after a long time and, not recognized by the woman, tests her loyalty by courting her. But the girl refuses, saying she can not give him her heart because she is waiting for the return of her true love. The man so reassured, reveals himself to the woman and they crown their love with marriage.
This story recalls the archetypal figures of Ulysses and Penelope, whith Ulysses, who returns twenty years after the war (and his vicissitudes in the seas) to his Ithaca in disguise,that he is not recognized by his wife, and asks her to test her loyalty.
It is also a typical novel theme on men who return from war changed in physique and psyche or who are clearly another person, accepted in spite of everything by his wife mostly for practical reasons; she then ends up preferring this new or different person to the previous husband!
IL FANTASY-MEDIEVALE (Medieval fantasy)
Nell'ambito celtico tuttavia le ballate più antiche si vestono di argomenti fantasy con rimandi alla mitologia e agli archetipi e affrontano soprattutto tematiche trattate nelle fiabe antiche di cui ne sono lo specchio.
In particolare esiste una parte del bosco sacra e inviolabile, che tuttavia diventa luogo d'iniziazione, così nelle fiabe tradizionali, (le cosiddette fiabe di magia) un giovane o una giovane vengono allontanati da casa e si inoltrano nel bosco dove devono affrontare una creatura mostruosa, il lupo cattivo, la strega di turno o l'orco, che li sottopongono a delle prove spaventose o impossibili. Le prove sono superate, spesso con il supporto di un aiutante magico e di doni magici e l'eroe (o l'eroina) ritorna a casa con un tesoro, o con una forza maggiore o con facoltà magiche, oppure per sposarsi con una sposa/sposo d'alto rango.
In the Celtic sphere, however, the most ancient ballads are dressed in fantasy subjects with references to mythology and archetypes and they mainly deal with themes dealt with in ancient fairy tales of which they are the mirror.
In particular there is a part of the sacred and inviolable greenwood, which nevertheless becomes a place of initiation, so in traditional fairy tales, (the so-called fairy tales of magic) a young man or a young girl are removed from home and enter the forest where they face a creature monstrous, the bad wolf, the witch or the ogre, who submit them to scary or impossible tests. The tests are over, often by the help of a magical helper and by magical gifts and the hero (or heroine) returns home with a treasure, or with a force majeure or with magical powers, or to marry a bride / high-ranking groom.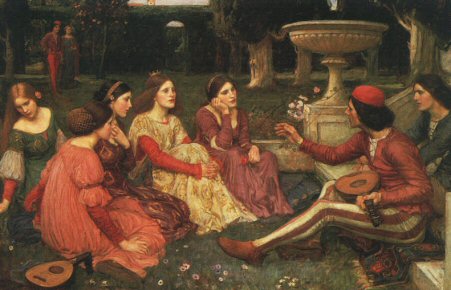 CHE COS'È UNA BALLATA POPOLARE? di Riccardo Venturi dal suo lavoro "Ballate angloscozzesi (Child Ballads) e Francesi"
Una definizione di comodo può essere questa: la "ballata popolare" è una breve e rigorosamente impersonale narrazione di argomento tradizionale, accompagnata da una melodia e trasmessa oralmente di generazione in generazione. Essa è caratterizzata per la sua particolare struttura e stile retorico-narrativo, senza alcun influsso di convenzioni e stilemi letterari.
"Breve" significa "conciso": le migliori ballate evitano lunghe descrizioni o brani "decorativi", ed anche la trama della storia è veramente ridotta all'osso.
La narrazione non è di tipo continuativo; frequenti sono i passaggi ex abrupto tra le varie "scene". Quanto alla "struttura" ed allo "stile retorico-narrativo" delle ballate, seguiamo G.H.Gerould ed individuiamo tre caratteristiche di base che le Child Ballads hanno in comune con le altre ballate popolari europee. (continua)
FOLKLORISTI del XVIII-XIX secolo
Era il 1765 quando il rev Thomas Percy salvò dalle fiamme un manoscritto di vecchie ballate (veniva usato per accendere la legna in cucina) e così pubblicò "Reliques of Ancient English Poetry" destando un enorme interesse sia negli scrittori del Romanticismo inglese che di quello tedesco. Lo seguì a ruota Sir Walter Scott con le ballate della sua Scozia.
Fu però uno studioso americano Francis James Child della Harvard University ad assumersi l'onere e l'onore di raccogliere, classificare e raccontare il vasto patrimonio delle Ballate. A partire dal 1870, Child iniziò a rintracciare ogni versione esistente nella tradizione inglese e scozzese -e ci si dedicò per il resto della sua vita.

Francis James Child (1825-1896), studioso americano la cui monumentale opera, "English and Scottish Popular Ballads", è la raccolta canonica di tutta la "balladry" anglo-scozzese. Da qui l'appellativo di "Child Ballads" che viene riservato alle 305 ballate popolari inglesi e scozzesi riconosciute come autentiche. Sono cinque volumi pubblicati tra il 1882 e il 1989. (vedi qui l'archivio digitale)
Ma Child era un letterato e il suo approccio fu quello dello studioso del testo, piuttosto del collezionista sul campo, perciò raccolse ogni copia manoscritta anche in forma frammentaria che lo stuolo di colleghi e collaboratori in giro per le isole britanniche riuscivano a trovare. Secondo lui la ballata popolare britannica non era più una tradizione vivente!
Child ha raccolto una "versione letteraria" delle ballate popolari, molte di queste provenienti da pubblicazioni settecentesche censurate o "migliorate" dagli appassionati folkloristi che le avevano pubblicate (primo tra tutti il Percy).
Tuttavia i suoi volumi sono una pietra miliare per ogni folklorista e fu lui a ispirare una nuova generazione convinta però che la tradizione orale non fosse scomparsa.
Nei primi anni del XX secolo in molti iniziarono a raccogliere le canzoni folk con le relative melodie.
It was 1765 when Rev Thomas Percy saved a manuscript of old ballads from flames (it was used to light wood in the kitchen) and so he published "Reliques of Ancient English Poetry", arousing enormous interest in both English and German Romantic writers .
Sir Walter Scott followed with the ballads of his Scotland.
However, it was an American scholar Francis James Child of Harvard University who took on the burden and honor of collecting, classifying and narrating the vast heritage of the Ballads. Beginning in the 1870s, Child traced every version existing in the English and Scottish tradition – and devoted himself to it for the rest of his life.

Francis James Child (1825-1896), an American scholar whose monumental work, "English and Scottish Popular Ballads", is the canonical collection of all the Anglo-Scottish "balladry". Hence the appellation of "Child Ballads" which is reserved for the 305 English and Scottish folk ballads recognized by him as authentic. (see digital archive)
But Child was a scholar and his approach was that of the scholar of the text, rather of the collector in the field, therefore he collected every handwritten copy also in fragmentary form that the crowd of colleagues and collaborators around the British Isles could find. According to him, "British folk ballad was no longer a living tradition"!
Child has collected a "literary version" of popular ballads, many of these coming from eighteenth-century publications censored or "improved" by the folklorist who published them (first of all the Percy).
However his volumes are a milestone for every folklorist and he was the one who inspired a new generation convinced however that the oral tradition had not disappeared.
In the early years of the twentieth century, many began to collect folk songs with their melodies.
Costantino Nigra
(1828 -1907)
diplomatico catalogò una buona parte del patrimonio folklorico del Piemonte e pubblicò nel 1888 "I canti popolari del Piemonte" (per una più agevole consultazione vedi anche qui), il punto di partenza degli studi etnografici condotti in Terra Piemontese: per ognuna [il Nigra] annotò tutte le varianti delle varie province e nei diversi dialetti, le loro affinità e le imitazioni rintracciate nella poesia popolare straniera. Aggiunse la traduzione in italiano dei testi e li corredò di note per valorizzare vocaboli e pronunce diverse. (tratto da qui)
Costantino Nigra (1828 -1907) Piedmontese dignitary, cataloged a good part of the folk heritage of his region and published in 1888 "The popular songs of Piedmont" (for easier consultation see also here) His collection is the starting point of ethnographic studies conducted on Piedmont: "for each one [the Nigra] he noted all the variations of the various provinces and in the different dialects, their affinities and the imitations found in the foreign popular poetry. He added the translation into Italian of the texts and accompanied them with notes to enhance different words and pronunciations. "
Cecil Sharp fu colui che ebbe l'idea di andare a cercare le vecchie ballate tra i coloni britannici e scozzesi in America e in particolare tra gli abitanti delle regioni montuose più isolate, Tra il 1914 e il 1918 Sharp e il suo segretario Maud Karpeles viaggiarono per i Monti Appalachi e raccolsero un migliaio circa di canzoni, scoprendo che molte delle ballate di Child erano ancora cantate, anche se aveva preso titoli diversi e i testi erano cambiati adeguandosi alle nuove circostanze. English Folk Songs from the Southern Appalachians.
Scriveva Sharp a proposito delle broadside ballads e della tradizione orale: "Molte di queste ballate sui fogli volanti erano il prodotto di tagli letterari delle città, gli scribacchini di Fleet Street del giorno; ogni tanto venivano scritti da venditori di ballate di fama letteraria, come Martin Parker. Alcune di esse erano imparate dai venditori ambulanti durante i loro giri per le campagne e venivano poi ripetute, per una ricompensa, ai loro datori di lavoro. In questo modo la ballata tradizionale si fece strada sul foglio volante, ma, di solito, in una forma molto confusa, e dopo molte modifiche. Di conseguenza, il foglio di ballata, mentre aiutava la divulgazione della ballata, tendeva anche a imbastardirla. Solo molto raramente una vera ballata tradizionale si è fatta strada verso un foglio volante senza subire corruzione. Una versione su fogli della ballata è di solito, quindi, molto noncurante e ampiamente inferiore alla vera canzone contadina"
Cecil Sharp was the one who had the idea of going to look for the old ballads among the British and Scottish colonists in America and in particular among the inhabitants of the most isolated mountainous regions. Between 1914 and 1918 Sharp and his secretary Maud Karpeles, traveled for the Appalachian Mountains and they collected about a thousand songs, discovering that many of Child's ballads were still sung, even though he had taken different titles and the lyrics had changed adapting to the new circumstances. English Folk Songs from the Southern Appalachians.
Sharp wrote about broadside ballads and oral tradition: "Many of these broadside ballads were the productions of the literary hacks of the towns, the Fleet Street scribblers of the day; occasionally they were written by ballad-mongers of literary repute, like Martin Parker. Some of them were learned by the hawkers during their country excursions, and were afterwards recited by them, for a consideration, to their employers. In this manner the traditional ballad found its way on to the broadside, but, usually, in a very garbled form, and after many editings. Consequently, the ballad-sheet, while it aided the popularization of the ballad, also tended to vulgarize it. It was only very rarely that a genuine traditional ballad found its way on to a broadside without suffering corruption. A broadside version of a ballad is usually, therefore, a very indifferent one, and vastly inferior to the genuine peasant song" (in English Folk-song, some conclusions 1907)
CECIL SHARP PROJECT
https://sonichits.com/artist/Cecil_Sharp_Project
James Madison Carpenter
The James Madison Carpenter Collection is a major collection of traditional song and drama, plus some items of traditional instrumental music, dance, custom, narrative and children's folklore, from England, Scotland, Wales, Ireland and the USA, documented in the period 1927-55. (from here)
[Una vasta raccolta di canzoni tradizionali dall'Inghilterra, Scozia, Galles, Irlanda e Stati Uniti nel 1927-55]
BROADSIDE BALLADS
Il mezzo più comune con cui si diffondevano le ballate tra il XVI e il XIX secolo erano dei "fogli volanti": un unico foglio stampato per una o due ballate al costo di 1 penny. Erano le ballate di strada (street ballads) ovvero le ballate stampate su dei fogli economici e rivolte al grande pubblico, in specie agli strati popolari più bassi: gli argomenti erano i più vari ma vertevano per lo più sulla rappresentazione del quotidiano, figli o mariti che partivano per la guerra, episodi tragici tratti dalla cronaca, gli eventi politici, i disastri o i fatti meravigliosi.
Quando più fogli erano raccolti insieme formavano un libriccino economico (Chapbook) denominato "garland", ma ecco un ottimo video
The most common medium with which ballads spread between the sixteenth and nineteenth centuries were "flying sheets": a single sheet printed for one or two ballads at a cost of 1 penny. They were the street ballads or the ballads printed on cheap sheets and addressed to the general public, especially the lower popular strata: the topics were the most varied but mostly focused on the representation of the daily, sons or husbands who left for the war, tragic episodes taken from the news, political events, disasters or marvelous facts.
When more sheets were collected together they formed an economic book (Chapbook) called "garland", but here is an excellent video
Tra le risorse da consultare in rete segnalo il poderoso archivio CBDB
così scrivono nella presentazione
"Over the years, but especially after the folk revival in the 60's, many folk artists rediscovered the beauty of the poetry of these ballads; this Child Ballad Database (CBDB) is an attempt to list all those recorded versions of Child ballads."
https://www.childballadrecordings.com/
LINK
http://www.traditionalmusic.co.uk/child-ballads/
http://www.titosaffioti.it/libro_ballate_popolari_italiane.html
https://www.ocf.berkeley.edu/~culturalanalysis/volume7/vol7_article3.html