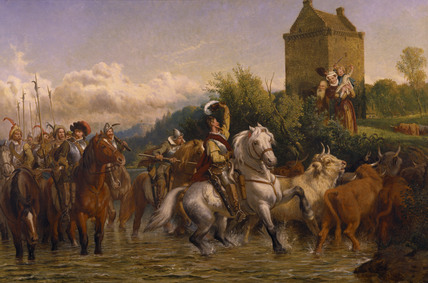 La ballata è il lamento di una delle tante vittime dell'illegalità nel Border, ovvero quel terreno di frontiera tra Inghilterra e Scozia, teatro di sanguinose battaglie tra i clan rivali negli anni nei secoli bui del Medioevo (grossomodo dal 1200 al 1500). Una "guerra dimenticata" ma non meno cruenta, ricordata però in decine di ballate giunte fino a noi dal Medioevo, non solo nelle collezioni manoscritte ma anche dalla tradizione orale.
I Border Reivers erano i guerrieri dei Clan che si davano alle reciproche razzie, (furti di bestiame e saccheggi) ai danni dei loro nemici (ovvero i loro vicini di confine, ma anche di clan rivali della stessa nazionalità). Molti Borderer erano imparentati con la parte confinante, nonostante le leggi che proibivano il matrimonio con stranieri, all'occasione si dicevano "inglesi se costretti, scozzesi per volontà e Reiver per diritto di sangue!"
PRIMA VERSIONE: SIR WALTER SCOTT
Molto tempo dopo la loro scomparsa, i Reiver finirono nei romanzi di Sir Walter Scott, che nativo del Border, scriveva le storie tramandate dalla tradizione popolare e dalle ballate, come questo lamento dal titolo "The Lament of the Border Widow" (in Minstrelsy of the Scottish Border – vol III, 1803).
Come commenta Sir Scott nell'introduzione al testo: "How King James V. of Scotland, in 1529, set forth to strike terror into the Border freebooters, has been already told in the account of Johnie Armstrong. A less celebrated moss-trooper, Cockburne of Henderland, was hanged by the pitiless King over the gate of his own tower. The wife of Cockburne loved him most dearly, and when she found the King would show no mercy, fled away to the rocks behind the castle whilst the cruel sentence was carried out. She sat by a roaring torrent of the Henderland burn, the noise of which in her ears drowned the savage shouts of the King's soldiers. The beautiful song which describes the grief of this loving woman is one of the gems of ancient poetry, and is here printed entire".
Gli avvenimenti narrati in questa ballata potrebbero riferirsi ad un evento realmente accaduto nel 1529, ovvero l'assassinio a tradimento di William Cockburn di Henderland, fatto uccidere nel proprio castello da Giacomo V di Scozia, una spedizione fatale anche per Johnnie Armstrong di Gilnockie, Adam Scott di Tushielaw e molti altri "Reivers". Cockburn in realtà non fu impiccato ai cancelli del sua torre-castello (come da illustrazione) bensì venne portato a Edimburgo, processato per tradimento e decapitato nel 1530.
Benchè Sir Scott ci dica di aver trascritto la ballata così come sentita recitare nella foresta di Ettrick, egli ha sicuramente rimaneggiato il testo, la melodia invece fu pubblicata nella "Select Collection of Original Scotish Airs" di George Thomson (1805).
La ballata è inglobata nella ballata-fiaba "The Famous Flower of the Serving Men" .
Paul & Linda Adams in Far Over the Fell: Songs and Ballads of Cumbria, 1975. Linda ha imparato il canto da Gordeanna McCulloch. Una versione simile è stata raccolta in Oklahoma, Stati Uniti d'America, pubblicata in "Ballads and Folksongs of the Southwest" (1964).
ASCOLTA June Tabor ce la restituisce in una versione fuori dal tempo (su Spotify)
SIR WALTER SCOTT
Traduzione italiana di Riccardo Venturi
I
My love he built me a bonny bower,
And clad it a' wi' lilye flour;
A brawer bower ye ne'er did see
Than my true love he built for me.
II
There came a man by middle day,
He spied his sport and went away,
And brought the king, that very night,
Who brake my bower and slew my knight.
III
He slew my knight to me sae dear,
He slew my knight and poin'd his gear;
My servants all for life did flee
And left me in extremitie.
IV
I sew'd his sheet, making my mane,
I watched the corpse myself alane,
I watched his body night and day;
No living creature came that way.
V
I took his body on my back,
And whiles I gaed, and whiles I sate;
I digg'd a grave and laid him in,
And happ'd him with the sod sae green.
VI
But think na ye my heart was sair
When I laid the moul on his yellow hair?
O think na ye my heart was wae
When I turn'd about, away to gae?
VII
Nae living man I'll love again,
Since that my lovely knight is slain;
Wi' ae lock of his yellow hair
I'll chain my heart for evermair
I
Una bella camera(1) mi fece il mio amore (2),
La rivestì tutta quanta di fiori di giglio;
Più bella dimora non avreste mai visto
Di quella che mi fece il mio amore.
II
Ma venne un uomo, venne in pieno giorno
A spiare quello che lui faceva;
La notte stessa fece entrare il Re (3)
in camera, e uccise il mio cavaliere.
III
Il mio cavaliere, per me tanto amato,
Lo uccise e vendette tutte le sue cose;
I servi fuggiron per salvarsi la vita
E mi lasciarono in preda agli stenti.
IV
Cucii il suo sudario e gli cantai il lamento,
Vegliai il suo corpo, lo vegliai da sola;
Vegliai il suo corpo di giorno e di notte,
Nessuno venne a vegliare con me. (4)
V
Presi il suo corpo, lo presi in spalla,
Facevo un passo e cadevo a sedere;
Scavai una fossa, ve lo posi dentro,
Lo ricoprii con le verdi zolle.
VI
V'immaginate la pena nel cuore
Quando di terra coprii i biondi capelli?
V'immaginate la pena nel cuore
Quando andai via, voltandomi indietro?
VII
Mai più nessuno avrà il mio amore
Perché il mio amato oramai giace ucciso;


Con una ciocca dei suoi biondi capelli




Ho incatenato il mio cuore per sempre
NOTE
1) bower si traduce come pergolato, ma nell'inglese medievale indicava la camera privata di una castellana
2) William Cockburn di Henderland
3) Giacomo V di Scozia
4) La ballata testimonia la forza d'animo di una donna del Border, che si ritrova sola ad affrontare la morte del marito: da sola lo piange, lo veglia e lo seppellisce
SECONDA VERSIONE: OH ONO CHRIO
Le versioni settecentesche della ballata richiamano sempre il tema della vedova che da sola seppellisce il marito e promette eterno amore alla sua memoria. Il primo testo proviene da un manoscritto inedito, "A Choice Collection of Several Scots Miscellanie Poems and songs," circa 1715.
Il secondo invece è collezionata nello "Scots Musical Museum" Volume I # 89 con il titolo "Oh ono chrio", una nota di Robert Burns commenta " On the murder of Glencoe".
La melodia del "Scots Musical Museum " è stata pubblicata in precedenza come "Oh Onochie O", in J. Di Oswald " 'A Curious Collection of Scots Tunes', ", Edimburgo, 1740, poi in J. Oswald "Caledonian Pocket Companion" (c 1758).
VERSIONE 1715
Was not I a weary May,
ohon ochie ho ohno ochie ho
A widow on my bridle day,
ohon ochie ho ….
That on that dark and fatal night
They brake my bower and slew my Knight
Just in my soft and Longing arms
Where I believ'd him safe from harms
They perced his senser[?] gentle breast
And Left me with sad grief opprest
And was but I a Weary wight
A Maid, wife, widow all in a night(1)
And after that my knight was slain
I could no longer there remain
With a fair suit of his yellow hair
Which bound my heart for ever mare (2)
I cut my hair and chang'd my name
From fair Alice to sweet William (3)
No soft tongued youth nor flattering swain
Shall e're unloose that knot again
But through this wood or world I'le roam
To seek the joyes I lost at home
VERSIONE SMM Vol I
Traduzione italiana di Cattia Salto

'Oh was not I a weary wight!




Oh! ono chri oh! oh ono chri O!




Maid, Wife and Widow, in one night !




Oh! ono chri oh!..




When in my soft and yielding arms,




When most I thought him free from harms,




Even at the dead time of the night,




They broke my bower, and slew my knight.




With ae lock of his jet black hair,




I'll tye my heart for evermair;




Nae sly-tongued youth, or flatt'ring swain,




Shall e'er untye this knot again;




Thine still, dear youth, that heart shall be,




Nor pant for aught, save heaven and thee.

Come sono infelice !




Oh! ono chri oh! oh ono chri O!




Fanciulla, moglie e vedova in una notte! (1)




Oh! ono chri oh!..




Quando nelle mie delicate e amorevoli braccia




lo credevo ormai in salvo,




invece nell'ora più buia della notte




hanno violato la mia camera e ucciso il mio cavaliere.




Con una ciocca dei suoi neri capelli




ho legato il mio cuore per sempre;




nessun giovane dalla lingua sciolta o corteggiatore lusinghiero




dovrà mai sciogliere questo nodo; sempre tuo, caro, questo cuore sarà né alcune palpito, eccetto il cielo e te
NOTE
1) dal verso sembrerebbe che la dama si sia sposata il giorno stesso e la notte sia diventata vedova!
3) verso preso dalla ballata
TERZA VERSIONE: ROBERT BURNS
The Highland Widow's Lament (1794)
Scots Musical Museum, Vol. V, #498, page 514, 1796
Melodia "Ochon, ochon, och ri, e"
La rielaborazione di Robert Burn traghetta la vicenda nella causa giacobita e il dolore della vedova diventa il dolore degli Highlanders sconfitti a Culloden (1746): lei è costretta a scendere nelle Lowlands per cercare di sopravvivere. La repressione inglese fu totale nel tentativo di annientare i costumi e le tradizioni della Scozia: era finita l'era dei Clan..
Lorna Campbell in Four Highland Songs 1966 — Transatlantic TRA EP 146 EP. Lorna modifica le ultime tre strofe omettendo ogni riferimento alla causa giacobita.
Pur (Shona Anderson) in The Lassies' Reply 2009
Paul Giovanni in The Wicker Man – Original Soundtrack Recording (seguite il tag Paul Giovanni per le altre musiche e canzoni del film)
ROBERT BURNS 1794
Traduzione italiana Cattia Salto
I
Oh I am come to the low Countrie,
Ochon, Ochon, Ochrie(1)!
Without a penny in my purse,
To buy a meal to me.
II
It was na sae in the Highland hills,
Ochon, Ochon, Ochrie!
Nae woman in the Country wide,
Sae happy was as me.
III
For then I had a score o'kye(2),
Ochon, Ochon, Ochrie!
Feeding on you hill sae high,
And giving milk to me.
IV
And there I had three score o'yowes(3),
Ochon, Ochon, Ochrie!
Skipping on yon bonie knowes(4),
And casting woo' to me.
V
I was the happiest of a' the Clan,
Sair(5), sair, may I repine;
For Donald was the brawest man,
And Donald he was mine.
VI
Till Charlie Stewart cam at last,
Sae far to set us free;
My Donald's arm was wanted then,
For Scotland and for me.
VII
Their waefu' fate what need I tell,
Right to the wrang did yield;
My Donald and his Country fell,
Upon Culloden field.
VIII
Ochon, O, Donald, Oh!
Ochon, Ochon, Ochrie!
Nae woman in the warld wide,
Sae wretched now as me.
I
Oh, io sono venuta nelle Lowlands
Ochon ochon ochrie (1)
senza un soldo nella borsa
per comprarmi il pane
II
Non era così sulle colline delle Highlands 
Ochon ochon ochrie
nessuna donna in tutto il Paese
era felice come me
III
Perchè avevo 20 mucche (2)
Ochon ochon ochrie
che si nutrivano sul colle più in alto
e mi davano il latte.
IV
E avevo anche 60 pecore (3)
Ochon ochon ochrie
che saltellavano sulle colline erbose (4)
e mi davano la lana
V
Ero la più felice di tutti fra la mia gente
ahimè (5) ora mi lamento
perchè Donald era l'uomo più coraggioso
e Donald era mio
VI
Quando Charlie Stewart venne infine
da così lontano per liberarci
il braccio del mio Donald fu richiesto
per la Scozia e per me
VII
Il loro terribile destino devo dirvi,
dritti alla sconfitta si consegnarono,


il mio Donald e il suo Paese caddero


nella Battaglia di Culloden
VIII
Ochon Oh Oh Donald
Ochon ochon ochrie
nessuna donna in tutto il mondo
è ora così triste come me.
NOTE
1) "Ochoin un righ: Ahimè per il capo!"
2) a score of kine= 20 mucche
3) yowes=ewes, pecore
4) knowes=knolls, hills, colline
5) sair= sore, dolente
FONTI
https://terreceltiche.altervista.org/war-songs-anti-war-songs/you-jacobites-by-name/
http://www.electricscotland.com/history/other/scott/border_widow.htm
http://www.sacred-texts.com/neu/eng/boeb/boeb25.htm
http://www.burnsscotland.com/items/v/volume-i,-song-089,-page-90-oh-ono-chrio.aspx
http://chrsouchon.free.fr/widglenc.htm
http://chrsouchon.free.fr/widow.htm
http://www.antiwarsongs.org/canzone.php?id=1065&lang=it
http://mudcat.org/thread.cfm?threadid=4220