Secondo la tradizione celtica alcune antiche melodie, dolci e malinconiche allo stesso tempo, sono state rubate alle creature fatate (o ispirate da esse), così spesso la musica celtica ha fatto da colonna sonora al mondo di JRR Tolkien.
La musica elfica (Fonn-sìth, fairy melody) affascina l'ascoltatore, ossessionato da un desiderio inespresso e inappagato, avvolgendolo per sempre in una struggente melodia.
Il mondo di Faerie: chi l'ha visto?
Gli Elementali
Mutaforma nella Mitologia celtica
Le Fate nelle Terre Celtiche
Fiabe
A-Z Fairy Music
According to Celtic tradition some ancient melodies, sweet and melancholic, were stolen from fairies (or inspired by them), so Celtic music has often been the soundtrack to the world of JRR Tolkien.
Elven music (Fonn-Sìth, fairy melody) fascinates the listener, enveloping him forever in a poignant melody obsessed with an unexpressed and unfulfilled desire.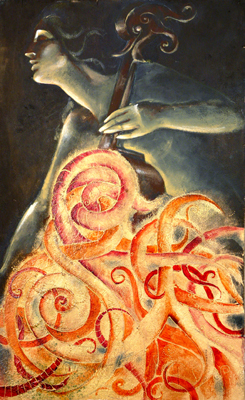 GLI ELEMENTALI
SPIRITI DEL FUOCO (fire)
GNOMI O NANI? (earth)
SILFIDI (air)
ONDINE (water)
Mutaforma nella Mitologia celtica
Mutaforma acquatici: Mermaid, Morgane, Selkie, Kelpie, Gruagach
Il Pooka/púca
Il Dono del Cervo –Sacrificio della cerva
La lepre mutaforma
La fanciulla -cigno nella tradizione celtica
Le Fate nelle Terre Celtiche
Ankou il dio della morte celtico (Bretagna)
Banshee Wail (Irlanda)
Belle Dame sans Merci–Shide Leannan (Scozia, Irlanda)
Bogles (Scozia)
I cerchi delle Fate (The Fairy Ring)
The Changeling (Irlanda)
Dream Angus (Scozia)
An Gille Dubh/Ghillie Dhu (Scozia)
Green Man: L'uomo verde guardiano dei boschi
Jack Frost
Il Leprecauno (Irlanda)
Il Re delle Fate nella tradizione irlandese (Irlanda)
Sandman
Fiabe
Il Barbablù delle ballate popolari
Binnorie (fiaba scozzese)
La Fiaba del Ginepro (fratelli Grimm)
Madama Holle (fratelli Grimm)
La Palla dorata (fiaba inglese)
Il Principe Ranocchio (fratelli Grimm)
Lo Schiaccianoci
A-Z Musica elfica
Cd/Musician kissed by Fairies
Caprice (Russia)
Enya (Irlanda)
Lisa Knapp (Inghilterra)
Jean-Luc Lenoir (Francia): "Old Celtic & Nordic Ballads"
Loreena McKennitt (Canada)
Omnia (Paesi Bassi)