TITOLI: Buain Na Rainich, Tha Mi Sgith, Faery Love Song
La canzone è stata collezionata da Marjory Kennedy-Fraser (1857-1930) durante il suo soggiorno nelle Ebridi (isola di Eriskay) e registrata con i metodi del tempo (su cilindro). La versione però pubblicata nel 1909 in "Songs of the Hebrides" è stata modificata nel testo e anche arrangiata nella melodia.
LA VERSIONE IN GAELICO: BUAIN NA RAINICH
Più comunemente conosciuta come Tha Mi Sgith (in inglese "I am tired") la canzone narra di una storia d'amore tra una fanciulla e un Sidhe, un essere soprannaturale. Ma i genitori rinchiusero la figlia in casa e l'elfo attende invano il ritorno della fanciulla e canta il dolore della perdita.
La struttura è tipica delle waulking songs e in Nuova Scozia è ancora cantata nella lavorazione del Tweed.
E' tuttavia più conosciuta come melodia per violino/cornamusa (Cutting Bracken) o come ninna-nanna suonata con l'arpa.
In Beautiful Wasteland (1997) i Capercaillie con il titolo Hebridean Hale-Bopp uniscono il canto in un set
a) O Ho Phirearaig b) Tha Mi Sgith c) Null Thar Nan Eileanan
e anche in Beautiful Wasteland: Live in concert con il titolo Finlays
a) Cha Teid Fionnlagh A dh'Eige b) Tha Mi Sgith
Burning Bridget Cleary in These are the Days, 2015
Jean Luc Lenoir in "Old Celtic & Nordic Ballads" 2012. La voce è della scozzese Joanne McIver e il gruppo ora si chiama Boann
Negli anni 70 Alan Stivell trasforma la melodia in un An dro e continua a presentare il brano nei suoi concerti
in questo live del 2012 Stivell canta .. con Joanne McIver
GAELICO SCOZZESE
Sèist (chorus)
Tha mi sgìth 's mi leam fhìn,
Buain na rainich, buain na rainich
Tha mi sgìth 's mi leam fhìn,
Buain na rainich daonnan
I
'S tric a bha mi fhìn 's mo leannan
Anns a' ghleannan cheothar
'G èisteachd còisir bhinn an doire
Seinn sa choille chòmhail;
II
O nam faicinn thu a' tighinn,
Ruithinn dhol nad chòdhail,
Ach mur tig thu 'n seo gam shireadh,
Ciamar thilleas dòchas?
III
Cùl an tomain, bràigh an tomain,
Cùl an tomain bhòidheach,
Cùl an tomain, bràigh an tomain,
H-uile là nam ònar
IV
Anns an t-sìthean, o, gur sgìth mi,
'S tric mo chridh ga leònadh,
Nuair bhios càch a' seinn nan luinneag,
Cha dèan mis' ach crònan.
Ulteriori strofe
V
'S bochd nach robh mi leat a-rithist
Sinn a bhitheadh ceòlmhor,
Rachainn leat gu cùl na cruinne,
Air bhàrr tuinne a' seòladh.
VI
Ciod am feum dhomh bhi ri tuireadh?
Dè ni tuireadh dhomhsa
'S mi cho fada o gach duine
B' urrainn tighinn gam chòmhnadh?


English translation
Traduzione italiana Cattia Salto
Chorus
I am tired and I am alone
Cutting the bracken (1), cutting the bracken
I am tired and I am alone
Forever cutting the bracken
I
Often my love and I,
Were in the misty glens
Listening to the sweet choir of the grove
Singing in the dense wood
II
If I saw you coming,
I would run to meet you,
But if you don't come here to search for me,
How can hope return?
III
Behind the knoll (2), the top of the knoll,
Behind the lovely knoll,
Behind the knoll, the top of the knoll,
Every day, all alone
IV
In the fairy hill (2), oh I will be tired,
And often my heart would be wounded,
When others sing their songs,
I will do nothing but drone
V
It's a pity that I am not with you again,
We would be tuneful
I would go with you to the ends of the earth
Sailing on the crest of the waves
VI
What is the point of me being mournful
What will a lament do for me
And am I so far from any man
Who could come to my aid.
Coro
Stanco e solo son io
a falciare le felci
Stanco e solo son io
per sempre a falciare le felci
I
Spesso il mio amore ed io
eravamo nelle valli di nebbia
ad ascoltare lo stormire delle fronde
cantar nel verde bosco
II
Se ti vedessi arrivare
ti correrei incontro
ma se tu non vieni qui a cercarmi,
come può la speranza ritornare?
III
Dietro il tumulo fatato, in cima al tumulo fatato
dietro l'amato tumulo
Dietro il tumulo fatato, in cima al tumulo fatato
ogni giorno, tutto solo
IV
Nel tumulo fatato, oh sarò stanco
e spesso il mio cuore sarà ferito
quando gli altri canteranno le loro canzoni,
io non farò altro che lamentarmi
V
E' un peccato non essere di nuovo con te,
saremmo stati ben accordati,
vorrei andare con te ai confini del mondo
per navigare sulla cresta delle onde
VI
Perchè devo essere in lutto?
Perchè mi lamento?
Così lontano da tutti,
chi potrebbe venire in mio aiuto?
NOTE
1) Braken è di origine norrena e si traduce come felce; andare a tagliare le felci era un lavoro riservato alle donne, con le felci si facevano lettiere per animali e giacigli per la notte; trovavano impiego nelle coltivazioni come antiparassitari e fertilizzanti. La felce era anche considerata una pianta commestibile (nonostante la sua moderata tossicità) da mangiare anche fresca; tuttavia l'uso principale (sia le fronde che i rizomi) è nella produzione della birra; i rizomi essiccati inoltre vengono ridotti in farina e utilizzati per la panificazione. Dal punto di vista medicinale la felce è "un'erba da fuoco" utilizzata per il trattamento delle bruciature e ustioni. E' un erba di San Giovanni con proprietà magiche
2) i tumuli sotto i quali si ritiene siano nascoste le dimore delle creature fatate.
VERSIONE INGLESE: A FAERIE'S LOVE SONG
Riportato nel volume I delle "Songs of the Hebrides" (pag 90) di Marjory Kennedy-Fraser il testo in inglese è composto da un ritornello e tre strofe, non è una traduzione del gaelico ma è un arrangiamento sulla melodia tradizionale con il ribaltamento dei ruoli: è la figlia delle fate ad aspettare invano l'arrivo del suo amante mortale.
Le ulteriori due strofe sono state aggiunte nel 1999 da Ruth Barrett e Cyntia Smith per far concludere con il lieto fine la lunga attesa della fata!
Eddi Reader in Vagabond 2014
Savina Yannatou (Giannatou) in Terra Nostra 2001
Ruth Barrett in Songs of the Otherworld 2010 che già l'aveva registrata nel 1999 con Cyntia Smith nell'album The Early Years e anche nell'album A Dulcimer Harvest 1991 in versione strumentale (arpa e dulcimer)
Anche in versione jazz dei Misti Bernard in Hooligan Live! 2010 con il titolo Faerie Love Song
traduzione italiana Cattia Salto
CHORUS
Why should I sit and sigh,
Puin' bracken, Puin' bracken (1)
Why should I sit and sigh,
On the hillside dreary? (2)
I
When I see the plover rising,
Or the curlew wheeling,
Then I know (3) my mortal lover
Back to me is stealing.
II
When the day wears away,
sad I look a-down the valley
Ilka(4) sound wi' a stound (5)
sets my heart a-thrilling
III
Oh, but there is something wanting
but I am weary
Come my blithe and bonny lad (6)
Come ower the the knowe(7) to cheer me
IV (strofa aggiuntiva)
When the moon begins her waning
I sit by the water
Where a man born of the sunlight(8)
Loved the Fairies daughter
V (strofa aggiuntiva)
Who is that I see before me?
Through the willow peering,
A smile as sweet as hawthorn blooming
My love is come to cheer me.
Ritornello
Perchè dovrei sedermi e piangere
o raccogliere le felci, raccogliere le felci
Perchè dovrei sedermi e piangere
sulla collina tenebrosa?
I
Quando vedo il piviere che si alza
o il chiurlo che gira in tondo
allora so che il mio amante mortale
è di ritorno da me furtivo
II
Quando il giorno svanisce
triste guardo giù nella valle
e ogni suono come una fitta
fa sobbalzare il mio cuore
III
Ma c'è qualcosa che vorrei
e mi rattristo,
vieni o mio luminoso e bel ragazzo
vieni dalla collina a consolarmi
IV
Quando la luna inizia a calare
mi siedo accanto all'acqua
dove un uomo nato nella luce del sole
amava la figlia delle Fate
V
Chi è che vedo davanti a me?
Attraverso il salice piangente
un sorriso dolce come il fiore del biancospino
il mio amore è venuto a consolarmi
NOTE
1) pulling bracken: diventa anche Broo in' bracken, broo in' bracken
2) cantato anche come: All alone and weary oppure All alone and worry
3) cantato anche come trow= trust, believe
4) each, every
5) stound= sharp pain
6) anche come traidee
7) knolls
8) nella versione di Susan Young dice "Where the one in silver starlight"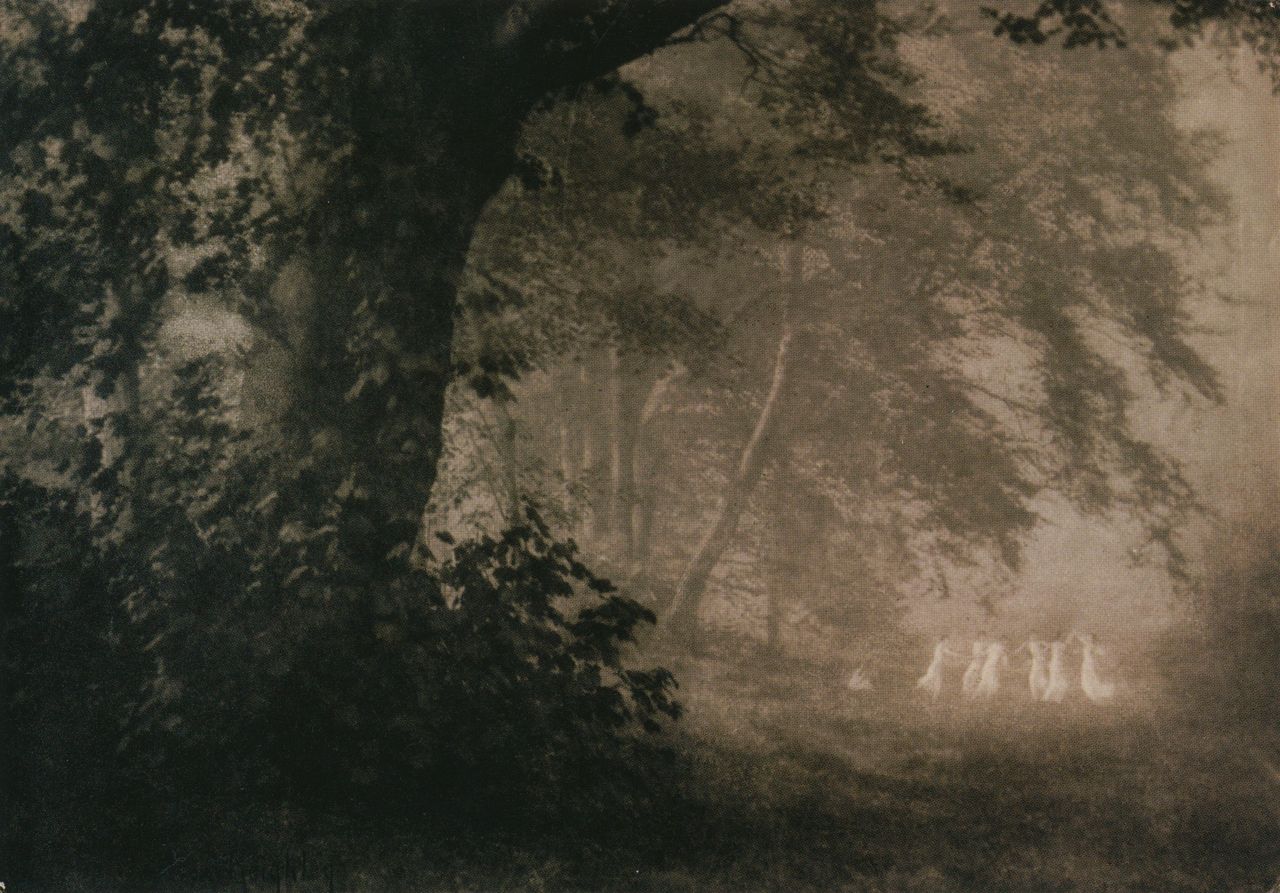 LA MELODIA: THA MI SGITH
Per finire la versione strumentale intitolata Cutting Bracken o Tha Mi Sgith suonata come strathspey o come marcia.
Silly Wizard in "Wild and Beautiful" 1981 nel set Tha Mi Sgith/Eck Stewart's March (A. Stewart/P. Cunningham) & MacKenzie's Fancy suonato come uno strathspey nella seconda parte diventa un vivace e scatenato reel! La fisarmonica di Phil Cunningham, il banjo di Andy Stewart accompagnati da Martin Hadden (chitarra, tastiere e basso) e Gordon Jones (chitarra e bodhran)

Alastair Dunn, Finlay MacDonald e Jonathan Lamberton suonano la Cutting Bracken in set
FONTI
https://learngaelic.scot/beginners/beagairbheag/songs/sgith/index.jsp
http://www.celticlyricscorner.net/capercaillie/hebridean.htm
http://www.celticlyricscorner.net/capercaillie/finlays_live.htm
http://mudcat.org/thread.cfm?threadid=12931
https://www.ambaile.org.uk/detail/en/2326/1/EN2326-buain-na-rainich.htm
http://www.bbc.co.uk/alba/foghlam/beag_air_bheag/songs/song_02/index.shtml http://thesession.org/tunes/647 http://cornemusique.free.fr/ukcuttingferns.php http://plheineman.net/cuttingbracken.htm http://javanese.imslp.info/files/imglnks/usimg/1/1b/IMSLP55851-SIBLEY1802.9594.bba1-39087012504124pp55-112.pdf