Il tema del Diavolo che cerca di portarsi all'inferno il peccatore è un classico dei racconti popolari di area celtica, reso esemplare nella storia di Jack O'Lantern: la notte di Halloween il Diavolo cammina sulla terra per reclamare le anime degli uomini, ma Stingy Jack riesce ad ingannarlo con dei trucchetti; e per ben due anni di seguito! Così il Diavolo, per non continuare a fare brutte figure, rinuncia all'anima di Jack per altri dieci anni. Quando Jack muore per i troppi vizi sia le porte del Paradiso che quelle dell'inferno sono sbarrate per lui; costretto a vagare nell'oscurità, riceve in dono dal Diavolo un tizzone per illuminare il suo cammino; da allora Jack continua a vagare per il Limbo in cerca di una dimora che non troverà mai, con la sua lanterna a forma di zucca (che in origine, prima che la storia sbarcasse in America, era una rapa vedi HOP TU NAA – Isola di Man).
Devil and the Farmer's wife
Nella ballata "Devil and the Farmer's wife" (nota anche con il titolo Little Devils- Jean Ritchie) risalente al 1600 è la donna, per il suo comportamento bisbetico e irrispettoso, a meritarsi l'inferno; ma il diavolo stesso non riesce a domarla, anzi rischia di perdere la sua tranquillità. La similitudine tra le due storie ricorre in una delle versioni ottocentesche (Macmath Manuscript 1862 vedi) in cui il diavolo dice riferendosi alla donna:"O what to do with her I canna weel tell; she's no fit for heaven, and she'll no bide in hell!" (in italiano: che fare di lei non so: non è adatta al Paradiso e non sopporta l'Inferno) proprio come Jack che ha trovato chiuse sia la Porta del Paradiso che quella dell'Inferno.
La ballata con tutta probabilità è ancora più antica e alcuni studiosi la ricollegano ai Racconti di Canterbury di Chaucer (Waltz e Engle).
LITTLE DEVILS
La ballata ha avuto una grande diffusione in Inghilterra, Irlanda, Scozia e America con versioni testuali abbastanza simili seppure con melodie declinate in modo diverso.
THE DEVIL AND THE PLOWMAN (english version)
Lilli burlero
THE FARMER'S CURSED WIFE (american version)
KILLYBURN BRAE (Irish version)
KELLYBURN BRAES (Scottish version)
VERSIONE INGLESE: THE DEVIL AND THE PLOWMAN
La ballata compare in stampa a Londra nel 1630 con il titolo "The Devill and the Scold" (in italiano "Il Diavolo e la Bisbetica") abbinata alla melodia "The Seminary Priest" vedi
Nelle note in accompagnamento al testo si riporta: Di questa ballata esistono due edizioni, la prima nella collezione Roxburghe. La seconda nella collezione Rawlinson, No. 169, pubblicata da Coles – un'edizione commerciale, del regno di Carlo II. Payne Collier include "The Devil and the Scold" nel suo volume delle Eoxburghe Ballads, e dice: "Questa è certamente una ballata antica: il riferimento nella seconda stanza,a Tom Thumb e a Robin Goodfellow è assai curioso, e una prova della sua vetustà.."
La ballata è spesso stampata in broadside per tutto il settecento e l'ottocento e collezionata in due varianti testuali in "The English And Scottish Popular Ballads" (1882-1898) di Francis James Child al numero 278 con il titolo di "The Farmer's Curst Wife".
Il brano è stato raccolto nel 1903 da Henry Burstow, Sussex e pubblicato in The Penguin Book of English Folk Songs di Ralph Vaughan Williams e A.L. Lloyd (1959). Molto simile alla versione testuale riportata da James Henry Dixon in "Ancient Poems, Ballads and Song" (1846) (Child #278 versione A vedi).
Così scrive A.L. Lloyd nel 1960 nelle note di copertina di "A Selection from the Penguin Book of English Folk Songs", riprendendo per altro le note riportate dallo stesso Child: la storia della moglie scaltra che terrorizza anche i demoni è antica e diffusa. Gli indù ce l'hanno in una raccolta di favole del sesto secolo, il Panchatantra. Sembra che abbia viaggiato verso ovest dalla Persia e si sia diffuso in quasi tutti i paesi europei. Nelle prime versioni, il contadino fa un patto con sua moglie in cambio di un paio di buoi. Vaughan Williams ha ottenuto la ballata attuale dal calzolaio e suonatore di campane Horsham, Henry Burstow. Mr Burstow ha fischiettato i ritornelli che nella nostra esibizione sono suonati dalla concertina. Il fischio era un modo familiare di richiamare il diavolo (quindi i marinai che fischiano possono far sollevare una tempesta). (tradotto da qui)
La moglie bisbetica viene riportata indietro al marito che aveva creduto di essere riuscito a prendersi beffe del diavolo! Visto l'argomento è tra le ballate più gettonate nelle feste medievali e nei raduni pirateschi!
A.L. Lloyd
Kim Lowings & The Greenwood in This Life, 2012 l'album d'esordio.

There was an old farmer in Sussex did dwell/ And he'd a bad wife as many knew well(1)
To me fal-de-ral little law-day.(2)
The Devil he came to the old man at plough,
Saying. 'One of your family I must have now.
'Now it isn't for you nor yet for your son,
But that scolding old wife as you've got at home.'
'Oh take her, oh take her with all of my heart,/ And I wish she and you may never more part.'
So the devil he took the old wife on his back(3),
And lugged her along like a pedlar's pack./
He trudged along till he reached his front gate,
Says: 'Here, take in an old Sussex chap's mate.'
There was thirteen imps(4) all dancing in chains;
She up with her pattens and beat out their brains.
Two more little devils jumped over the wall,
Saying: 'Turn her out, father, she'll murder us all.'
So he bundled her up on his back again,/ And to her old husband he took her again.
'I've been a tormentor the whole of my life,
But I was never tormented till I met your wife.'
And now to conclude and make an end,/ You see that the women is worse than the men,
If they got sent to Hell, they get kicked back again (5)
Traduzione italiano di Cattia Salto
C'era un vecchio contadino nel Sussex e aveva una pessima moglie, come tutti sanno,
To me fal-de-ral little law-day.
il diavolo venne dal vecchio mentre arava
dicendo " Adesso mi prendo uno della famiglia!
Non sono qui per te e nemmeno per tuo figlio,
ma per quella vecchia moglie che hai a casa"
"Oh te la cedo con tutto il cuore
e ti auguro che non possa più separartene"
Così il Diavolo prese la vecchia moglie sulla schiena e la trascinò via come un pacco postale.
La trascinò fino alla porta dell'inferno dicendo:
"Ecco, prendetevi una vecchia moglie del Sussex"
C'erano tredici diavoletti che ballavano in catene
e lei con i suoi zoccoli massacrava i loro crani.
Due diavoletti saltarono il muro dicendo
"Riportala indietro padre, o ci ucciderà tutti"
Così il Diavolo la riprese sulla sua schiena
e la riportò dal vecchio marito:
"Sono stato un tormentatore per tutta la mia vita,
ma non sono mai stato tormentato,
fino a quando ho incontrato tua moglie!!"
E per concludere e arrivare alla fine,
vedete come le donne sono peggio degli uomini,
se le mandate all'inferno, ritornano subito indietro!!

NOTE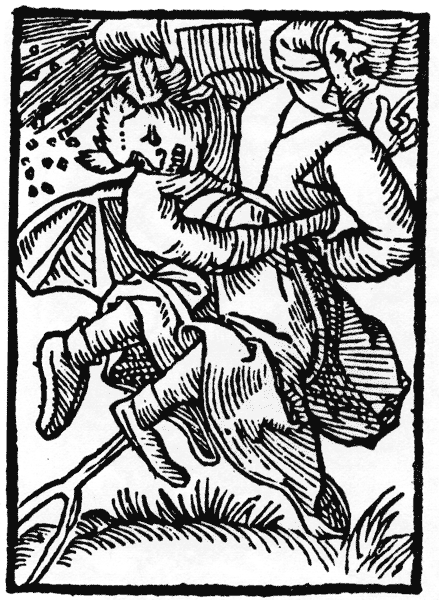 1) la frase vuole sottolineare il carattere poco remissivo della donna!
2) Fischiettare era un modo per evocare il diavolo!
3) l'immagine è supportata da una vasta iconografia risalente al medioevo di donne a cavalcioni del diavolo
4) l'immagine dei diavoletti letteralmente massacrati dalla donna è molto buffa, purtroppo la realtà domestica era ben diversa e in genere erano le donne a subire maltrattamenti e violenze.
5) Kim modifica il finale a favore della donna

And now to conclude and make an end
you see that us women are strong
even when we get sent to hell,
we come straight back again
E per concludere e arrivare alla fine,
vedete come noi donne siamo forti
anche quando veniamo mandate all'inferno,
ritorniamo subito indietro!!
VERSIONE AMERICANA: THE FARMER'S CURSED WIFE
Anche qui ci troviamo in una pressochè identica versione testuale declinata però con melodie bluegrass. Il finale è molto spassoso e spesso senza il predicozzo moralizzante: il vecchio contadino nel vedere ritornare la moglie, respinta nientemeno che dal diavolo stesso, decide di mettersi a correre e non ritornare più a casa!
Heather Dale in Perpetual Gift 2012.
Jean Ritchie, British Traditional Ballads in the Southern Mountains, Volume 2
TRADIZIONALE MONTI APPALACHI (versione semplificata)

Well there was an old man living up on the hill/ If he ain't moved on, he's a livin' there still
CHORUS
Hi diddle ai diddle hi fi, diddle ai diddle ai day
Now the Devil he came to him one day
said "One of your kin I'm gonna take away"/ He said "Oh please don't take my only son/ There's work on the farm that's gotta be done.
Oh but you can have my nagging wife
I swear by God, she's the curse of my life"
So they marched on down to the gates of hell/ He Said "Kick on the fire boys, we'll roast her well"
Out came a little devil with a spit and chain
that she upped with her foot and knocked out his brain
Out came a dozen demons then a dozen more
But when she was done they was flat on the floor
So all those little demons went scrambling up the wall
saying "tale her back, daddy, she'll murder us all"
So the Farmer woke up and he looked out the crack (1)/ and he saw that devil bringing her back!
He said:"Here's your wife both sound and well/ if I kept her any longer she'd've tore up the hell"
The old man jumped and he bit his tongue
then he ran for the hills in a flat out run
He was heard to yell, as he ran o'er the hill/ "if the devil won't have her, 'be damned if I will"

Traduzione italiano di Cattia Salto
C'era un vecchio che viveva sulla collina
e se non si è mosso ci vive ancora.
CORO 
Hi diddle ai diddle hi fi, diddle ai diddle ai day
Il diavolo andò da lui un giorno dicendo " Adesso mi prendo uno della famiglia! "Oh per favore non prendere il mio unico figlio c'è (parecchio) lavoro nella fattoria che  deve essere fatto,
ma prenditi la mia moglie bisbetica, che giuro su Dio è la mia maledizione!!"
Così marciarono alla porta dell'inferno e il Diavolo disse "Sotto con il fuoco, ragazzi, che faremo un bell'arrosto!"
Si è fatto avanti un diavoletto con uno spiedo e la catena
e lei lo ha pestato con i piedi e gli ha massacrato il cranio.
Si sono fatti avanti una dozzina di demoni e poi un'altra dozzina
ma quando lei ebbe finito erano tutti spalmati a terra!
Così i diavoletti si arrampicarono sul muro
dicendo "Riportala indietro padre, o ci ucciderà tutti".
Così il contadino si svegliò e guardò attraverso  la crepa e vide il diavolo che la riportava indietro
dicendo: "Ecco tua moglie sana e salva, se l'avessi tenuta ancora, mi avrebbe distrutto l'inferno!"
Il vecchio fece un sobbalzo e si morse la lingua,
poi corse verso la collina a tutto gas. L'hanno sentito urlare mentre correva "Se il diavolo non la vuole, che sia dannato se me la prenderò io!"
NOTE
1) ci immaginiamo che si sia spalancata una fenditura nel terreno e che ne sia scaturito il diavolo con la donna
FONTI
http://71.174.62.16/Demo/LongerHarvest?Text=ChildRef_278
http://www.wtv-zone.com/phyrst/audio/nfld/23/wife.htm
http://mudcat.org/thread.cfm?threadid=50974
http://mudcat.org/thread.cfm?threadid=19182
http://mudcat.org/thread.cfm?threadid=151087
https://mudcat.org/thread.cfm?threadid=17306
http://mainlynorfolk.info/lloyd/songs/thedevilandtheploughman.html
http://www.fresnostate.edu/folklore/ballads/C278.html