"The Lass of Glanshee" o "The maid of Glashee" o ancora "The Rose of Glanshee" è una ballata scozzese composta da Andrew Sharpe (secondo G Malcolm Laws -in American Balladry From Bristish Broadsides, 1957) sul finire del 1700 primi dell'Ottocento, sulla melodia The Road and the Miles to Dundee
Personaggio curioso, Andrew Sharpe, ciabattino di Perth (Scozia), ma anche suonatore di flauto, pittore, compositore e cantore di canti d'amore, eppure la canzone è meglio nota nella sua versione dal Celtic Canada, come è stata raccolta da Helen Creighton durante il suo lavoro di ricerca nel Nuovo Brunswick dal 1954 al 1960 e finita in "Folksongs from Southern New Brunswick" (1971)  . Il testimone Angelo Dornan, viveva a Elgin, NB (Canada orientale) al momento della registrazione. La maggior parte del suo repertorio proviene dall'Irlanda del Nord, il luogo d'origine dei suoi genitori.
La ballata si annovera tra i canti "pastorali" molto popolari in Inghilterra, Irlanda e Scozia nei secoli XVII e XVIII: questo genere letterario si caratterizza per il  contrasto amoroso tra una pastorella e un corteggiatore (anch'egli pastorello, oppure come in questo caso, un gentiluomo di passaggio) spesso a sfondo erotico o piccantemente allusivo. Le versioni testuali sono abbastanza simili e descrivono la stessa storia: mentre una rustica ma assai graziosa pastorella custodisce il gregge, un giovane la spia e la corteggia; la canzone si sviluppa quindi sul modello di contrasto amoroso con "botta e risposta" tra le parti, con lui che cerca di sedurla e lei che si sottrae, ben sapendo che non sarebbe mai diventata la sua sposa, a causa della loro differenza di rango. In realtà le giovani popolane che si aggiravano per le campagne e i boschi erano ben facili prede (più o meno consensuali) degli uomini "cacciatori" e spesso queste ballate si concludevano con l'annuncio di infauste gravidanze. (continua)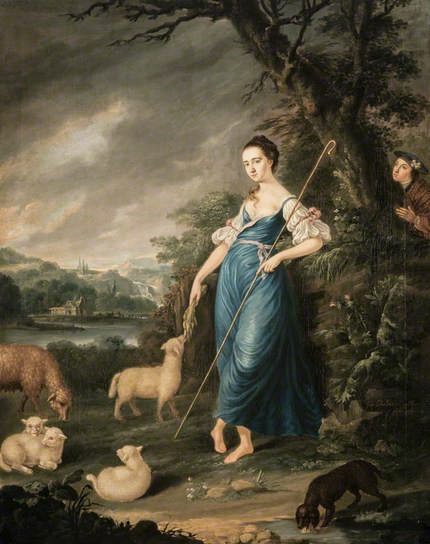 HAPPY END
"The Lass of Glanshee" ha un lieto fine come nelle belle favole i due si sposano e vivono per sempre felici e contenti!
Altan in Horse With A Heart 1989: con il loro equilibrato repertorio fondato sulla musica tradizionale del Donegal e gli influssi scozzesi  diffondono in tutto il mondo ballate, filastrocche e canzoncine in gaelico che finiscono immancabilmente nelle compilation di musica celtica. Così la loro versione di The Lass of Glanshee, pur eseguita su una canzone originaria della Scozia, è diventata uno standard per i gruppi di musica irlandese.
Anuna (I, II,IV,V, VI)

Cara Dillon live

Greenoch interessante la versione del duo italiano Cecilia Gonnelli e Roger Taradel


I
One morning in springtime
as day was a-dawning
Bright Phoebus had risen
from over the lea
I spied a fair maiden
as homeward she wandered
From herding her flocks
on the hills of Glenshee
II
I stood in amazement,
says I, "Pretty fair maid
If you will come down
to St. John's Town (1) with me
There's ne'er been a lady
set foot in my castle (2)
There's ne'er been a lady
dressed grander than thee
III
A coach and six horses
to go at your bidding
And all men that speak
shall say "ma'am unto thee
Fine servants to serve you
and go at your bidding"
I'll make you my bride,
my sweet lass of Glenshee"
IV
"Oh what do I care for
your castles and coaches?
And what do I care
for your gay grandeury (3)?
I'd rather be home at my cot,
at my spinning
Or herding my flocks
on the hills of Glenshee"
V
"Away with such nonsense
and get up beside me
E'er summer comes on
my sweet bride you will be
And then in my arms
I will gently caress thee"
'Twas then she consented,
I took her with me
VI
Seven years have rolled on
since we were united
There's many's a change,
but there's no change on me
And my love, she's as fair
as that morn on the mountain
When I plucked me a wild rose (4)
on the hills of Glenshee

Traduzione italiana Cattia Salto
I
Una mattina di Primavera
allo spuntar del giorno,
Febo luminoso era sorto
e da oltre il prato
osservai una graziosa fanciulla
mentre vagabondava sulla via di casa
e badava al gregge
sulle colline di Glenshee.
II
Meravigliato le dissi:
"Dolce e bella fanciulla,
se tu verrai a valle
a Perth con me
nessuna altra donna
metterà piede nel mio castello
e nessuna altra donna sarà
vestita più sontuosamente di te
III
Una carrozza trainata da 6 cavalli
avrai al tuo servizio
e tutti gli uomini che interrogherete
vi diranno 'Madama al vostro cospetto
eleganti servitori per servirvi
e andare al vostro comando'
ti farò mia sposa,
mia dolce ragazza di Glenshee"
IV
"Ma cosa volete che m'importi del vostro castello e della vostra carrozza?
Cosa volete che mi interessi della vostra ricchezza?
Preferisco stare a casa nel mio letto,
al mio filatoio
o pascolare il gregge
sulle colline di Glenshee"
V
"Basta con queste sciocchezze
e fermati accanto a me,
già l'estate arriverà
tu sarai la mia dolce sposa
e allora tra le braccia
ti stringerò piano"
Così lei acconsentì
e la presi con me.
VI
Sette anni sono passati
da quando ci siamo sposati
ci sono stati dei cambiamenti,
ma non per me
e il mio amore, lei è chiara
come quel mattino sulla montagna
quando mi colse una rosa selvaggia sulle Colline di Glenshee
NOTE
1) la città di Perth che conseva una antica chiesa (St John's Kirk) e anticamente prendeva il nome di Saint John's Toun o St Johnstone.
2) il Perthshire è disseminato di castelli sparsi per la bellissima campagna ma anche vicini alla città di Perth: Castello di Balhousie, Castello di Huntingtower, Scone Palace, Elcho Castle, Castello di Fingask, Castello di Strathallan, Blair Castle (continua)
3) la strofa ricalca la popolarissima Raggle Taggle Gypsie
4) i due non si sono limitati a tenersi per mano, e la rosa non è solo un fiore
LA VERSIONE SCOZZESE/CANADESE: THE HILLS OF GLENSHEE
Le colline di Glenshee si trovano nella contea di Pert,  la 'Fairy Glen' la collina delle Fate, quasi al centro della Scozia è una rinomata località sciistica invernale e meta di escursioni d'estate.
Con il titolo "The Hills of Glenshee" è la variante diffusa a Terranova.
Harry Hibbs una versione più country, dall'icona della musica tradizionale di Terranova

I
One fine summer's mornin'
as I went out walkin',
Just as the grey dawn
flew over the sea (1),
I happened to spy
a fair haired young damsel,
Attending her flock
by the hills of Glenshee.
II
I said," pretty fair one,
will you be my dear one,
For I'll take you over,
my bride for to be;
And this very night
in my arms  I will hold you,
While you tend your flock
on the hills of Glenshee."
III
"Oh no, my dear sir,
you'll not take me over,
None of your footmen
to wait upon me;
I would rather stay home
in my own homespun clothing,
And attend to my flock
on the hills of Glenshee."
IV
For twenty long years
we've both been together,
Seasons may change
but there's no change in me;
And if God lets me live
and I have my right senses,
I'll never prove false (2)
to the girl on Glenshee.
V
She's Mary, my Mary,
my own lovin' darlin',
She's as pure as the perfume
blows over the sea;
And her cheeks are as pale
as the white rose of summer,
That spreads out its leaves
on the hills of Glenshee.
VI
She's Mary, my Mary,
my own lovin' darlin',
I do love her so
and I know she loves me;
And I'll never prove false
to my girl where I met her,
No I'll never prove false
to the girl on Glenshee.
No I'll never prove false
to the girl on Glenshee.

Traduzione italiana Cattia Salto
I
Una bella mattina d'estate
mentre ero a passeggio
proprio quando la pallida alba
sorgeva dal mare
mi capitò di osservare
una giovane fanciulla dai capelli biondi
che badava al gregge
sulle colline di Glenshee.
II
Dissi: "Bella damigella,
volete essere la mia favorita
perchè vi prenderò
per essere la mia sposa
e questa stessa notte
tra le mie braccia vi terrò,
mentre badate al gregge
sulle colline di Glenshee"
III
"Oh no caro Signore
non mi prenderete
e nessuono dei vostri servitori
mi renderà omaggio;
preferisco stare a casa,
nei miei vestiti fatti a mano
a pascolare il gregge
sulle colline di Glenshee"
IV
Per venti lunghi anni
siamo stati insieme,
le stagioni possono mutare
ma io non sono cambiato;
e se Dio mi farà vivere
nel pieno possesso delle mie facoltà
non tradirò mai
la ragazza di Glenshee
V
Lei è Maria, la mia Maria
il mio amato tesoro,
è pura come la brezza
che soffia dal mare
e le sue guance sono pallide
come la rosa bianca dell'estate
quando le foglie germogliano
sulle Colline di Glenshee
VI
Lei è Maria, la mia Maria
il mio amato tesoro,
l'amo così
e so che lei mi ama
non tradirò mai
la mia ragazza che ho incontrato,
non tradirò mai
la ragazza di Glenshee
non tradirò mai
la ragazza di Glenshee

NOTE
1) in senso lato non essendoci la vista mare dalle Glenshee
2) letteralmente "non sarò mai falso"
continua
FONTI
https://www.mun.ca/folklore/leach/songs/NFLD1/2-10.htm
https://soundcloud.com/catherinecrowe/01-the-rose-of-glenshee?in=catherinecrowe/sets/field-recordings-of-angelo
http://digicoll.library.wisc.edu/WiscFolkSong/data/docs/WiscFolkSong/400/000333.pdf
https://mudcat.org/thread.cfm?threadid=50613
http://folksongsatlanticcanada.blogspot.it/2012/04/new-brunswick-folk-songs.html
https://journals.lib.unb.ca/index.php/JNBS/article/view/20084/23145
http://www.wtv-zone.com/phyrst/audio/nfld/26/hills.htm