"Go to sea once more", an "American / English forebitter" (Stan Hugill) was the favorite song among the whale hunters.
In the song the sailor regrets being forced to go to sea again, because he has already spent all the money just earned, getting drunk he was robbed by a whore. The song is paired with "Holy Ground once more" with which it shares the tune and some verses.
Aka GO TO SEA NO MORE, OFF TO SEA ONCE MORE, JACKIE BROWN, SHANGHAI BROWN.
RAPPER BROWN
Italo Ottonellowrites "At the signing of the recruitment contract for long journeys, the sailors received an advance equal to three months of pay which, to guarantee compliance with the contract, was paid in the form of a promissory note, payable three days later that the ship had left the port, "if a sailor is sailed with that ship." Everyone invariably ran to look for some complacent sharks who bought their promissory notes at a discounted price, usually forty percent, with much of the amount provided in kind. "The purchasers, boarding prosecutors and various procurers," the enlisters, "as they were nicknamed," were induced to 'seize' the sailors and bring them on board, drunk or drugged, with little or no clothes beyond what they were wearing, and squandering or stealing all the advances. "
So behind the story there is probably the hand of the "sailor boarding-house master" that hired the thieves to rob the drunken sailors or put in league with some whore, all well-tested systems to peel the careless sailor just landed (see).
The authorities also closed an eye because the merchant companies made it convenient to have manpower always available for the hardest jobs (like the whaling ship) and the most unfavorable routes as those of the Arctic seas.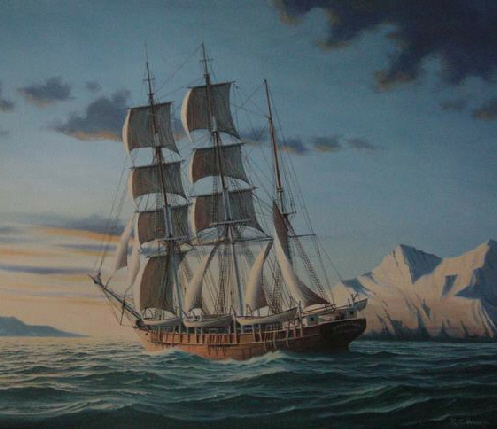 The Byrds record it with the title of "Jack Tarr The Sailor". In some versions it is sung on the air of Greensleeves.
the Dubliners

Jerry Garcia & David Grisman from "Grateful Dawg" 1990

Ryan's Fancy from "Songs From The Shows" 2001

Macy Gray from Son of Rogues Gallery Pirate Ballads, Sea Songs and Chanteys ANTI 2013,  a raspy voice, between soul and swing,

GO TO SEA NO MORE
I
When first I landed in Liverpool(1),
I went upon a spree
Me money alas I spent it fast,
got drunk as drunk could be
And when that me money was all gone, 'twas then I wanted more
But a man must be blind
to make up his mind
to go to sea once more
CHORUS
Once more, boys, once more,
go to sea once more
II
I spent the night with Angeline(2)
too drunk to roll in bed
Me watch was new
and me money too,
in the morning with them she fled
And as I walked the streets about,
the whores they all did roar
"There goes Jack Strapp(3),
the poor sailor lad,
he must go to sea once more"
III
And as I walked the streets about,
I met with the Rapper Brown(4)
I asked him for to take me on
and he looked at me with a frown
He said "last time you was paid off
with me you could no score
But I'll give you a chance
and I'll take your advance
and I'll send you to see once more"
IV
He shipped me on board
of a whaling ship(5)
bound for the arctic seas(6)
Where the cold winds blow
through the frost and snow
and Jamaica rum would freeze(7)
But worse to bear,
I'd no hard weather gear(8)
for I'd spent all money on shore
'twas then that I wished
that I was dead
and could go to sea no more
V
So come all you bold seafaring men, who listen to me song
When you come off them long trips,
I'll have you not go wrong
Take my advice, drink no strong drink, don't go sleeping with them whores
Get married instead
and spend all night in bed
and go to sea no more

NOTES
1) in american version Frisco
2) or Last night I slept with Angeline
3) or Jack Sprad
4) Jack Ratcliff or Jackie Brown; in the American version it becomes Shanghai Brown famous in the city of San Francisco. The verb shanghaiing was coined around the mid-1800s to indicate the practice, much in vogue on American and British merchant ships, of violent or fraudulent conscription of  sailor. The shanghaiing was practiced above all in the north-west of the United States. The men who ran this "men's trade" were called "crimps" and had no qualms to drug the beer of the victim with laudanum. So  Al Lloyd writes in Leviathan (1967) Who was Rapper Brown, the villain of the piece? Particularly during the latter days of sail, many lodging house keepers encouraged seamen to fall in debt to them, then signed them aboard a hardcase ship in return for the "advance note" loaned by the company to the sailor ostensibly to buy gear for the voyage. Paddy West of Great Howard Street, Liverpool, was well-known for this, likewise John da Costa of the same seaport. But we do not find Rapper Brown in this rogues' gallery. Perhaps there's some confusion here with the fearsome Shangai Brown of San Francisco, through whose ministrations many a British seaman awoke from a drunken or drugged sleep do find himself aboard a vessel for the bowhead whaling grounds of the Bering Sea, a trip few men in their senses signed for, unless desperately hard pushed".


5)  whaler bark (barque) or whaler pack
6) the Arctic routes were the most feared by sailors, often the ships were trapped in the ice.
7)or Jamaica rum 'twas free I think there is a hint of humor in the sentence and that means that the Jamaican rum was not found
8) or I'd no oilskins 
LINK
http://www.sfmuseum.org/hist11/sailors.html http://mainlynorfolk.info/lloyd/songs/offtoseaoncemore.html http://mudcat.org/thread.cfm?threadid=72360 http://aliverpoolfolksongaweek.blogspot.it/2012/05/49-go-to-sea-once-more.html
http://www.wtv-zone.com/phyrst/audio/nfld/11/tosea.htm http://mysongbook.de/msb/songs/g/gotosean.html http://www.loc.gov/item/sm1849.461970/