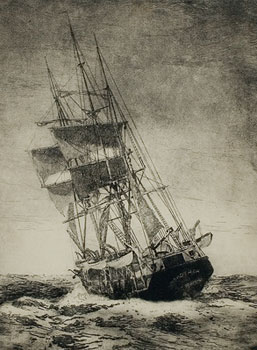 Finita l'epoca dei grandi velieri il repertorio delle canzoni marinaresche (sea shanty), documentato dai veterani in pensione, è sbarcato sulla terra diffondendosi tra i non marinai e gli amanti della musica folkloristica "..alcune delle canzoni che ho citato ora sembrano sciocche vedendole scritte. Non sono il genere di canzoni da stampare. Sono canzoni che devono essere cantate in certe condizioni, e dove quelle condizioni non esistono, appaiono fuori luogo. In mare, quando sono cantate nel tranquillo gaettone, o alando le cime, sono le più belle di tutte le canzoni. È difficile scriverle senza emozione, perché sono parte della vita. Non si possono separare dalla vita. Non si può scrivere una parola di loro senza pensare ai giorni andati, o a compagni da molto tempo diventati corallo, o a belle, vecchie navi, una volta così maestose, ora ferro vecchio." (John Masefield in "Sea Songs" 1906)
After the Golden Age of Sail , the repertoire of maritime songs (sea shanty), documented by retired veterans, has landed on the shore spreading among non-sailors and folk music fans "
Una raccolta moderna dei canti marinareschi ovvero Shanties from the Seven Seas è di Stan Hugill (1961) con informazioni di prima-mano, la cosiddetta "shantyman's bible"!
A modern collection is titled "Shanties from the Seven Seas" by Stan Hugill (1961) with first-hand information, the so-called "shantyman's bible"!
Una grande rivalutazione di questi canti è avvenuta poi più recentemente con la produzione in versione piratesca del famosissimo videogioco Assassin's Creed: Black Flag (2013); la trama è un'intricata vicenda basata sui ricordi del pirata Edward Kenway  ed è ambientata nel mare dei Caraibi in un arco storico che va dal 1715 al 1721.
A great re-evaluation of these songs took place more recently with the production of a pirate version of the famous Assassin's Creed videogame: Black Flag (2013); the plot is an intricate story based on the memories of the pirate Edward Kenway and it is set in the Caribbean Sea in a historical arch that goes from 1715 to 1721.
Come già sottolineato da più parti, per quanto il lavoro svolto dai creatori del videogioco Assassin Creed abbia portato le canzoni marinaresche in auge tra i giovani, si è trattato di una mistificazione: molti dei canti sono del secolo successivo e ogni riferimento alla cultura afro-americana che ne è stata per buona parte la fonte è volutamente ignorato.
As already underlined by many parties, although the work done by the creators of the video game Assassin Creed has brought maritime songs in vogue among the young, it was a mystification: many songs are from the next century and all references to African American culture source has been deliberately ignored.
Ma tanto di cappello per l'enorme produzione articolata in una serie di Cd e in particolare Assassin's Creed 4: Black Flag (Sea Shanty Edition, Vol. 1 e 2) e Assassin's Creed Rogue (Sea Shanty Edition) il sequel del video-gioco distribuito nel 2014
But hats off for the huge production articulated in a series of CDs and in particular Assassin's Creed 4: Black Flag (Sea Shanty Edition, Vol. 1 and 2) and Assassin's Creed Rogue (Sea Shanty Edition) the sequel of the video game released in 2014
Sono raccolte non solo canzoni marinaresche ma anche ballate e canzoni del mare, antiche drinking songs (canti di taverna) e qualche rebel song.
Not only maritime songs are collected, but also ballads and sea songs, ancient drinking songs (tavern songs) and some rebel songs.
Assassin's Creed 4: Black Flag (Sea Shanty Edition, Vol. 1 e 2)
ADMIRAL BENBOW
ALL FOR ME GROG
BILLY RILEY
BLOW AWAY THE MORNING DEW
BULLY IN THE ALLEY
CAPTAIN KIDD
CAPTAIN WARD (Child  #287)
CHEERLY MAN
COASTS OF HIGH BARBARY (Child  #285)
DEAD HORSE
DERBY RAM
DOWN AMONG THE DEAD MEN
DRUNKEN SAILOR
FATHOM THE BOWL
FISH IN THE SEA
GOLDEN VANITY (Child #286)
GOOD MORNING, LADIES ALL
HANDY ME BOYS
HAULEY HAULEY HO 
HERE'S A HEALTH TO THE COMPANY
HI-HO COME ROLL ME OVER
HOMEWARD BOUND
JOHNNY BOKER
LEAVE HER JOHNNY
LOWLANDS AWAY
MAGGIE LAUDER
MAID OF AMSTERDAM
NIGHTINGALE
PADDY DOYLE'S BOOTS
PADSTOW'S FAREWELL
PATRICK SPENS
RANDY DANDY-O
RIO GRANDE
ROLL AND GO
ROLL, BOYS, ROLL! (Sally Brown)
ROLLER BOWLER
RUNNING DOWN TO CUBA
SAILBOAT MALARKAY
SO EARLY IN THE MORNING
SPANISH LADIES
STORMALONG JOHN
TROOPER AND THE MAID
WILD GOOSE SHANTY
WILLIAM TAYLOR
WHERE AM I TO GO M'JOHNNIES
WHISK(E)Y JOHNNY
WORST OLD SHIP
Assassin's Creed Rogue (Sea Shanty Edition)

BLOOD RED ROSES
BOLD RILEY
BONNIE LASS O'FYVIE
DONKEY RIDING
DON'T FORGET YOUR OLD SHIPMATES
GO TO SEA NO MORE
HAUL AWAY JOE
HEAVE AWAY MY JOHNNY
HENRY MARTIN (Child  #250)
HI FOR THE BEGGERMAN
JOLLY ROVING TAR
KATIE CRUEL
LITTLE DRUMMER
LIVERPOOL JUDIES
MY BONNIE HIGHLAND LASSIE
NEW YORK GIRLS
ONE MORE DAY
OVER THE HILLS AND FAR AWAY
PAY ME THE MONEY DOWN
PADDY LAY BACK
ROLLING DOWN TO OLD MAUI
ROUND THE CORNER SALLY
SHALLOW BROWN
STAR OF THE COUNTY DOWN
WE BE THREE POOR MARINERS
WINDY OLD WEATHER
YE JACOBITES