The Cruel Sister/The two sisters ia a murder ballad originates from the Scandinavian countries, but it has spread widely also in some Eastern countries and in the British Isles.
In Rossetti's painting the love triangle is explored too and if the representation certainly has a correspondence in the painter's biography (here) it is also equally evident the quote to the ballad "The Cruel sister"/"The two sisters": the three protagonists are seated under a bower with the young pretender in the middle and although his hand is intertwined with that of the brown lady, all his attention is turned towards the fair lady intent on singing and playing the psaltery.
The young man's attitude is ambiguous, surely he would not hold the brown lady by the hand if there was not a bond between them ( in the ballad the elder sister is the bride-to-be), but the interest in the blonde lady is too obvious! Three glasses are at the feet of the protagonists, two neighbors to touch each other and the third empty by the part of the blonde sister: is it an announce of her imminent death?
La ballata "The Cruel Sister/The two sisters" è originaria dalla Norvegia-Svezia o più in generale dai paesi scandinavi (in epoca pre-cristiana) ma si è diffusa largamente anche in alcuni paesi dell'Est e nelle isole britanniche.
The Merciless Lady (Dante Rossetti, 1865)
Se la rappresentazione ha sicuramente una rispondenza nella biografia del pittore (qui) è anche altrettanto evidente la citazione alla ballata "The Cruel sister"/"The two sisters": i tre protagonisti sono seduti sotto ad un pergolato con il giovane pretendente nel mezzo e sebbene la sua mano sia intrecciata a quella della dama bruna, tutta la sua attenzione è rivolta verso la fanciulla bionda intenta a cantare e a suonare il salterio.
L'atteggiamento del giovane è ambiguo, sicuramente non terrebbe per mano la dama bruna se tra di loro non ci fosse un legame (e nella ballata è proprio la sorella maggiore ad essere la promessa sposa), ma l'interesse verso la dama bionda è fin troppo evidente!
Tre calici sono ai piedi dei protagonisti due vicini a toccarsi e il terzo vuoto e dalla parte della sorella bionda: ne preannuncia la morte imminente?
THE CRUEL SISTER
The English version of "The Cruel Sister" maintains the story already seen in "Binnorie" but without the finding of the corpse by the miller (see secon part).
It was the Pentangles who brought back this almost forgotten ballad
"In this version in the Child ballads too, there is no trace of the miller, nor the daughter of the miller, but it begins with a lady who lived near the North Sea strand and who gives birth to sisters, one blonde and the other black.
The blonde is compared to the sunlight while the black one is as black as coal, an underground mineral believed to be near the devil. It is recalled that the ballad has Scandinavian origins, where most of the people were blond or red and that those who had black hair were different, sometimes the enemies of other distant tribes. Not by chance in their mythology, which has become common in the rest of Europe, the good fairy is blonde while the witch always has black hair. " (Giordano Dall'Armellina)
La versione inglese di "The Cruel Sister" mantiene la storia già vista in "Binnorie" omettendo il ritrovamento del cadavere da parte del mugnaio (vedi seconda parte). Furono i Pentangle a riportare in auge la ballata quasi dimenticata 
"In questa versione sempre nelle Child ballads non c'è traccia del mugnaio, né della figlia dal mugnaio, però inizia con una signora che viveva vicino alla spiaggia del Nord e che partorisce due sorelle, una bionda e l'altra bruna. La bionda è paragonata alla luce del sole mentre la mora è nera come il carbone, minerale sotterraneo ritenuto vicino al diavolo. Si ricordi che la ballata ha origini scandinave, dove la maggior parte delle genti era bionda o rossa e che quelli che avevano i capelli neri erano i diversi, talvolta i nemici di altre tribù lontane. Non a caso nella loro mitologia, che è diventata comune anche nel resto d'Europa, la fata buona è bionda mentre la strega ha sempre i capelli neri. "(Giordano Dall'Armellina)
Old Blind Dogs in "Close to the Bone",1993 in the first line-up with the voice of Ian F. Benzie, the group has resumed the arrangement of the Pentangle adding a lot of rhythm, but cutting a bit of verses and changing some verse (text here)]
Pentangle- CRUEL SISTER
There lived a lady by the north (1) sea shore
Lay the bairn tae the bonnie broom (2)
Twa daughters were the bairns she bore
Fa la la la la la la la la la
As one was as bright as is the sun
Sae coal black grew the elder one (3)
A knight came riding to the ladies' door
He travelled far to be their wooer
He courted one, with gloves and rings (4),
But he loved the other above all things
"Oh sister will you go  with me
To watch the ships sail on the sea?"
She took her sister by the hand
And led her down to the North Sea strand.
And as they stood on that windy shore
The dark girl threw her sister o'er
Sometimes she sank, sometimes she swam
Crying, "Sister, reach to me your hand"
"Oh Sister, Sister, let me live,
And all that's mine I'll surely give."
"(It's) your own true love that I'll have and more,
But thou shalt never come ashore."
And there she floated just like a swan (5)
The salt sea bore her body on
Two minstrels walked along the strand
They saw the maiden, float to land
They made a harp of her breastbone (6)
Whose sound would melt a heart of stone
They took three locks of her yellow hair
And wi' them strung that harp so rare
They went into her father's hall
To play the harp before them all,
But when they laid it on a stone
The harp began to play alone.
The first string sang a doleful sound:
"The bride her younger sister drowned."
The second string as that they tried,
In terror sits the black-haired bride.
The third string sang beneath their bow,(7)
"And surely now her tears will flow
NOTES
1) in the code of the British ballads the North is understood by the listeners as negative and therefore in recalling it prepares them for something mournful.
2) the meaning of the interlayer Lay the bairn tae the bonnie broom has long been debated, some translate "bent" in the sense of "curved" and then as a way of describing the horn (recalling the horn or the trumpet elf in the ballad "The Elfin Knight") others instead bring the term to the ancient English (derived from the Saxon) in the sense of plant or bush of the moor or the heather or more in generates the rush; the phrase is contained in the song Riddles Wisely Expounded always in the Child Ballads from which the Pentangle have drawn the melody: it describes a test of intelligence between the devil and the wise girl for the resolution of a series of riddles. The phrase would have a meaning of protection against evil, but it could also mean: "sweep so hard to bend the broom" that is "put a little 'force in sweeping the floor" and then be a meaningless humorous interlayer like for the fa la la the following. Another possible interpretation translates the phrase as "Dance around the old oak"
3) another coded language to indicate who is the good girl and who the bad one. The blond girl is solar, positive, while the dark girl is the dark, negative.
4) Giving the ring and a glove was a promise of marriage. The second glove was given on the wedding day. Customary the older sister was courted first, it was a matter of a arranged marriage. in which however the young falls in love with the younger sister
5) Jealousy is the motive (premeditated) of the murder. The comparison emphasizes the purity and innocence of the girl who is presumed not to have encouraged the advances of the suitor.
6) a magical harp, in fact, as soon as it is placed on a stone, it begins to sing alone. Here we refer to the Viking belief that the soul resides in the bones (the bones of the dead accuse their murderers). The killer sister who was about to marry, is unmasked by her sister's ghost and will surely be punished as she deserves.
7) it is reasonable to assume that in the Scandinavian versions the instrument was in reality an arched crwth or lyra: also called "Germanic crwth" – to underline its northern origin – the instrument can also be equipped with a central keyboard and you play with the bow being probably the ancestor of the violin. In Wales it is called crwth (while in Ireland it is called cruith) and the central keyboard bears six strings, two of which the drone strings ("loafer string"). This instrument, which scholars are uncertain if they consider it to be completely indigenous and attributed to the Scandinavian area, (see)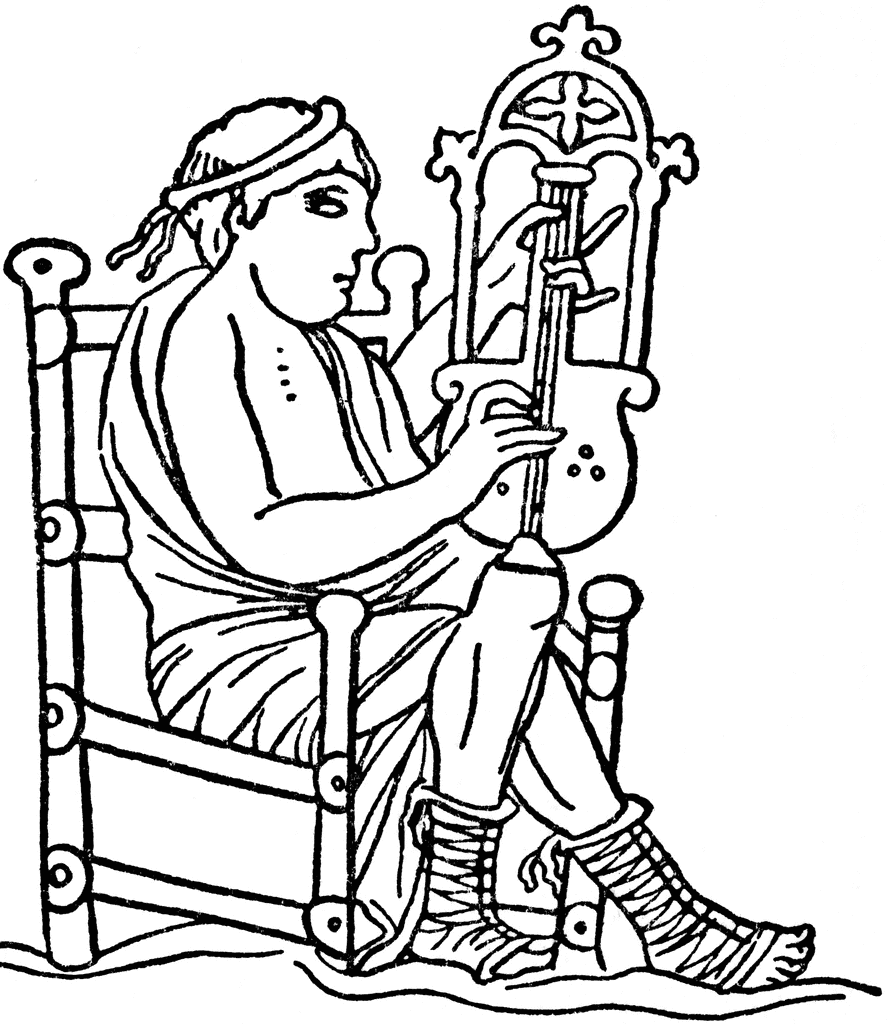 Pentangle -LA SORELLA CRUDELE
Viveva una dama nella costa del Mare del Nord
poni il giunco con la  bella ginestra 
Due figliole erano le bimbe che lei partorì
Fa la la la la la la   la la la
Mentre una cresceva luminosa come il sole,
nera come il carbone così cresceva la grande 
Un cavaliere andò a cavallo alla loro porta,
veniva da lontano per essere il loro pretendente.
Ne corteggiò una con guanti e anelli,
ma amava l'altra sopra ogni cosa.
"Oh sorella vuoi venire con me
A guardare le navi salpare?"
Prese la sorella per mano
E la portò alla spiaggia del Mare del Nord.
E mentre stavano sulla costa battuta dal vento
La ragazza bruna vi gettò la sorella.
Talvolta affondava, talvolta nuotava,
gridando, "Sorella, dammi la mano!
Oh sorella lasciami vivere
E tutto ciò che è mio te lo darò per certo"
"Avrò il tuo innamorato  e tutto il resto
se tu non ritornerai più a terra"
E lì galleggiava proprio come un cigno,
Il mare salato sosteneva il suo corpo.
Due menestrelli camminavano sulla spiaggia
videro la fanciulla portata a terra dal mare.
Fecero un'arpa con il suo sterno,
Il cui suono scioglierebbe un cuore di pietra.
Presero tre ciocche dei suoi capelli biondi,
per montare le corde di quell'arpa senza pari.
Andarono al castello di suo padre
Per suonare l'arpa davanti a tutti loro
Ma quando la posarono su una pietra
L'arpa iniziò a suonare da sola.
La prima corda cantò con suono lamentoso:
"La sposa affogò la sorella minore"
Non appena toccarono la seconda corda la sposa dai capelli neri ristette nel terrore.
La terza corda cantò sotto il loro archetto,
"E di sicuro ora le sue lacrime scorreranno"
NOTE
traduzione italiana di Cattia Salto rielaborata dalla versione di Giordano Dall'Armellina
1) nel codice delle ballate britanniche il Nord è inteso dagli ascoltatori come negativo e quindi nel richiamarlo li prepara a qualcosa di luttuoso.
2) il significato dell'intercalare Lay the bairn tae the bonnie broom è stato a lungo dibattuto, alcuni traducono "bent" nel senso di "ricurvo" e quindi come un modo di descrivere l'horn cioè il corno (richiamando il corno o la tromba dell'elfo nella ballata "The Elfin Knight") altri invece riconducono il termine all'Inglese antico (derivato dal sassone) nel senso di pianta o cespuglio della brughiera ossia l'erica o più in genera il giunco; la traduzione proposta da Dall'Armellina –poni il giunco con la bella ginestra- è una sorta di codice che introduce una storia di corteggiamento. La frase è contenuta nella canzone Riddles Wisely Expounded sempre nelle Child Ballads dalla quale i Pentangle hanno tratto la melodia: in cui si descrive una prova d'intelligenza tra il diavolo e la fanciulla saggia per la risoluzione di una serie di indovinelli. La frase avrebbe un significato di protezione contro il male, ma potrebbe anche voler dire: "spazza con tanta forza fino a piegare la scopa" cioè "metti un po' di forza nello spazzare il pavimento" e quindi essere un intercalare umoristico senza senso come per il fa la la la seguente. Un'altra possibile interpretazione traduce la frase come "Danza intorno alla vecchia quercia"
3) altro linguaggio codificato per indicare chi è la fanciulla buona e chi quella cattiva. La fanciulla bionda è quella solare, positiva, mentre la fanciulla bruna è quella oscura, negativa.
4) Dare l'anello e un guanto era una promessa di matrimonio. Il secondo guanto veniva dato nel giorno delle nozze. Come da consuetudini ad essere corteggiata era la sorella maggiore , si tratta con evidenza di un matrimonio combinato in cui però il giovane si innamora della sorella più giovane
5) La gelosia è il movente (premeditato) dell'omicidio: mentre le due sorelle passeggiano per ammirare le barche in mare la bruna getta la bionda nell'acqua, il cui corpo resterà a galla sostenuto dalla forza del mare, come se fosse un candido cigno che nuota. Anche in questo casa il paragone oltre ad essere poetico sottolinea la purezza e l'innocenza della fanciulla che si presume non abbia incoraggiato le avance del pretendente.
6) si tratta ovviamente di un'arpa magica, infatti non appena posata su una pietra si mette a cantare da sola. Qui si fa riferimento alla credenza vichinga secondo la quale l'anima risiede nelle ossa (le ossa dei morti accusano i loro assassini). La sorella assassina che stava per andare in sposa viene smascherata dal fantasma della sorella e sicuramente sarà punita come merita.
a magical harp, in fact, as soon as it is placed on a stone, it begins to sing alone. Here we refer to the
7) sebbene nella strofa precedente si indichi harp come il nome dello strumento è lecito presumere che si tratti della crotta o lyra ad arco: detto anche "rotta" o "rotta germanica"-per sottolineare il suo areale nordico- lo strumento può essere dotato anche di una tastiera centrale e si suona con l'archetto essendo probabilmente l'antenata del violino. In Galles porta il nome di crwth (mentre in Irlanda è detta cruith) e la tastiera centrale porta le sei corde di cui due le drone strings ("corde fannullone") sono di bordone. Questo strumento, che gli studiosi sono incerti se ritenere totalmente autoctono ed attribuito all'area scandinava, compare verso il II° sec, si presenta in una forma analoga a quella attuale intorno al VII sec. (vedi)
---
A reinterpretation of "The Cruel Sister" comes from the Omnia group who name it Harp of Death
There lived a lady on the North Sea shore
Lay te bent to the bonnie broom
She had two daghters that she adored
Fa la la la la la la la la la
The youngest daughter born to sweet delight
The eldest daughter born to greed and spite
A knight came for the fairest in the land
He was promised the young girl's hand
Grimmest envy in the elder grew
She planned to steal her sister's lover true
"Oh darling sister won't you come with me"
"To watch the swans swimming in the sea?"
On the rocks were the mermaids sing
The elder sister pushed the younger in
"Oh cruel sister, please let me live"
"And all that's mine to you I'll give"VIII
"I'll take your true love and I'll take more"
"For I never let you come ashore"
The fair girl drowned beneath
the North Sea foam
Her broken body washed upon the stones
Three witches found her in the dead of night
And wove a spell to put her soul at right
The made a harp out of her skin and bone
The tuning pegs made from her finger bones
They took nine locks of her golden hair
And with them strung the harp so rare
They took the harp on to her mother's hall
And set it down to play before them all
The harp of Death began to play alone
The sweetest song to melt a heart of stone
Golden strings rang out a truthful sound
"The elder sister has the younger drowned"
Strings of sorrow made of golden curls
wreak their vengeance on the black-haired girl
The song ends here dark and low
"And surely now her blood will flow"
Viveva una dama sulla costa del Mare del Nord, poni il giunco con la bella ginestra
Aveva due figlie che adorava
Fa la la la la la la la la la
La figlia più giovane nata per deliziare
la figlia più grande per disperare
Un cavaliere arrivò per la più bella sulla terra
gli fu promessa la mano della più giovane
La più grande era divorata dall'invidia
e intendeva rubare l'innamorato alla sorella
"Oh cara sorella vuoi venire con me
A guardare i cigni che nuotano nel mare?"
Sugli scogli dove le sirene cantano
la sorella maggiore spinse giù la più giovane.
"Sorella crudele, lasciami vivere
E tutto ciò che è mio te lo darò"
"Avrò il tuo innamorato e tutto il resto
perchè non ti lascerò venire sulla riva"
La ragazza bionda annegò
nelle onde del Mare del Nord
il corpo martoriato emerso sulle pietre
Tre streghe la trovarono nel cuore della notte
e fecero un incantesimo per la sua anima
Fecero un'arpa dalla sua pelle e ossa
i piroli ricavati dalle ossa delle dita.
Presero nove ciocche dei suoi capelli biondi,
e montarono le corde a quell'arpa senza pari.
Portarono l'arpa al castello di sua madre
Per suonare l'arpa davanti a tutti loro
L'arpa della Morte iniziò a suonare da sola
il canto più dolce da fondere un cuore di pietra
Le corde dorate riecheggiarono un canto veritiero:
"la maggiore ha affogato la minore"
Corde di dolore fatte di riccioli d'oro
si presero la loro vendetta sulla ragazza mora
La canzone finisce qui tetra e a bassa voce
"E di sicuro ora il suo sangue scorrerà"
[traduzione italiana di Cattia Salto]
LINK
Giordano Dell'Armellina: "Racconti comuni in ballate italiane, svedesi e britanniche: un confronto" Giordano Dell'Armellina: "Ballate Europee da Boccaccio a Bob Dylan".http://www.musicaememoria.com/pentangle_cruel_sister.htm
http://www.antiwarsongs.org/canzone.php?id=49269&lang=it