Intricata la vita sentimentale del bel Robbie il bardo di Scozia! Trasferitosi a Mauchline presso la famiglia, nel 1784 incontra Jean Armour ("Bonnie Jean") e nel 1786 mentre lei è incinta del loro figlio la riconosce per iscritto come moglie, ma il padre di lei contrario all'unione, la allontana a Paisley, anche perchè nessuno sparli della sua gravidanza!
Nel frattempo in primavera Robbie inizia una relazione con Mary (o Margaret) Campbell una bella giovinetta originaria di Dunoon e trasferitasi per prestare servizio di cameriera a Mauchline presso la casa di Gavin Hamilton e poi a Coilsfield House (Tarbolton), presso i Montgomery. La ragazza viene descritta come alta bionda e con gli occhi azzurri e di lei Burns scrive  "She was a warm-hearted, charming young creature as ever blessed a man with generous love."
E prosegue
"After a pretty long tract of the most ardent reciprocal attachment we met by appointment, on the second Sunday of May, in a sequestered spot by the Banks of Ayr, where we spent the day in taking farewell, before she should embark for the West Highlands to arrange matters among her friends for our projected change of life. At the close of Autumn following she crossed the sea to meet me at Greenock, where she had scarce landed when she was seized with a malignant fever, which hurried my dear girl to the grave in a few days, before I could even hear of her illness."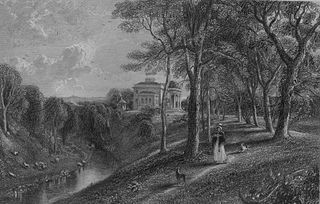 La romantica passeggiata con Mary ebbe luogo il 14 maggio 1786 proprio nei pressi di Coilsfield House dove Mary prestava servizio e fu l'ultima volta in cui si incontrarono, Maria muore a 23 anni il 20 ottobre dello stesso anno mentre si trovava a Greenock .
continua

"Highland Mary" fu pubblicata in "A Select Collection of Original Scotish Airs" da George Thomson nel 1799. La melodia su cui Robert Burns scrisse il suo lamento per la morte dell'amata Mary era di probabile d'epoca rinascimentale
KATHARINE OGIE
("Katharine Ogle", "Katharine Oggle" o "Katharine Oggy"). La melodia è riportata nell'"English Dancing Master" di Playford: alcuni la attribuiscono all'arpista irlandese Rory Dall (che visse buona parte dei suoi giorni in esilio in Scozia). E così gli studiosi disquisiscono se sia una melodia irlandese o scozzese. "John Playford, published the tune a year before it was mentioned in The Dancing Master'sappendix (1688) in Apollo's Banquet (5th edition, 1687) where it is called a "Scotch Tune" in footnotes and in fact appears under the title "A Scotch Tune" only. O'Farrell (c. 1806) also listed the melody as "Scotch." J.M. Wood (The Popular Songs and Melodies of Scotland, 1887) also concluded it was Scottish, "from internal evidence." It appears in one of the earliest Scottish fiddler's manuscript repertory books, c. 1705, in the private collection of Frances Collinson (1971). Early Scottish printed versions include the Guthrie Manuscript (c. 1675) and the Leyden Manuscript (c. 1692, though not the exact version given by Playford)" (tratto da qui)
La melodia è così bella che è stata riprodotta nelle maggiori collezioni di arie scozzesi del 1700. Thomas D'Urfey nel suo Pills to Purge Melancholy (1719-20) ci aggiunge un testo (non è dato sapere se fosse di suo pugno o una riscrittura di una versione popolare ai suoi tempi) che intitolò "Bonny Kathern Loggy."
ASCOLTA Matthew Spring in A Joyeful Noyse: The Golden Age of Scottish Music 2013: arpa e violino che si rincorrono con brio, una delizia!


ASCOLTA Sara Stowe in "Jane Austin entertains" 2007
'As walking forth to view the plain,
Upon a morning early,
While May's sweet scent did chear my brain,
From flow'rs which grew so rarely;
I chanc'd to meet a pretty maid,
She shin'd tho' it was foggy:
I ask'd her name, Sweet Sir, she said,
My name is Katharine Ogie.'
L'ULTIMO BACIO
La canzone fu composta nel 1792 e fu un brano molto popolare per tutto l'Ottocento. Robbie va indietro nel tempo nel ricordo dell'ultimo incontro con Mary quando era Primavera, promessa dell'imminente Estate, quando l'amore in boccio tra i due prese vampa. Così l'immagine della Natura si rispecchia nell'animo degli innamorati e l'Autunno è foriero di morte!
Un altro tema tipico, questa volta mutuato dal mondo classico (ripreso per altro anche da Shakespeare), è la consapevolezza della brevità della gioia d'amore a cui consegue l'invito a coglierne i piaceri, e qui Burns vi aggiunge l'amarezza del sepolcro. Il poeta è decisamente pre-romantico nel compiacimento della descrizione del disfacimento della morte, anche se non arriva agli estremi della "sepoltura lacrimata" tanto cara ai suoi successori.
Nella lettera che Burns scrisse all'editore George Thomson nel novembre 1792 Burns tuttavia minimizza l'importanza dell'evento definendolo "un passaggio interessante dei miei giorni giovanili"
 "I agree with you that the song Katherine Ogie, is a very poor stuff, and altogether unworthy of so beautiful an air. I tried to mend it, but the awkward sound Ogie recurring so often in the rhyme, spoils every attempt at introducing sentiment into the piece. The foregoing song pleases myself; I think it is in my happiest manner: you will see at first glance that it suits the air. The subject of the song is one of the most interesting passages of my youthful days, and I own that I would be much flattered to see the verses set to an air which would ensure celebrity. Perhaps, after all, 'tis the still glowing prejudice of my heart that throws a borrowed lustre over the merits of the composition[...] I take one or another, just as the bee of the moment buzzes in my bonnet-lug; and do you, sans ceremonie, make what use you choose of the productions. Adieu"
Non si trovano molte registrazioni di questo brano, ma questa interpretazione è pregevole, anche se la qualità audio-video lascia a desiderare:
ASCOLTA Rhoda Welsh & Callum Rickard (se non parte dal minuto esatto, spostatelo a 0:47) I due solisti si dividono le prime tre strofe in una sorta di animazione dell'ultimo incontro tra i due amanti.

 

 

I
Ye banks, and braes, and streams around The castle o' Montgomery!
Green be your woods, and fair your flowers,
Your waters never drumlie:
There Simmer first unfauld her robes,
And there the langest tarry;
For there I took the last Farewell
O' my sweet Highland Mary.
II
How sweetly bloom'd the gay, green birk,
How rich the hawthorn's blossom,
As underneath their fragrant shade,
I clasp'd her to my bosom!(1)
The golden Hours on angel wings,
Flew o'er me and my Dearie;
For dear to me, as light and life,
Was my sweet Highland Mary.
III
Wi' mony a vow, and lock'd embrace,
Our parting was fu' tender;
And, pledging aft to meet again,
We tore oursels asunder;
But oh! fell Death's untimely frost,
That nipt my Flower sae early!
Now green's the sod, and cauld's the clay
That wraps my Highland Mary!
IV
O pale, pale now, those rosy lips,
I aft hae kiss'd sae fondly!
And clos'd for aye, the sparkling glance
That dwalt on me sae kindly!
And mouldering now in silent dust,
That heart that lo'ed me dearly!
But still within my bosom's core
Shall live my Highland Mary.


TRADUZIONE ITALIANO (tratta da vedi)
I
Voi rive e pendii e ruscelli attorno al castello di Montgomery,
verdi siano i vostri boschi, leggiadri i vostri fiori;
non mai torbide le vostre acque!
Colà prima l'estate dispieghi le sue vesti
e vi indugi più a lungo;
ché là detti l'ultimo addio
alla mia dolce Maria la Montanina.
II
Come fioriva dolcemente la verde gaia betulla! Quanti fiori s'aprivan sul biancospino,
mentre sotto la loro ombra profumata
al cuor me la stringevo!
Le ore dorate, dalle ali d'angelo,
volaron su me e la mia diletta,
poiché cara come la luce e la vita
a me era la mia dolce Maria la Montanina.
III
Con più d'un giuramento e d'uno stretto abbraccio,
il nostro addio fu pieno di tenerezza;
e, promettendoci spesso d'incontrarci ancora,
l'uno dall'altro ci separammo;
ma oh! il gelo prematuro della crudel Morte
che così presto arse il mio fiore!
Ora è verde la zolla e fredda la terra
che avvolge la mia Maria la Montanina.
IV
Oh, come son pallide ora quelle rosee labbra
che spesso sì appassionatamente baciai!
E son chiusi per sempre quegli occhi lucenti
che si posavan su me sì gentili!
E si disfa ora nella polvere silenziosa
il cuore che tanto m'amò!
Ma nel mio intimo vivrà sempre,
la mia Maria la Montanina.
NOTE
1) inutile dire che anche l'albero sotto il quale i due si abbracciarono fu oggetto di ricerche e di svariate identificazioni!
FONTI
http://www.burnsscotland.com/items/
v/volume-ii,-song-164,-pages-171-and-172-katharine-ogie.aspx
http://www.electricscotland.com/HISTORY/other/108KatherineOgie.pdf
http://www.electricscotland.com/burns/rambles11.htm
http://www.electricscotland.com/burns/songs/
http://www.8notes.com/scores/4881.asp?ftype=gif
http://tunearch.org/wiki/Annotation:Katharine_Oggle