La frase "The Wind that Shakes the Barley" può generare un po' di confusione essendo stata usata per indicare diverse cose. Più recentemente come titolo di un film, anticamente come titolo di una musica da danza, un reel dalle probabili origini scozzesi, e non ultimo come titolo di una canzone irlandese.
IL FILM
Il film drammatico del 2006 è diretto dal regista Ken Loach sulla più recente guerra d'indipendenza irlandese (1919-1921) prendendo spunto dal titolo della canzone irlandese omonima: un giovane irlandese di nome Micheail, un qualunque ragazzo del popolo – nel villaggio rurale della contea di Cork- è stato brutalmente e futilmente assassinato da una banda inglese di 'Black and Tans' e il suo cadavere è pronto per essere seppellito. La sua famiglia e i suoi amici si riuniscono attorno al corpo e cantano a bassa voce "The Wind that Shakes the Barley"
'Twas harder still to bear the shame
of foreign chains around us
Così il protagonista del film, Damien si unisce al fratello Teddy in una "flying column" dell'esercito repubblicano irlandese.
La canzone è un perfetto connubio tra canto d'amore e canto di protesta (rebel song) tratto dalla poesia omonima pubblicata in "Ballads, Romances and Song" da Robert Dwyer Joyce nel 1861 e abbinata alla melodia "The old love and the new love". Nel 1872 Robert Dwyer è emigrato a Boston, dove ristampa le sue poesie irlandesi con alcuni nuovi testi in "Ballads of Irish Chivalry".
R.D. JOYCE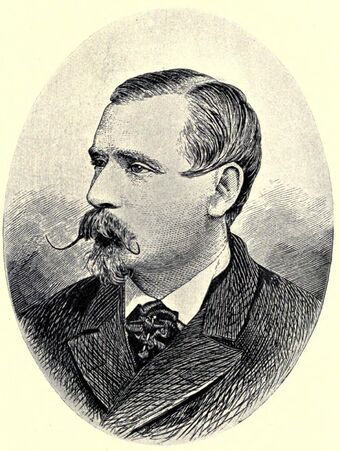 Robert Dwyer Joyce (1836–1883) originario di Limerick, poeta irlandese, medico e professore di letteratura inglese presso l'Università cattolica di Dublino (fratello di Patrick Weston Joyce famoso collezionista di canzoni popolari irlandesi), era un attivista politico nel movimento feniano, e per evitare l'arresto, lasciò l'Irlanda nel 1866 per ritornare a Dublino solo nel 1883, poco prima della sua morte.
SIMBOLO DELLA RIBELLIONE IRLANDESE
"L'orzo che si muove nel vento" è diventato il simbolo dei ribelli irlandesi del 1798, pare che sulle fosse comuni dove venivano seppelliti i "croppy boys", crescesse l'orzo, germogliato dalle razioni di cibo che si portavano in tasca; così lo spirito del nazionalismo irlandese non poteva essere distrutto e tornava a rinasce. Non sta a indicare quindi solo una stagione, l'estate, è anche l'immagine che rievoca nel protagonista il dolore: il momento della scelta tra l'amore per la famiglia e la patria, la morte dell'amata e la cupa vendetta.
Il giovane, avendo preso la difficile decisione di combattere a fianco dei ribelli, è costretto ad abbandonare la sua fidanzata, forse per sempre. Le incertezze e i dubbi che lo assillano svaniscono quando gli inglesi uccidono la ragazza: egli, stringendo il corpo morente dell'amata, decide di abbracciare la lotta e di cercare vendetta, senza più dubbi o rimorsi
In effetti l'amore per l'ideale, quando abbracciato completamente, è sempre più bruciante e totalizzante dell'amore sensuale, ma la vendetta, il "sangue per il sangue" non è sufficiente a placare l'animo del protagonista, diventato inconsolabile, e i suoi pensieri vanno alla tomba di lei dove presto spera (o teme) di ricongiungersi.
Esistono alcune varianti testuali della poesia, il testo più utilizzato nelle canzoni è quello comparso in stampa nel 1962 in "Irish Songs of Resistance" scritto da Patrick Galvin che riporta però solo 4 delle 5 strofe originarie (è omessa la IV strofa), una versione identica è pubblicata in "New Treasury of Irish Songs and Ballads" di Martin Walton (Parte 1, 1968), in cui si riporta la stessa melodia con il titolo di Royal Charlie (già abbinata da Alfred Percival Graves in 'The Irish Song Book', 1894) (vedi)
LE MELODIE
REEL
Il reel, non collegato con il testo della poesia di Robert Dwyer Joyce, si trova in Scozia in "The Athole Collection", James Stewart Robertson, 1884 e in "The Skye Collection", Keith Norman MacDonald, 1887
The Chieftains The Wind That Shakes The Barley/The Reel With The Beryl, 1978
The Chieftains + Milladoiro's O Berro Seco, 1980
SLOW AIR
Martin Carthy 1965 in quella che si può definire la versione tradizionale standard del brano
Sarah Makem – 1968 sulla melodia rallentata di The Maid That Sold Her Barley di origine settecentesca – video al momento non disponibile
Dick Gaughan in Prentice Piece 2002
Dead Can Dance
Ci sono inoltre ottime versioni di  Amanda Palmer o Declan de Barra, etc, etc.. ma la mia versione preferita è
Loreena McKennitt in Troubadours On The Rhine (2012) la versione è strepitosa una delle poche volte in cui l'uso del pianoforte si sposa con la melodia celtica, sublime l'uso della distorsione nella chitarra!
JIG
Tempi velocizzati che cozzano con il tono mesto e disperato del testo al quale si addice di più la prima melodia
Solas in Sunny Spells and Scattered Showers, 1997 la IV strofa è saltata il testo segue maggiormente la stesura originale di Robert Dwyer Joyce come riportata però nella variante di Patrick Galvin
Versione originale di Robert Dwyer Joyce
I
I sat within the valley green,
I sat me with my true love,
My sad heart strove the two between,
The old love and the new love,—
The old for her, the new that made
Me think on Ireland dearly,
While soft the wind blew down the glade
And shook the golden barley.
II
'Twas hard the woeful words to frame
To break the ties that bound us,—
'Twas harder still to bear the shame
Of foreign chains around us;
And so I said, "The mountain glen
I'll seek next morning early,
And join the brave United men!"
While soft winds shook the barley.
III
While sad I kissed away her tears,
My fond arms round her flinging (3),
The foeman's shot burst on our ears,
From out the wildwood ringing, (4)—
The bullet pierced my true love's side,
In life's young spring so early,
And on my breast in blood she died
While soft winds shook the barley!
IV
I bore her to the wildwood screen,
And many a summer blossom
I placed with branches thick and green
Above her gore-stain'd bosom:—
I wept and kissed her pale, pale cheek,
Then rushed o'er vale and far lea,
My vengeance on the foe to wreak,
While soft winds shook the barley!
V
And blood for blood without remorse
I've ta'en at Oulart Hollow,—
I've placed my true-love's clay-cold corse
Where I full soon will follow;
And round her grave I wander drear,
Noon, night, and morning early,
With breaking heart whene'er I hear
The wind that shakes the barley!
  VERSIONE DI LOREENA MCKENNITT
I
I sat within the valley green,
I sat there with my true love
My heart strove to choose between,
the old love and the new love
The old for her, the new that made
me think on Ireland dearly
While soft the wind blew down the glen
and shook the golden barley
II
'Twas hard the mournful words to frame
to break the ties that bound us (1)
But harder still to bear the shame
of foreign chains around us
And so I said, "The mountain glen
I'll seek at morning early
And join the brave united (2) men",
while soft wind shake the barley
III
T'was sad I kissed away her tears
Her arms around me clinging
When to my ears that fateful shot
Came out the wildwood ringing
The bullet pierced my true love's breast
In life's young spring so early
And there upon my breast she died
While soft wind shook the barley
IV
I bore her to some mountain stream
And many's the summer blossom
I placed with branches soft and green
About her gore-stained bosom
I wept and kissed her clay-cold corpse
Then rushed o'er vale and valley
My vengeance on the foe to wreak
While soft wind shook the barley
V
T'was blood for blood (5) without remorse
I took at Oulart Hollow (6)
I placed (7) my true love's clay cold corpse
where mine full soon may follow
Around her grave I wandered drear,
noon, night and morning early
With aching heart when e'er I hear
the wind that shakes the barley
traduzione italiano Cattia Salto
I
Stavo in una verde vallata
seduto lì con il mio amore
Il mio cuore cercava di scegliere tra
il mio vecchio amore e quello nuovo
quello vecchio per lei, quello nuovo
che ardentemente mi faceva pensare all'Irlanda,
mentre leggero il vento piegava l'erba
e scuoteva l'orzo dorato
II
Era arduo inquadrare le dolorose parole, 
per rompere i legami che ci univano (1),
ma ancora di più sopportare la vergogna,
di catene straniere su di noi,
e così dissi, "La valletta del monte
cercherò domattina presto
e mi unirò al gruppo degli uomini coraggiosi (2)"
mentre il vento leggero scuote l'orzo
III
Triste le baciavo via le lacrime, 
con le sue braccia che mi cingevano,
quando alle mie orecchie quello sparo fatale
giunse, risuonando dal folto del bosco, 
il proiettile perforò il mio amore al seno, 
così presto nella giovane primavera della vita
e lì sul mio petto lei è morta
mentre il vento leggero scuoteva l'orzo
IV
Io la portai vicino un ruscello di montagna
e lì tra molti fiori estivi
la posai tra rami teneri e verdi
sul suo seno macchiato di sangue
piansi e baciai il suo corpo freddo come terra,
poi scivolò tra canaloni e valli
la mia vendetta da infliggere al nemico
mentre il vento leggero scuoteva l'orzo
V
Fu sangue per sangue (5) senza rimorso,
andai alla battaglia di Oulart Hollow (6).
Posai il corpo del mio amore freddo come terra
dove il mio molto presto lo seguirà:
nel luogo della sua tomba mi aggiravo tetro
a mezzogiorno, di notte o di buon mattino,
con cuore dolente appena sentivo
il vento scuotere l'orzo
NOTE
1) nella versione Patrick Galvin "'Twas worse the tie that bound us
2) nella versione Patrick Galvin "bold united men". il termine united sta ad indicare la Society of United Irishmen associazione fondata nel 1791 per riformare il parlamento irlandese, poi evoluta in un organismo rivoluzionario Si dicevano uniti perchè erano uomini irlandesi di tutte le religioni e perseguivano l'unione di tutti gli irlandesi a prescindere dalla loro osservanza religiosa e provenienza sociale affinchè la minoranza anglicana privilegiata concedesse piena uguaglianza politica ai presbiteriani e ai cattolici. La ribellione del 1789 è conosciuta anche con il nome di United Irishmen Rebellion continua
3) in italiano: le mie braccia appassionate avvolte intorno a lei
4) in italiano: alle nostre orecchie esplose lo sparo del nemico, risuonando dal folto del bosco
5) sangue versato per vendicare sangue, immagine molto viscerale
6) la battaglia di Oulart Hollow nei pressi di Boolavouge fu una vittoria dei ribelli di Wexford guidati da Padre John Murphy
7) nella versione Patrick Galvin "laid"
WALZER LENTO
Ma il perchè del tempo più ballabile associato al testo deriva da una versione di sapore più tradizionale cantata sulla melodia di un valzer lento dal titolo Wind that Shakes the Corn resa popolare dagli Irish Rovers nel 1967 nell'Album The Unicorn
Harry Hibbs in Between Two Trees 1976 con giusto una spruzzatina di country
I
I sat within the valley green
I sat with my true love
My poor heart had to choose between
Old Ireland and my love
I looked at her and then I thought
How Ireland was torn
While soft the wind blew down the glen
And shook the golden corn
II
T'was hard the woeful words to bring
To break the ties that bound
But harder still to bear the shame
Of English chains around
And so I said, the mountain glen
I'll seek in early morn
And join the brave united men
While soft winds shook the corn
III
While sad I kissed away her tears
My fond arms round her clung
A British shot burst in our ears
From out of the wild woods round
One bullet pierced my true love's side
A rose pierced by a thorn
And in my arms in blood she died
While soft winds shook the corn
IV
So blood for blood without remorse
I've taken in the glen
I placed my true love's clayful corpse
I joined true Irish men
But around her grave I wander drear
Sometimes in early morn
And with breaking heart sometimes I hear
The wind that shakes the corn
FONTI
http://www.limerickcity.ie/media/Media,4223,en.pdf
http://mainlynorfolk.info/martin.carthy/songs/
thewindthatshakesthebarley.html
http://mudcat.org/thread.cfm?threadid=19881
http://mudcat.org/thread.cfm?threadid=74449
http://www.irishmusicdaily.com/wind-that-shakes-the-barley
http://www.mustrad.org.uk/articles/revolutn.htm
http://mudcat.org/thread.cfm?threadid=34225
http://thesession.org/tunes/116