Greensleeves is a song coming from the English Renaissance (with undeniable Italian musical influences) that tells us about the courtship of a very rich gentleman and a Lady who rejects him, despite the generous gifts.
It was the year 1580 when Richard Jones and Edward White competed for prints of a fashion song, Jones with "A new Northern Dittye of the Lady Greene Sleeves" and White with "A ballad, being the Ladie Greene Sleeves Answere to Donkyn his frende ", then after a few days, White again with another version:" Greene Sleeves and Countenance, in Countenance is Greene Sleeves "and a few months later Jones with the publication of" A merry newe "Northern Songe of Greene Sleeves" ; this time the reply came from William Elderton, who wrote the "Reprehension against Greene Sleeves" in February 1581.
Finally, the revised and expanded version by Richard Jones with the title "A New Courtly Sonnet of the Lady Green Sleeves" included in the collection 'A Handeful of Pleasant Delites' of 1584, was the one that became the final version, still performed today (at least as regards the melody and for most of the text with 17 stanzas).
The Melody
The melody is born for lute, the instrument par excellence of Renaissance (and baroque) music that has seen in England a fine flowering with the likes of John Jonson and John Dowland. As evidenced in the in-depth study of Ian Pittaway the ancestor of Greensleeves is the old Passamezzo.
By the late 15th century, plucked instruments such as the lute were just beginning to develop a new technique to add to their repertoire of playing styles, chordal playing, leading the way for grounds to be chordal rather than the single notes of the mediaeval period. One of the chordal grounds that developed was the passamezzo antico, meaning old passamezzo (there was also the passamezzo moderno), which began in Italy in the early 16th century before it spread through Europe. It's a little like the blues today in that you have a basic, unchanging chord sequence and, on top of that, a melody is added. (from here)
The chorus of Greensleeves however follows the melodic trend of a  Romanesca which in turn is a variant of the passamezzo.
lute melody in "Het Luitboek van Thysius" written by Adriaen Smout for the Netherlands in 1595

Baltimore Consort  instrumental version in Renaissance style for dancing

We find a choreography of the dance  only in later times, in the "English Dancing Master" by John Playford (both in the edition of 1686 and then published several times in the eighteenth century) as an English country dance

The Legend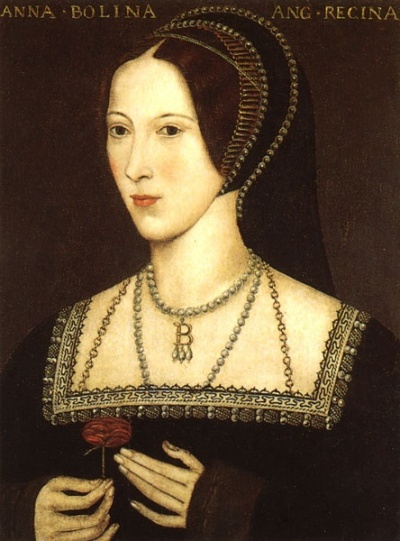 In 1526 Henry VIII wrote "Greensleeves" for Anna Bolena, right at the beginning of their relationship.
A suggestive hypothesis because both the melody that the text well suited to the character, that of his own he wrote several piece still today in the repertoire of many artists of ancient music; however the poem was not transcribed in any manuscript of the time and therefore we can not be certain of this attribution.
The misunderstanding was generated by William Chappell who in his "Popular Music of the Olden Time" (London: Chappell & Co, 1859) attributes the melody to the king, misinterpreting a quote by Edward Guilpin. "Yet like th 'Olde ballad of the Lord of Lorne, Whose last line in King Harries dayes was borne." (In Skialethia, or Shadow of Truth, 1598: the ballad "The Lord of Lorne and the False Steward" dates back to time of Henry VIII (King Harries) and, according to Chappell has always been sung on the melody Greensleeves.
The Tudor serie + The Broadside Band & Jeremy Barlow
"Gregorian",  ( I, III, VIII, IX)

Irish origins!?
William Henry Grattan Flood in A History of Irish Music (Dublin: Browne and Nolan, 1905) was the first to assume (without giving evidence) the irish origins. "In a manuscript in Trinity College, Dublin … Under date of 1566, there is a manuscript Love Song (without music), written by Donal, first Earl of Clancarty. A few years previously, an Anglo-Irish Song was written to the tune of Greensleeves. "
Since then the idea of Irish paternity has become more and more vigorous so much so that this song is present in the compilations of Celtic music labeled as irish traditional.
A courting song or a dirty trick?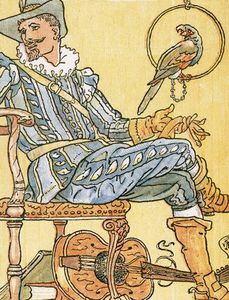 Roberto Venturi observes in his essay
"Already at the time of Geoffrey Chaucer and the Tales of Canterbury (remember that Chaucer lived from 1343 to 1400) the green dress was considered typical of a "light woman", that is a prostitute. She would therefore be a young woman of promiscuous customs; Nevill Coghill, the famous and heroic modern English translator of the Canterbury Tales, explains – referring to an interpretation of a Chaucerian step – that, at the time, the green color had precise sexual connotations, particularly in the phrase A green gown. It was the dress of a woman with some grass spots, who practiced (or suffered) a sexual intercourse in a meadow. If a woman was said to have "the green skirt", in practice it was a whore.
The song would then be the lamentation of a betrayed and abandoned lover, or of a rejected customer; in short, you know, something far from regal (although in every age the kings were generally the first whoremongers of the Kingdom). Another possible interpretation is that the lover betrayed, or rejected, has wanted to revenge on the poor woman by devoting to her a delicious little song in which he calls her a whore through the metaphor of the "green sleeves" (translated from here)
Many interpreters, with versions both in ancient than modern style (also Yngwie Malmsteen plays it with his guitar and Leonard Cohen proposes a rewrite in 1974)
Today the text is rarely performed and only for two or four stanzas, but it is a song loved by choral groups that sing it more extensively.
In 'A Handful of Pleasant Delites', 1584, from the collection of Israel G. Young (about twenty strophe see) all the gifts that the nobleman makes to his Lady to court her:  "kerchers to thy head", "board and bed", "petticoats of the best", "jewels to thy chest", "smock of silk", "girdle of gold", "pearls", "purse", "guilt knives", "pin case", "crimson stockings all of silk", "pumps as white as was the milk", "gown of the grassy green" with "sleeves of satin", but also "men clothed all in green" and "dainties"!
So many versions (see) and a difficult choice, but here is:
Alice Castle live 2005

 Loreena  McKennitt in The Visit 1991 (I, III) interpreted "as if she were singing Tom Waits"

Jethro Tull  in Christmas Album 2003 (instrumental version)

David Nevue amazing piano version!


chorus (1)
Greensleeves(2) was all my joy
Greensleeves was my delight,
Greensleeves my heart of gold
And who but my lady Greensleeves.
I
Alas, my love, you do me wrong,
To cast me off discourteously(3).
For I have loved you well and long,
Delighting in your company.
II
Your vows you've  broken, like my heart,
Oh, why did you so enrapture me?
Now I remain in a world apart
But my heart remains in captivity.
III
I have been ready at  your hand,
To grant whatever you would crave,
I have both wagered life and land,
Your love and good-will for to have.
IV
Thy petticoat of sendle(4) white
With gold embroidered gorgeously;
Thy petticoat of silk and white
And these I bought gladly.
V
If you intend thus to  disdain,
It does the more enrapture me,
And even so, I still remain
A lover in captivity.
VI
My men were clothed all in green,
And they did ever wait on thee;
All this was gallant to be seen,
And yet thou wouldst not love me.
VII
Thou couldst desire no earthly thing,
but still thou hadst it readily.
Thy music still to play and sing;
And yet thou wouldst not love me.
VIII
Well, I will pray to God on high,
that thou my constancy mayst see,
And that yet once before I die,
Thou wilt vouchsafe to love me.
IX
Ah, Greensleeves, now farewell, adieu,
To God I pray to prosper thee,
For I am still thy lover true,
Come once again and love me

NOTE
1) the first two sentences are sometimes reversed and start in the opposite direction
2) In the Middle Ages the green color was the symbol of regeneration and therefore of youth and physical vigor, meant "fertility" but also "hope" and with gold indicating pleasure. It was the color of medicine for its revitalizing powers. Color of love in the nascent stage, in the Renaissance it was the color used by the young especially in May; in women it was also the color of chastity.
But the other more promiscuous meaning is of "light woman always ready to roll in the grass". And the charm of the ballad lies in its ambiguity!
Green is also the color that in fairy tales / ballads connotes a fairy creature.
The Gaelic words "Grian Sliabh" (literally translated as "sun mountain" or a "mountain exposed to the south, sunny") are pronounced Green Sleeve (the song is also very popular in Ireland especially as slow air). Grian is also the name of a river that flows from Sliabh Aughty (County Clare and Galway)
3) the expressions are proper to the courtly lyric
4) sendal= light silk material

in the extended version the gifts of the suitor are many and expensive and it is all a complaint about "oh how much you costs me my dear!"
"Extended version
IV
I bought three kerchers to thy head,
That were wrought fine and gallantly;
I kept them both at board and bed,
Which cost my purse well-favour'dly.
V
I bought thee petticoats of the best,
The cloth so fine as fine might be:
I gave thee jewels for thy chest;
And all this cost I spent on thee.
VI
Thy smock of silk both fair and white,
With gold embroidered gorgeously;
Thy petticoat of sendall right;
And this I bought thee gladly.
VII
Thy girdle of gold so red,
With pearls bedecked sumptously,
The like no other lasses had;
And yet you do not love me!
VIII
Thy purse, and eke thy gay gilt knives,
Thy pin-case, gallant to the eye;
No better wore the burgess' wives;
And yet thou wouldst not love me!
IX
Thy gown was of the grassy green,
The sleeves of satin hanging by;
Which made thee be our harvest queen;
And yet thou wouldst not love me!
X
Thy garters fringed with the gold,
And silver aglets hanging by;
Which made thee blithe for to behold;
And yet thou wouldst not love me!
XI
My gayest gelding thee I gave,
To ride wherever liked thee;
No lady ever was so brave;
And yet thou wouldst not love me!
XII
My men were clothed all in green,
And they did ever wait on thee;
All this was gallant to be seen;
And yet thou wouldst not love me!
XIII
They set thee up, they took thee down,
They served thee with humility;
Thy foot might not once touch the ground;
And yet thou wouldst not love me!
XIV
For every morning, when thou rose,
I sent thee dainties, orderly,
To cheer thy stomach from all woes;
And yet thou wouldst not love me!
SOURCE
https://www.antiwarsongs.org/canzone.php?id=53904&lang=it
http://greensleeves-hubs.hubpages.com/hub/FolkSongGreensleeves-Greensleeves   http://thesession.org/tunes/1598
http://ingeb.org/songs/alasmylo.html
http://tudorhistory.org/topics/music/greensleeves.html
http://earlymusicmuse.com/greensleeves1of3mythology/
http://earlymusicmuse.com/greensleeves2of3history/
http://earlymusicmuse.com/greensleeves3of3music/
http://ontanomagico.altervista.org/alas-madame.htm