Una volta, la donna che partoriva un figlio al di fuori del matrimonio, era considerata una donnaccia, ripudiata dalla famiglia e a malapena ripagata, dal padre del bambino, con qualche moneta; molte di questa sventurate finivano, se non sulla strada a prostituirsi di male in peggio nelle case della Maddalena.
THE MAGDALENE HOUSE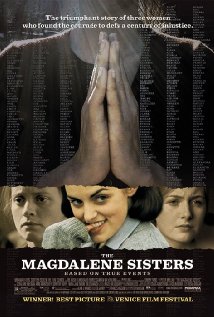 In Irlanda le donne che partorivano fuori dal matrimonio erano punite (mentre gli uomini non erano ritenuti responsabili) e letteralmente carcerate in strutture "caritatevoli" dette "Magdalene Laundries": bastava essere troppo bella o violentata dal marito o abusata da fratelli, padri e parenti per finire nelle Case della Maddalena (la prima casa venne fondata da una donna Lady Arbella Denny a Dublino nel 1766) e si consiglia caldamente di vedere "The Magdalene Sister" (2002) diretto da Peter Mullan, il film-denuncia dei soprusi subiti dalle ragazze nelle Case della Maddalena. continua
Così per inculcare dei saldi principi morali nelle fanciulle e scoraggiarle ad abbandonarsi alle gioie del sesso, la saggezza popolare faceva ricorso alle warning songs!
IN THE MONTH OF JANUARY
Anche con il titolo di: The Forsaken Mother And Child, The Cruel Father, It Was On A Winter's Morning, The Snowstorm
La canzone è stata raccolta dalla tradizione orale in Irlanda  del Nord
ASCOLTA Sarah Makem, Armagh, 1952

( la troviamo in stampa in Folksongs of Britain and Ireland, Kennedy 1975 e anche in America in "Songs of the Newfoundland Outports" vol 2, in  Kenneth Peacock 1965 con il titolo The Forsaken Mother And Child ). Herbert Hughes ha raccolto nel Donegal un frammento della canzone con il titolo The Fanaid Grove, (in Irish Country Songs, Vol I 1909). La ballata è spesso suonata all'arpa celtica, come una ninna-nanna, su di una melodia triste.
La donna scacciata dalla famiglia e abbandonata dal suo falso innamorato, ammonisce le altre di non cedere alle lusinghe di un uomo, specialmente se di rango superiore al proprio, e di non lasciarsi abbagliare dalla bellezza di un giovanotto che è comunque fugace come neve al sole.
Il destino della donna, se non fosse riuscita a farsi sposare da qualche onesto lavoratore, sarebbe stato molto crudele, difficilmente sarebbe stata assunta a servizio a causa della sua immoralità e molto più facilmente sarebbe finita sulla strada!
ASCOLTA June Tabor in "Abyssinians" 1993 una voce ricca di sfumature, un'interpretazione sincera che sottolinea la disperazione della ragazza

ASCOLTA Dolores Kane in Tideland 2001

I
It was in the month of January,
the hills were clad in snow
And over hills and valleys,
to my true love I did go
It was there I met a pretty fair maid,
with a salt tear in her eye
She had a wee baby in her arms,
and bitter she did cry
II
"Oh, cruel was my father,
he barred the door on me
And cruel was my mother,
this fate she let me see
And cruel was my own true love,
he changed (1) his mind for gold
Cruel was that winter's night,
it pierced my heart with cold"
III
Oh, the higher that the palm tree grows, the sweeter is the bark
And the fairer that a young man speaks, the falser is his heart
He will kiss you and embrace you,
'til he thinks he has you won
Then he'll go away and leave you
all for another one
IV
So come all you
fair and tender maidens,
a warning take by me
And never try to build your nest
on top of a high tree
For the roots (2), they will all wither,
and the branches all decay
And the beauties of a fair young man,
will all soon fade away"
TRADUZIONE DI CATTIA SALTO
I
Era il mese di Gennaio,
le colline erano coperte dalla neve,
e mentre per colline e valli
dal mio vero amore andavo
incontrai una graziosa fanciulla
lacrime amare avea agli occhi,
e un bambino tra le braccia,
e tristemente si lamentava.
II
"O crudele fu mio padre
che mi chiuse la porta in faccia,
e crudele fu mia madre
che mi lasciò a questo destino,
e crudele fu il mio vero amore
che cambiò la sua intenzione con l'oro,
crudele fu quella notte d'inverno
che mi trafisse il cuore con il ghiaccio.
III
Oh, più in alto cresce la palma
e più dolce è la sua corteccia,
così più dolcemente parla un uomo,
più falso è il suo cuore;
lui vi bacia e abbraccia
mentre pensa di avervi conquistate,
poi se ne andrà via
e vi lascerà per un'altra.
IV
Così venite voi
belle e giovani fanciulle,
un avvertimento prendete da me:
non cercate mai di costruire il vostro nido sulla cima di un albero alto (2),
perchè tutte le radici (3) si seccheranno
e tutti i rami cadranno
e la bellezza di un grazioso giovanotto
presto svanirà"
NOTE
1) l'uomo invece di sposarla come era nelle intenzioni (prima di ottenere la virtù della donna) preferisce darle un po' di soldi e sbarazzarsi di lei e del bambino. Altri intendono invece che siano stati i genitori della ragazza a pagare l'amante povero per allontanarlo da ogni pretesa matrimoniale, ma così non si spiega perchè abbiano buttato fuori casa anche la figlia!! In altre versioni s'intende che il giovane sia andato via dal paese in cerca di fortuna, perchè troppo povero per mettere su una famiglia.
2) il verso è condiviso in molte altre warning songs sul tema dell'amore tradito o falsamente corrisposto. Vedasi "The verdant braes of Screen", P stands for Paddy
3) a volte scritto come "leaves"

FONTI
http://mainlynorfolk.info/frankie.armstrong/ songs/itwasinthemonthofjanuary.html http://mudcat.org/thread.cfm?threadid=45014 http://mudcat.org/thread.cfm?threadid=126475 http://www.wtv-zone.com/phyrst/audio/nfld/17/forsaken.htm http://www.wtv-zone.com/phyrst/audio/nfld/13/morning.htm http://tunearch.org/wiki/Annotation:Fanaid_Grove http://tunearch.org/wiki/Fanaid_Grove