The George Aloe and the Sweepstake o (The Coasts of) High Barbary is considered both a sea shanty and a ballad (Child ballad # 285) and certainly its original version is very old and probably from the 16th century. So 'in the seventeenth-century comedy "The Two Noble Kinsmen" we read: "The George Alow came from the south, From the coast of Barbary-a; And there he met with brave gallants of war, By one, by two, by three-a. Well hail'd, well hail'd, you jolly gallants! And whither now are you bound-a? O let me have your company"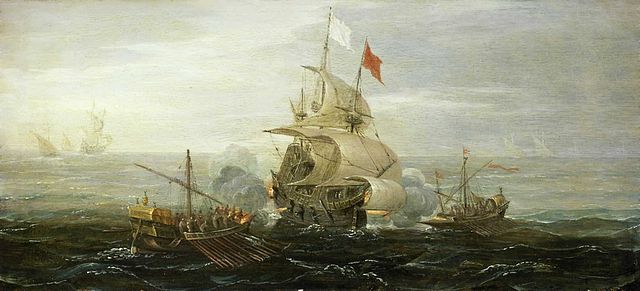 BARBARY PIRATES
The Muslim pirates of the African coasts came from what the Europeans called Barbary or Algeria Tunisia, Libya, Morocco (and more precisely the city-states of Algiers, Tunis and Tripoli, but also the ports of Salé and Tetuan).
The most correct definition is barbarian pirates because they attacked only the ships of Christian Europe (also doing raids in the Christian countries of the Atlantic coast and the Mediterranean to get slaves or to get the best redemptions). The term included Arabs, Berbers, Turks as well as European renegades.
In the affair there were also for good measure the Christian corsairs, which carried out the same raids along the coasts of Barbary (mainly the orders of chivalry of the Knights of Malta and the Knights of St. Stephen, but obviously in these cases it was a matter of "crusade" and not piracy !!
Although pirate activities were endemic in the Mediterranean Sea, the period of maximum activity of the barbarian pirates was the first half of the 1600s.
FIRST VERSION: a forebitter
Stan Hugill in his bible "Shanties From The Seven Seas" shows two melodies: one more ancient when the song was a forebitter and a faster one as a capstan chantey.
The oldest version of the ballad tells of two merchant ships The George Aloe, and The Sweepstake with George Aloe who avenges the sinking of the second ship using the same "courtesy" to the crew of the French pirate ship who had thrown into the sea the Sweepstake crew.
Pete Seeger

Joseph Arthur from  Rogue's Gallery: Pirate Ballads, Sea Songs, and Chanteys, ANTI- 2006 (biography and records here) rock version

There were two lofty ships
From old England came
Blow high, blow low
And so sail we
One was the Prince of Luther
The other Prince of Wales
All a-cruisin' down the coast
Of High Barbary
"Aloft there, aloft there"
Our jolly bosun cried
"Look ahead, look astern,
Look to weather an' a-lee"
"There's naught upon the stern, sir
There's naught upon our lee
But there's a lofty ship to wind'ard
An' she's sailin' fast and free"
"Oh hail her, oh hail her"
Our gallant captain cried
"Are you a man-o-war
Or a privateer?" cried he
"Oh, I'm not a man-o-war
Nor privateer," said he
"But I am salt sea pirate
All a-looking for me fee"
For Broadside, for broadside
A long time we lay
'Til at last the Prince of Luther
Shot the pirate's mast away
"Oh quarter, oh quarter"
Those pirates they did cry
But the quarter that we gave them
Was we sank 'em in the sea
SECOND VERSION: a sea shanty
The ballad resumed popularity in the years between 1795 and 1815 in conjunction with the attacks of Barbary pirates to American ships.
Tom Kines from "Songs from Shakespeare´s Plays and Songs of His Time",1960
a version of how it was sung in the Elizabethan era

Quadriga Consort from Ships Ahoy 2013 ♪
Assassin's Creed Black Flag  sea shanty version

The Shanty Crew

"Look ahead, look-astern
Look the weather in the lee!"
Blow high! Blow low!
And so sailed we.
"I see a wreck to windward,
And a lofty ship to lee!
A-sailing down along
The coast of High Barbary"
"O, are you a pirate
Or a man o' war?" cried we.
"O no! I'm not a pirate
But a man-o-war," cried he.
"We'll back up our topsails
And heave vessel to.
For we have got some letters
To be carried home by you".
For broadside, for broadside
They fought all on the main;
Until at last the frigate
Shot the pirate's mast away.
"For quarter, for quarter",
the saucy pirates cried
But the quarter that we showed them
was to sink them in the tide
With cutlass and gun,
O we fought for hours three;
The ship it was their coffin
And their grave it was the sea
But O! 'Twas a cruel sight,
and grieved us, full sore,
To see them all a drownin'
as they tried to swim to shore
LINK
http://www.contemplator.com/england/barbary.html
http://mudcat.org/thread.cfm?threadid=137331 https://mainlynorfolk.info/peter.bellamy/songs/barbaree.html http://www.ilportaledelsud.org/barbareschi.htm http://www.ilportaledelsud.org/pirati.htm
http://71.174.62.16/Demo/LongerHarvest?Text=ChildRef_285