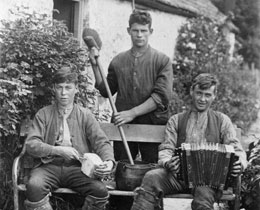 The Barnyards o' Delgaty è tra le più famose vecchie "bothy ballads" della Scozia: un giovane bracciante (molto probabilmente un aratore o più genericamente un cavallante) si reca al mercato di Turra per cercare lavoro, e un ricco fattore di Delgaty lo convince ad andare a lavorare per lui, in cambio di una buona paga e di un buon trattamento; in realtà il trattamento è pessimo e i cavalli sono dei ronzini.
Risalente a fine Ottocento è stata registrata solo nel 1930. Interpretata negli anni 60 dai migliori gruppi di musica irlandese come i Clancy Brothers e i Dubliners, per il suo tono allegro e "macho"  (una canzone ammiccante, con letture a doppio senso) è una canzone che spopola ancora oggi  come drinking song.
Melodia "Linton Lowrie" 'Lilten Lowren', 'Linten Lowrin'.
Prima due versioni più "moderne"
ASCOLTA Gaelic Storm in Hearding Cats 1999

Old Blind Dogs live: Ian F. Benzie – voce e chitarra, Jonny Hardie – violino, Davy Cattanach – percussioni, Buzzby McMillan – basso

E poi due versioni più datate
ASCOLTA Andy Stewart nella versione più tradizionale

ASCOLTA The Dubliners (voce Luke Kelly)


I
As I came in by Turra Market
Turra Market for tae fee(1)
I met up wi' awealthy fairmer
The Barnyards o' Delgaty(2)
Lin-tin-addy, too-rin-addy
Lin-tin-addy, too-rin-ee
Lin-tin-lowrin-lowrin-lowrin
The Barnyards of Delgaty
II
He promised me the ae best pair (3),
that ever I laid my eyes upon,
when I got to the barnyards, there was nothin' there but skin and bone!
III
Well, the old grey horse sat on his rump
the old white mare sat on her whine(4)
when it came to the "Whup" and crack they shouldn't rise at yokin' time (5).
IV
Meg McPherson maks my brose(6)
An her an me we canna gree
First a mote and syne a knot
An aye the ither jilp o' bree
V
When I go to the kirk on Sunday
many's the bonny lass I see
sittin' by her father's side
and winkin' o'er the pews at me!
VI
And I can drink and not get drunk,
I can fight and not be slain
I can sleep with another man's wife (7)
and still be welcome to my ayn.
VII
Now my candle(8) is burnt out
my snotter's(9) fairly on the wane
fare the well ye Barnyards,
you'll never catch me here again!

traduzione italiano di Cattia Salto
I
Appena andai al mercato di Turra
al mercato di Turra per il lavoro (1)
incontrai un agricoltore benestante della fattoria di Delgaty (2)
Lin-Tin-Addy, Too-Rin-Addy
Lin-Tin-Addy, Too-Rin-Ee
Lin-Tin-Lowrin-Lowrin-Lowrin
La fattoria di Delgaty
II
Mi promise il miglior paio
che io avessi mai visto,
ma quando arrivai alla fattoria,
non erano altro che pelle e ossa!
III
Il vecchio cavallo grigio steso sulla groppa, la vecchia cavalla bianca stesa sul  ventre per quanto avessi potuto gridare "Hup" non si sarebbero mai alzati per metterli al giogo!
IV
Med McPherson mi fa la farinata (6),
ma non andiamo d'accordo, prima mi da un piccolo pezzo e poi un grumo
e  un altro cucchiaio di liquido
V
Quando vado in chiesa di Domenica
sono molte le belle ragazze che vedo
sedute al fianco del padre, che mi fanno l'occhiolino da sopra i banchi!
VI
Posso bere e non ubriacarmi, lottare e non essere ucciso, posso dormire con la ragazza di un altro uomo, ed essere ancora il benvenuto.
VII
Ora la mia candela (8) è bruciata
il mio stoppino è agli sgoccioli
addio Fattoria
non mi prenderai di nuovo!.
NOTE
1) il lavoro dell'aratore era stagionale e durava dai tre ai sei mesi. La fiere e i grandi mercati dove si assumevano i braccianti si svolgevano in Scozia ogni 3 mesi (i cosiddetti Old Scottish term days): Candelora (2 febbraio), Whitsunday (domenica di Pentecoste legislativamente fissato a questo scopo il 15 maggio), Lammas (1 agosto) San Martino (11 novembre).
2) la tenuta Delgaty è a nord-est di Turriff, nel Nord-Est della Scozia
3) twa best horse
4) oppure "The auld grey mare sat on her hunkers,
The auld dun horse lay in the grime"
5) oppure "For aa that I would 'hup' and cry,
They wouldna rise at yokin time."
6) il brose è una farinata d'avena e acqua calda. A volte si aggiunge il latte o un pezzo di burro, ma fondamentalmente è un piatto ancora più povero del porridge (per gli scozzesi è il modo "giusto" di preparare il porridge! Ai braccianti veniva servito come colazione e anche come cena! Evidentemente Meg la servetta, non doveva avere in simpatia il protagonista perchè gli porge solo la parte più liquida del brose piuttosto che un bel cucchiaio di pappa. Oppure l'osservazione va ad aggiungersi alle lamentele che il lavorante ha da fare nei confronti del proprietario anche nei riguardi del vitto. Inevitabile pensare alla canzoncina dal titolo"Brose&Butter" di Robert Burns
7) oppure I can coort anither man's lass,
8) la candela arrivata alla fine è un eufemismo per indicare l'impotenza della tarda età, come anche lo stoppino comsumato
9) Snotter, snodder: the burnt wick of a candle, the drip on the end of the nose (stoppino)

C'è ancora un'altra strofa di lamentele che però non è riportata nelle versioni selezionate per l'ascolto che riguarda le condizioni dei pagliericci:
Its lang Jean Scott that maks ma bed
(Tall Jean Scott makes my bed)
You can see the marks upon my shins
For she's the coorse ill-trickit Jaud
(She's a bad and very naughty and worthless woman)
That fills my bed wi Prickly whins
(She fills my bed with sprigs of gorse bushes)
[traduzione italiano: Jean Scott la lunga mi fa il letto, e si possono ancora vedere i segni sulla mia pelle, lei è una donna cattiva, pettegola e inutile, che riempie il mio letto con rametti di ginestra.]
Sui rametti di ginestra ho già ampiamente parlato qui
FONTI
http://www.educationscotland.gov.uk/scotlandssongs/about/songs/ballads/bothyballads/index.asp http://www.nefa.net/archive/songmusicdance/bothy/ http://www.nefa.net/nefajnr/archive/peopleandlife/land/bothylife.htm http://www.educationscotland.gov.uk/scotlandssongs/primary/genericcontent_tcm4554484.asp
http://mudcat.org/thread.cfm?threadid=9515