Ci sono parecchie  sea songs dal titolo "the Banks of Newfoundland",  da non considerarsi propriamente come variazioni su una stessa melodia, anche se condividono un tema comune, i pericoli della pesca o della navigazione al largo di Terranova.
Una lunga tradizione narrativa a Terranova s'ispira a eventi e persone di importanza locale così le ballate del mare parlano di naufragi e calamità . (vedi)
Un filone in particolare si presenta con vari titoli (The Schooner Mary Ann, Banks of Newfoundland) e varianti a partire da una ballata americana del tardo 1800 attribuita al capitano Cale White dal titolo Bound Down To Newfoundland (Roud n ° 647) e diffusa parimenti in Nuova Scozia.
On St. Patrick's Day, the seventeenth from New York we set sail
Anche con il titolo "Bound down for Newfoundland" la ballata narra della morte del capitano colpito dal vaiolo, a bordo della goletta americana Mary Ann (oppure il brigantino l'Eveline): si tratta probabilmente di una nave di pescatori diretta ai Banchi di Terranova per la stagione di pesca.
Questa versione in particolare è stata raccolta da Helen Creighton [1899-1989] e pubblicata in Songs And Ballads From Nova Scotia.
Per raccontate una storia triste, che piange la morte del giovane capitano, la melodia abbinata è fin troppo allegra. La canzone è talvolta classificata come una irish ballad.
The Corries in Bonnet, Belt & Sword 1967

Ryans Fancy  in Sullivan's Gypsies 1970 (strofe I, III, IV, V)


I
On St. Patrick's Day, the seventeenth
From New York we set sail
Kind fortune did favour us
Wi' a sweet and a pleasant gale
We bore away from Americay
The wind bein' off the land
And wi' courage brave we ploughed the wave Bound down for Newfoundland
II
Our Captain's name was Nelson
Just twenty years of age
As true and brave a sailor lad
As ever ploughed the wave
The Eveline our brig (1) was called
Belonging to McLean
And wi' courage brave we ploughed the wave
Bound down for Newfoundland
III
When three days out to our surprise
Our Captain he fell sick
He shortly was not able
To take his turn on deck
The fever raged which made us think
That death was near at hand
So we bore away from Halifax (1)
Bound down for Newfoundland
IV
At three o'clock we sighted a light
That we were glad to see
The small-pox bein' ragin'
That's what it proved to be
At four o'clock in the afternoon
As sure as God's command
He passed away in Arichat (2)
Bound down for Newfoundland
V
All that night long we did lament
For our departed friend
And we were prayin' unto God
For what had been his end
We prayed that God would guide us
And keep us by his hand
And send us fair wind while at sea
Bound down for Newfoundland
Traduzione italiana Cattia Salto
I
Il giorno di San Patrizio, il diciassette (marzo) da New York  siamo salpati
la fortuna gentile ci ha favorito
con un vento forte dolce e piacevole
siamo partiti dall'America
il vento che veniva da terra
e armati di coraggio abbiamo solcato l'onda diretti a Terranova
II
Il nome del nostro Capitano era Nelson
e aveva solo vent'anni
da vero e coraggioso giovane marinaio
che mai solcò il mare
l'Eveline si chiamava il brigantino
che apparteneva a McLean
e armati di coraggio abbiamo solcato l'onda
diretti a Terranova
III
Quando mancavano tre giorni al nostro arrivo, il capitano si è ammalato
e in breve non è stato capace
di prendere il suo posto sul ponte,
la febbre imperversava da farci pensare che la morte era vicina
così ci allontanvamo da Halifax
diretti a Terranova
IV
Alle tre in punto avvistammo un faro
che eravamo felici di vedere
Il vaiolo stava infuriando
-ecco cos'era.
Alle quattro del pomeriggio
secondo la volontà di Dio
è morto ad Arichat
diretti a Terranova
V
Tutta la notte ci siamo lamentati
per il nostro amico defunto
pregavamo Dio
per ciò che è stata la sua fine.
Abbiamo pregato che Dio ci guidasse
e ci tenessenella sua mano
per mandaci il vento giusto mentre in mare (eravamo) diretti a Terranova

NOTE
1) Halifax  (Nuova Scozia): con il capitano ammalato che conosceva la costa la nave aveva perso i suoi punti di riferimento
2) Arichat piccolo villaggio sull'Isle Madame con due fari, uno all'ingresso del porto e l'altro a Jerseyman Island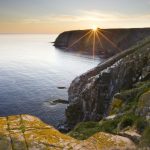 transportation song
la pesca sui Banchi
the Eastern Light
morte del capitano (ballata americana)
naufragio e soccorso sui Banchi (ballata canadese)
FONTI
http://gestsongs.com/02/bound2.htm
http://gestsongs.com/02/bound1.htm
http://gestsongs.com/21/bound3.htm
http://disastersongs.ca/bound-down-for-newfoundland-schooner-mary-ann/
http://www.sssa.llc.ed.ac.uk/whalsay/2015/02/03/bound-down-for-newfoundland/
https://www.8notes.com/scores/3609.asp
http://www.kinglaoghaire.com/lyrics/932-the-banks-of-newfoundland-1
http://www.traditionalmusic.co.uk/irish-songs-ballads-lyrics/bound_down_for_newfoundland.htm
https://www.mun.ca/folklore/leach/songs/NFLD1/16A-06.htm
http://www.mun.ca/folklore/leach/songs/NFLD2/20-6_51.htm
http://www.fresnostate.edu/folklore/ballads/LD22.html