Ci sono parecchie  sea songs dal titolo "the Banks of Newfoundland",  da non considerarsi propriamente come variazioni su una stessa melodia, anche se condividono un tema comune, i pericoli della pesca o della navigazione al largo di Terranova.
Most sad was my misfortune in the year of 'sixty-three
Talvolta con il nome "The Eastern Light" la ballata della tradizione canadese intitolata "the Banks of Newfoundland" descrive una stagione di pesca sui Grandi Banchi di Terranova, il peschereccio è partito dal porto di Gloucester (Massachusetts) nel mese di Marzo e il nostro marinaio era decisamente ubriaco al momento dell'imbarco.
Kenneth Peacock che la collezionò da James Rice nel 1951, (in Songs Of The Newfoundland Outports, Volume 1, 1965) ritiene sia stata una ballata americana originaria del New England, anche Helen Creighton ha raccolto la stessa ballata in Nuova Scozia con il titolo di The Gloucester Fishermen.
Jim Rice [1879-1958] di Cape Broyle dall'Archivio MUNFLA ♪
The Dardanelles live,  (in The Eastern Light, 2011) arrangiamento strumentale Matthew Byrne & Billy Sutton

I
'Twas of my sad misfortune
in the year of seventy-three (1),
I set on board the fisher ship
all off a drunken spree (2),
her name it was The Eastern Light (3),
as you might  understand,
We were bound down on a salt sea trip to the Banks of Newfoundland.
II
The saturday day beein the first of March, we left Gloucester port
the girls all wove their handkerchiefs
as we sailed down the shore
we had a jar of rum on board
which gathered round all the crew,
We drank the health to the Gloucester girls, in bidding us adieu.
III
It's early in the morning boys
our cook he give a bawls,
"Get out and get your breakfast, b'ys, get out and haul your trawls (4).
You'll scarce have time to light your pipe, your dory (5) she do go,
You'll have to make three sets today
no matter how hard it blows"
IV
We fished around  the foggy bank (6)
the space of seventeen days,
We boarded a couple of Frenchmen boat, no brandy could we raise.
The halibut they be in kind of scarce, we run our cod-fish gear,
our skipper he says 'I'll fill her up, if it takes a half a year."
V
We fished around the foggy bank
our skipper he louded shout
"Come hoist aboard your dories, b'ys, and break your anchor out;
come hoist the …(?)
we'll get her under way,
provisions are getting kind of scarce, we can no longer stay,
VI
And now the anchor's on the bow
we are homeward bound,
And when we get to Gloucester port
we'll pass the glasses round.
We'll go down to Johnny McLoudy
and we'll have a happy night,
We'll drink the health of the Gloucester girls,
and success to the "Eastern Light".
Traduzione italiana Cattia Salto
I
Per triste sventura
nell'anno del settantatré ,
mi sono imbarcato su un peschereccio
ubriaco fradicio,
il suo nome era "The Eastern Light" ,
come saprete
eravamo in partenza per un viaggio nel mare salato ai Banchi di Terranova.
II
Il sabato, il primo di marzo, abbiamo lasciato il porto di Gloucester,
le ragazze sventolavano i fazzoletti,
mentre partivamo da terra,
avevamo a bordo una bottiglia di rum
attorno a cui tutto l'equipaggio si radunò, abbiamo bevuto alla salute delle ragazze di Gloucester, che di dicevano addio.
III
Era l'alba, ragazzi
il nostro cuoco grida,
"Alzatevi a fare colazione, ragazzi,
andate a pescare,
avrete poco tempo per accendere la pipa, la vostra dory deve andare,
dovrete fare tre turni oggi
non importa quanto sia forte il vento"
IV
Abbiamo pescato sui Banchi nebbiosi
per la durata di diciassette giorni,
abbordammo un paio di barchette francesi, ma non potevamo procurarci del brandy
siccome la passera era scarsa, ricorriamo alla nostra attrezzatura per il merluzzo,
il nostro comandante dice "La riempirò, ci volesse un anno e mezzo".
V
Abbiamo pescato sui Banchi nebbiosi
il nostro comandante ha urlato forte
"Venite a issare a bordo i vostri dory ragazzi, e leviamo l'ancora;
….,
per partire,
le provviste stanno diventando scarse, e non possiamo più restare,
VI
E ora l'ancora è a prua
siamo diretti verso casa,
E quando arriveremo al porto di Gloucester
faremo girare i bicchieri.
Faremo un salto a Johnny McLoudy
per passare una buona serata,
e berremo alla salute delle ragazze di Gloucester,
e al successo della "Eastern Light".


NOTE
* trascritto da Cattia Salto in parte da qui
1) la data cambia per alcuni è il 1873. per altri il 1863: anche scritto come " in eighteen hundred and seventy-three"
2) in alcune strofe qui non riportate il marinaio maledice il suo amore per i liquori, perchè se si fosse mantenuto sobrio, non si sarebbe mai imbarcato
3) un peschereccio dal nome "Eastern Light" 70 tonnellate, fu costruito nel 1866, di proprietà di "Maddocks and Company of Gloucester", Massachusetts.
4) "Banks dory" è la barchetta costruita in modo seriale e in grande quantità a partire dal 1850,  a fondo piatto per uno o due uomini a seconda della dimensione continua.
5) letteralmente dice "trascina le reti da traino" ma la pesca tradizionale sui Grandi Banchi almeno fino alla fine dell'ottocento si faceva con le lenze (vedi)
6) i Grandi Banchi di Terranova: un tratto di mare dal fondale basso a sud-est dell'isola canadese di Terranova, di forma grosso modo triangolare spesso sconvolto dalle tempeste, infido e pericoloso per la presenza di iceberg e la frequente nebbia.  L'incrocio tra la calda corrente del Golfo e la fredda corrente del Labrador, che sollevano dal fondale le sostanze nutrienti, ne fanno una delle zone più pescose al mondo. Il mescolarsi di acque calde e fredde è causa però anche di nebbia che, prima dell'avvento della navigazione strumentale, rendeva la zona molto insidiosa. (daWiki)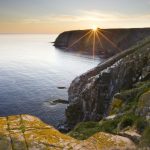 transportation song
la pesca sui Banchi
the Eastern Light
morte del capitano (ballata americana)
naufragio e soccorso sui Banchi (ballata canadese)
FONTI
https://www.mun.ca/folklore/leach/songs/NFLD1/4-12.htm
http://gestsongs.com/01/banks4.htm
http://sniff.numachi.com/pages/tiEASTRNLT.html