The halyards shanties were very common on nineteenth-century ships (postal, merchant or whaler).
OLD BILLY RILEY
The song "Billy Riley" is considered one of the first sea shanties, probably born of a cotton-hoosiers song sung by black slaves. The vessels on which it was sung were of the "Blackwall frigate" type, a three-masted ship built between the end of 1830 and the mid-1870s.
The sea shanty "Billy Riley" fits the rhythm of fast pulling and quick breathing.
Stan Hugill writes in his Shanty Bibble "They used Jackscrews to pack the cotton into the holds of vessels, to ram them up tight and so get more in the cargo hold. Lots of negroes were used in this labour, and their chants turned into shanties when the sailors used them for other jobs, often the tune remained and the words were changed to suit Sailor John. Negroes formed a large part of the crew of some vessels, and took their chants to sea with them, and a hell of a lot of 'white mans shanties' had negro origins."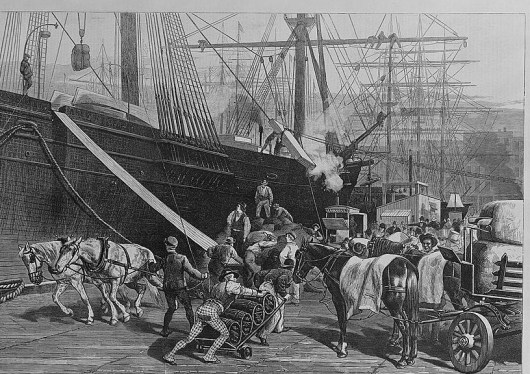 THE SARCASM
The shantyman plays on the words and teases Billy the commander of the ship, the degree of "master" is compared to that of a "dancing master", but certainly captain is a rude and authoritarian kind and certainly not a dandy!
The term "master" is however little used in the sea songs in which the name "Captain" prevails or as in the sea shanty that it's preferred "Old man". What about unchaste thoughts that come to mind to the crew, addressed to Billy Riley's wife (or daughter), while they were loading the ship?
Assassin's Creed

Johnny Collins

AC Black Flag version
Old Billy Riley was a dancing master(1).
Old Billy Riley, oh, Old Billy Riley!
Old Billy Riley's master of a drogher(2).
Master of a drogher bound for Antigua.
Old Billy Riley has a nice young daughter(3).
Oh Missy Riley, little Missy Riley.
Had a pretty daughter,
but we can't get at her.
Screw her up(4) and away we go, boys.
One more pull and then belay, boys

Johnny Collins version
Oh Billy Riley, Mister Billy Riley
Oh Billy Riley oh
Billy Riley, Mister Billy Riley
Oh Billy Riley oh
Old Billy Riley was a dancing master(1).
Oh Billy Riley shipped aboard a droger(2)
Oh Billy Riley wed the skipper's daughter(3)
Oh Mrs Riley didn't like sailors
Oh Mrs Riley had a lovely daughter
Oh Missy Riley, pretty Missy Riley
Oh Missy Riley, screw her up to Chile(4)
NOTES

1) it's referred to the captain in an ironic sense
2) drogher was a slow cargo ship for transport along the West Indies coast, more properly a triangular fishing boat. More generally, the West Indies for Europeans of the fifteenth century were one with the American continent, so even in 1507 Amerigo Vespucci sensed that the Europeans had "discovered" a new continent the term remained in use for many centuries. Thus the drogher is located in the Caribbean and sails to Antigua, the island of the Lesser Antilles, where sugar and cotton are produced. I think the term is used in a derogatory sense always against the commander because his is not really a ship that plows the oceans !!
3) droger- daughter word games for assonance
4) "screw her up to Chile" is probably a modegreen for "screw her up so cheerily". Cheerily is a typical seafaring expression for "with a will" or "quickly." The word screw though two-way has the primary meaning of "tighten up" (compress). "Cotton was" "screwed". Cotton was "screwed" into the hold of a ship using a kind of enormous horizontal jack. Stan Hugill says: "They are used to pack the cotton into the vessels of vessels."
JOHN SHORT VERSION
Jeff Warner from Short Sharp Shanties : Sea songs of a Watchet sailor vol 3 ♪
Both Sharp and Terry comment that they have not come across any version other than Short's – although Fox-Smith and Colcord (who published later) both give versions.  Hugill notes the "remarkable resemblance between Billy Riley and Tiddy High O!" and feels that "it probably originates as a cotton-hoosiers song." It may be that it was an early shanty that became less and less used, for Fox-Smith states that: "I have come across very few of the younger generation of sailormen who have heard it." All versions seem fairly consistent and what words there are in Short's text fit the usual pattern and so have been augmented from the other sources.  Sharp's notes, after the text, say: "and so on, sometimes varying 'walk him up so cheer'ly' with 'screw him up etc". (from here)
Oh Billy Riley, little Billy Riley
(Oh Billy Riley oh)
Oh  Billy Riley walk her up so cheerily
Oh Billy Riley, little Billy Riley
Oh  Billy Riley screw her up so cheerily
Oh Mister Riley, oh Missy Riley.
Oh Missy Riley screw her up so cheerily
Oh Billy Riley was a boardinghouse master
Oh Billy Riley had a lovely daughter
Oh Missy Riley how I love your daughter
Oh Missy Riley I can't get at her
Oh Missy Riley, little Missy Riley
Oh Missy Riley, screw her up so cheerily
Oh Billy Riley hauling and hung together
Oh  Billy Riley walk her up so cheerily

LINK
http://mainlynorfolk.info/lloyd/songs/oldbillyriley.html
http://mudcat.org/thread.cfm?threadid=46593 http://www.exmouthshantymen.com/songbook.php?id=92