In Brittany in winter nights the Ankou travels in search of souls, on his squeaky cart pulled by two black emaciated horses; he is the Companion, the one who leads souls from one world to another. In folk tales he looks like a lanky farmer-carter and with a big hat on his head that obscures his face, sometimes he is accompanied by two helpers, also dressed in black.
Sometimes riding sometimes as a cart driver (le Carrier an Ankou) he leads the souls (or waits for them) to the door of Hell which in Brittany opens in the Yeun Ellez in the Mounts of Arrée (in the center of Finistère), a swampy depression in the middle of the Mountains, dominated by the Mont Saint-Michel de Brasparts on which the chapel of Saint Michael was built (not surprisingly).

The bog in the form of lush fields hides its pitfalls from the unwary travelers who leave the paths and end up drowning imprisoned by the slime.
AN INELUDIBLE CART
No force can stop the cart, which is often empty or full of people, some say that on the cart there is also a musical band that plays a suave song. When the cart stops or when it is heard passing (and for this reason the wheels squeak) the own eath or the death of a relative or an acquaintance, it's near.
"It is along particular paths that you can meet this dismal crew: they are usually ancient streets abandoned by the usual traffic and cut off from everyday life. The paths of Death are called in Breton by henkou ar Maro; it is inconvenient and dangerous to close them, because you can disturb the passage of Ankou. In the areas along the coast, the Master, as he is also called, likes to travel by sea using a boat, the bag-noz or the night boat. On the boat or with the wagon, anyone who meets him, returns home to lie down and disappear from this world a few days later (translated from here).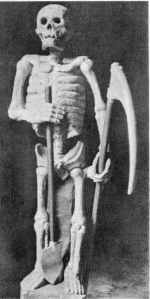 In the Breton depictions (mostly sculptures and bas-reliefs but also wall paintings) Ankou is a skeleton that holds an arrow, a spade or a sickle, which are not offensive instruments but rather symbols, it is in fact a peaceful figure , an integral part of community life.
Ankou is similar to the Greek Charon and as the mute ferryman of Souls, but it is also the skeleton of the Macabre Dance and as Alessio Tanfoglio writes in his essay "Ankou e la danza macabra di Clusone" (2016) it is "the skeleton or the representation of the reality of death in its objective form, without deception or masking ".
In some Breton tales the Ankou is of few words and fortunately the legends have been transcribed by Anatole Le Braz in the late nineteenth century collected from the last living storytellers during the veillées, the nocturnal vigils in the isolated farms that he was visiting by bicycle: "La Légende de la Mort chez les Bretons armoricains"
Marjanig, O, put your little foot,
Ankou is the main subject of a nursery rhyme for children entitled "O, lakait ho troadig" (O, put your little foot, in French O, mettez votre petit pied) structured as a progressive count in which the choir introduces a new word which becomes the first of the new series. The song dates back to the 16th century
Christophe Kergourlay
O, lakait ho troadig,
ma dousig Marjanig
O, lakait ho troadig e-kichen va hini
Ni vo troadig hon-daou
Ken na teuy an Ankou
Da gerc'hat ac'hanomp hon-daou
O, lakait ho karig, ma dousig Marjanig
O, lakait ho karig e-kichen va hini
Ni vo karig hon-daou
Ni vo troadig hon-daou
Ken na teuy an Ankou
Da gerc'hat ac'hanomp hon-daou
Ni vo klinig hon-daou
Ni vo karig hon-daou
Ni vo troadig hon-daou
Ken na teuy an Ankou
Da gerc'hat ac'hanomp hon-daou
Ni vo dornig hon-daou,
Ni vo klinig hon-daou
Ni vo karig hon-daou
Ni vo troadig hon-daou
Ken na teuy an Ankou
Da gerc'hat ac'hanomp hon-daou
Ni vo jodig hon-daou,
Ni vo dornig hon-daou,
Ni vo klinig hon-daou
Ni vo karig hon-daou
Ni vo troadig hon-daou
Ken na teuy an Ankou
Da gerc'hat ac'hanomp hon-daou
Ni vo begig hon-daou,
Ni vo jodig hon-daou,
Ni vo dornig hon-daou,
Ni vo klinig hon-daou
Ni vo karig hon-daou
Ni vo troadig hon-daou
Ken na teuy an Ankou
Da gerc'hat ac'hanomp hon-daou

English translation
Chorus
O, put your little foot,
my sweet Mary Jane
O, put your little foot beside mine.
I
We'll be foot to foot
Until Death
Comes to fetch us
II
We'll be leg to leg
We'll be foot to foot
Until Death
Comes to fetch us
We'll be knee to knee…
We'll be hand to hand …
We'll be cheek to cheek …
We'll be mouth to mouth …
LINK
Alessio Tanfoglio: "Quaderno 4. Lo spettacolo della Morte: il cadavere e lo scheletro", "Ankou e la danza macabra di Clusone" (2016)
http://perstorie-eieten.blogspot.it/2010/09/la-leggenda-dell-ankou-il-rapporto-dei.html
http://per.kentel.pagesperso-orange.fr/o_lakait_ho_troadig1.htm
http://www.mamalisa.com/?t=es&p=66
http://www.mamalisa.com/?t=fs&p=66
http://stq4s52k.es-02.live-paas.net/items/show/42662
http://www.arcadia93.org/bretoni.html
https://to.kan.bzh/chant-01341.html