"The Maid who sold her barley" è un po' canto d'amore e un po' canto di protesta (rebel song) tratto dalla poesia omonima pubblicata in "Ballads, Romances and Song" da Robert Dwyer Joyce nel 1861. Tra le tante melodie con cui è stata abbinata la canzone (reel, slow air, jig) in effetti c'è anche la melodia di "The Maid who sold her barley" continua
Il brano viene accolto in alcune collezioni del XVII secolo sulla scia della moda che bandiva le canzoni malinconiche (Pills to Purge Melancholy, Thomas D'Urfey 1699).
Così riporta A.L. Lloyd in merito "An old song and a widespread favourite. Tom D'Urfey included a version of it in the drollery collection: Pills to Purge Melancholy, first published in 1699. Some think he wrote it himself, but that seems doubtful. It has survived in many variants and with several tunes in England, Scotland and Ireland, and turns up in the repertory of semi-nomadic non-Romany travelling folk improperly called "tinkers", in the relatively modern form heard here."
"The Maid who sold her barley" è conosciuta anche con il titolo di "Cold and Row" o "The Farmer"s Daughter," ma anche come "The Northern Ditty," o "The Scotchman Outwitted by the Country Damsel" ma non è da confondere con un titolo simile "The Wind That Shakes The Barley" 

BAWDY SONG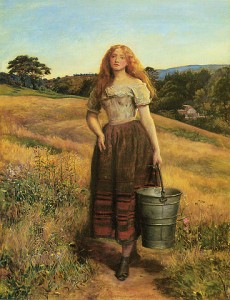 Oltre alle belle lattaie, le strade di un tempo erano percorse da molte fanciulle che, con piccoli carretti o carriole portavano, prima dello spuntar del giorno, i prodotti della terra al mercato cittadino anche nel pieno dell'inverno. E altrettanti dovevano essere i signorotti oziosi pronti a ghermire le loro grazie; nel Medioevo non ci mettevano niente a violentarle, in epoche più civilizzate invece provano a corteggiarle con belle parole o promesse di matrimonio, disposti anche a pagare in cambio della verginità. Ma la contadinella della canzone non si lascia incantare da soldi e vane promesse!
Scarse sono le registrazioni in merito anche se la ballata doveva essere molto popolare nel seicento-settecento, ricca di doppi sensi se non proprio "bawdy"; a volte interpretata come slow air, è anche cantata come una jig più o meno veloce.
COLD AND RAW
Sulla melodia detta "Stingo" riportata nell'"English dancing master" di John Playford (1652) ecco la prima versione testuale.
ASCOLTA The Baltimore Consorte


I
Cold and raw the North did blow, bleak in a morning early;
All the trees were hid with snow, cover'd with winter fearly:
As I came riding o'er the slough, I met with a Farmer's Daughter;
Rosie cheeks, and bonny brow, geud(1) faith, made my mouth to water(2).
II
Down I vail'd my bonnet low, meaning to show my breeding,
She return'd a graceful bow, her visage far exceeding(3):
I ask'd her where she went so soon, and long'd to begin a parley:
She told me to the next market town, a purpose to sell her Barley.
III
"In this purse, sweet soul!" said I, "twenty pound lies fairly,
Seek no farther one to buy, for I'se take all thy Barley:
Twenty more shall purchase delight, thy person I love so dearly,
If thou wilt lig by me all night, and gang home in the morning early."
IV
"If forty pound would buy the Globe, this thing I's not do, Sir;
Or were my friends as poor as Job, I'd never raise'em so, Sir: For shou'd you prove to-night my friend, we'se get a young kid together,
And you'd be gone e'r nine months end, & where shall I find the father?
V
"Pray what would my parents say, if I should be so silly,
To give my maidenhead away, and lose my true love Billy!
Oh this would bring me to disgrace, and therefore I say you nay, Sir;
And if that you would me embrace, first marry, & then you may, Sir!"
VI
I told her I had wedded been, fourteen years and longer,
Else I'd chuse her for my Queen, and tye the knot yet stronger.
She bid me then no farther roame, but manage my wedlock fairly,
And keep my purse for poor Spouse at home, for some other should have her barley.
VII
Then as swift as any roe, she rode away and left me;
After her I could not go, of joy she quite bereft me:
Thus I my self did disappoint, for she did leave me fairly,
My words knock'd all things out of joint, I lost both the maid & the barley.

TRADUZIONE DI CATTIA SALTO
I
Freddo e rude soffia il vento del Nord, tetro di mattina presto,
tutti gli alberi sono nascosti dalla neve, ricoperti dal temuto inverno.
Mentre andavo cavalcando per la palude, incontrai la figlia di un contadino: guance rosa e fronte bella, risoluta, mi ha fatto venire sete.
II
Mi levai il cappello per mostrare il mio lignaggio, lei mi rispose con un grazioso e profondo inchino: le domandai dove stesse andando così presto, e le dissi che desideravo fare conversazione, mi rispose che andava al mercato della prossima città per vendere il suo orzo.
III
"In questo borsello, anima mia – dissi- ci sono venti belle monete, non cercare altri per vendere, perchè prendo io tutto il tuo orzo, altre venti per acquistare la delizia della tua persona che amo così tanto, se tu giacerai con me tutta la notte e andrai a casa al mattino presto"
IV
"Se quaranta monete potrebbero comprare il Globe, questo affare non si farà, signore; se i miei amici fossero poveri come Giobbe, non li nutrirei mai così, signore; perchè se voi mi darete prova della vostra amicizia e facessimo un bambino insieme , e voi ve ne sarete andato alla fine dei nove mesi, dove potrei trovare il padre?
V
"Cosa penserebbero i miei genitori se fossi così sciocca da gettar via la mia verginità e perdere il mio amore vero, Billy! Ciò mi porterebbe in disgrazia e perciò vi dico di no signore; e se ciò che volete è abbracciarmi, prima sposatemi e poi lo potrete fare, signore"
VI
Le dissi che mi ero sposato più di quattordici anni fa, altrimenti l'avrei eletta a mia regina e legato il nodo ancora più stretto.
Lei mi disse di non girovagare ulteriormente, ma di occuparmi piuttosto del mio matrimonio
e di tenere il mio borsellino per la povera sposa a casa, perchè qualcun altro avrebbe avuto il suo orzo!
VII
Poi veloce come ogni capriolo, lei scappò via e mi lasciò;
dietro di lei non potevo andare che mi aveva privato della gioia;
così restai deluso per avermi lasciato così presto, le mie parole respinte,
persi sia la fanciulla che l'orzo

NOTE
1) good
2) espressione che sta per "far venire l'acquolina in bocca"?
THE MAID WHO SOLD HER BARLEY
Le seconda melodia con una versione testuale più moderna e con un bell'arrangiamento strumentale (in Irish  Street Ballads, Colm O'Lochlainn 1960)
ASCOLTA Deanta in "Ready for the Storm" 1994.

I
It's cold and raw,
the north winds blow
black in the morning early.
When all the hills were
covered with snow
and it was winter fairly.
II
As I was riding
over the moor
I met a farmer's daughter.
Her cherry cheeks
and sloe black eyes
they caused my heart to falter.
III
I bowed my bonnet very low
to let her know my meaning.
She answered with a courteous smile
her looks they were engaging.
"Where are you bound my pretty maid
It's now in the morning early?"
The answer that she gave to me
"Kind sir, to sell my barley."
IV
"Now twenty guineas I've in my purse
and twenty more that's yearly.
You need not go to the market town
For I'll buy all your barley.
If twenty guineas would gain the heart
of the maid I love so dearly
all for to tarry with me one night
and go home in the morning early."
V
As I was riding over the moor
the very evening after
it was my fortune for to meet
The farmer's only daughter.
Although the weather
be cold and raw
with her I thought to parlay.
The answer that she made to me:
"Kind sir, I've sold my barley."
TRADUZIONE  DI CATTIA SALTO
I
Freddo e rude
soffia il vento del Nord,
tetro di mattina presto,
quando tutte le colline erano
ricoperte di neve
ed era il temuto inverno.
II
Mentre andavo cavalcando
per la brughiera,
ho incontrato la figlia di un contadino: guance come ciliegia
e occhi neri come prugnoli,
mi hanno fatto vacillare il cuore.
III
Mi sono levato il cappello in un profondo inchino per mostrare il mio lignaggio, lei mi rispose con un cortese sorriso, con le sue grazie tutte in mostra: "Dove siete diretta, mia bella fanciulla, così di mattina presto?"
La risposta che mi diede "Signore ben gentile, a vendere il mio orzo".
IV
"In questo borsello ci sono adesso venti ghinee, altre venti ce ne  saranno più tardi, non devi andare al mercato cittadino perchè prenderò io tutto il tuo orzo. Se venti ghinee potessero acquistare il cuore della fanciulla  che amo così tanto, il tutto per rimanere con me una notte e ritornare a casa al mattino presto"
V
Mentre andavo cavalcando per la brughiera, la sera più tardi,
ho avuto la fortuna di incontrare
l'unica figlia del contadino,
sebbene il tempo fosse freddo e rude,
con lei ho iniziato a discutere.
La risposta che mi ha dato "Gentile signore, ho venduto il mio orzo"
FONTI
http://digital.nls.uk/broadsides/broadside.cfm/id/16719/transcript/1
http://books.google.it/books?id=-K0QAAAAYAAJ&pg=RA1-PA167&redir_esc=y#v=onepage&q&f=false
http://books.google.it/books?id=8fzWAAAAMAAJ&pg=PA211&redir_esc=y#v=onepage&q&f=false
http://mainlynorfolk.info/lloyd/songs/coldandraw.html
http://mudcat.org/thread.cfm?threadid=8867
http://mudcat.org/@displaysong.cfm?SongID=6664
http://www.folktunefinder.com/tune/49310/