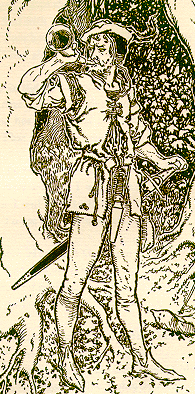 Il "contrasto" tra innamorati, basato sui "compiti o enigmi impossibili" ha come modello la ballata "The Elfin Knight", passa per il titolo "Cambric shirt" e diventa nel giro di qualche secolo la popolarissima "Scarborough fair":  la ritroviamo con il titolo "Humours of Love" pubblicata nella collezione delle Madden Ballads (Cambridge Biblioteca Universitaria) databile al 1780
If you will bring me one Cambrick Shirt,
Sweet savory grows, rosemary and thyme,
Without any Needle, or Needle-work,
And you shall be a true Lover of mine.
Un'ulteriore variante è contenuta nel libro di canti e filastrocche Gammer Gurton's Garland compilato da Joseph Ritson (1752-1803) e pubblicato nel 1783 o 1784 (vedi) e poi ancora in numerose altre ristampe a testimoniarne la popolarità.
Can you make me a cambrick shirt,
Parsley, sage, rosemary and thyme,
Without any seam or needle work?
And you shall be a true lover of mine.

Jürgen Kloss sempre in "Tell Her To Make Me A Cambric Shirt" From The "Elfin Knight" to "Scarborough Fair" (al quale si rimanda per l'analisi più approfondita vedi) identifica una terza variante della ballata pubblicata in Scots Magazine nel luglio del 1807 che potrebbe essere l'anello di congiunzione tra la ballata "The Elfin Knight" e le versioni inglesi. E' interessante in particolare la prima strofa che non inizia più con la richiesta di fare una camicia (senza cucirla) ma con il luogo d'incontro dei due innamorati in questo caso ancora una "yonder hill"
I
[He:]
As I gaed up to yonder hill,
(Saffron, sage, rue, myrrh,and thyme,)
I met my mistress her name it was Nell,
" And lass gin ye be a true lover o' mine.
II
"Ye'll mak' to me a camric sark,
"(Saffron, sage, rue, myrrh,and thyme,)
"Without either seam or needlewark,
"And that an' ye be a true lover o' mine.
L'AMORE IMPOSSIBILE
L'uomo chiede alla donna di dargli delle prove d'amore, e anche lei a lui, sono "compiti impossibili", in cui il contrasto si trasforma in una ripicca fra innamorati; un'altra lettura però è quella dell'amore impossibile così come lo sono le prove da superare, ovvero paradossali, quasi un ossimoro: così il loro amore è finito (o non può continuare per un impedimento sopraggiunto o scoperto) e i due si sono lasciati, ma il congedo è poetico.
LA VERSIONE INGLESE: WHITTINGHAM FAIR
Il testo che invece è quasi identico alla Scarborough ottocentesca è quello di "Whittingham Fair" pubblicato in "Northumbrian Minstrelsy" di J. Stokoe  -1882. Whittingham è un paesello del Northumberland, ma per il resto si tratta dello stesso fraseggio di Scarborough e quindi delle versione della ballata così com'era diffusa nello Yorkshire.
ASCOLTA Joel Frederiksen in "The Elfin Knight – Ballads and Dances" 2007 Il canto si interrompe a metà della storia


I
Are you going to Whittingham Fair
Parsley, sage, rosemary, and thyme
Remember me to one who lives there
For once she was a true love of mine
II
Tell her to make me a cambric shirt,
Without any seam or needlework
III
Tell her to wash it in yonder well,
Where never spring-water nor rain ever fell
IV
Tell her to dry it on yonder thorn,
Which never bore blossom since Adam was born
V
Now he has asked me questions three,
I hope he will answer as many for me;

Traduzione italiano di Cattia Salto
I
"Andate alla fiera di Whittingham ?"
Prezzemolo, salvia, rosmarino e timo
Salutatemi una di quelle parti
un tempo era la mia innamorata
II
Ditele di farmi una camicia di batista
senza lavoro d'ago e filo
III
Ditele di lavarla in quel pozzo,
dove l'acqua mai sgorga e la pioggia mai cade
IV
Ditele di stenderla su quello spino
che non è mai fiorito dai tempi di Adamo
V
Lui mi ha affidato tre compiti
e spero che risponderà ad altrettanti per me

LA VERSIONE AMERICANA
Questa melodia allegra è più vicina allo spirito reale del contrasto tra innamorati proviene dagli Stati Uniti, dove la ballata e le sue varianti sono documentate da trascrizioni e testimonianze per tutto l'Ottocento, in particolare la versione cantata da Peggy Seeger è quasi identica a quella registrata nel 1931 dalla signora Helen Hartness Flanders (1890-1972) dalla famiglia Perkins del Vermont (la famiglia era di origine scozzese e si stabilì nel New Hampshire nella seconda metà del Settecento).
ASCOLTA Peggy Seeger in "Matching Songs Of The British Isles And America" 1957

Nella descrizione dei "compiti impossibili" c'è un che di allucinato, un residuo di visioni medievali alla Bosch o fantasie alla John Anster Fitzgerald


I
"Oh, where are you   going?"
"I'm going to Lynn(1)"
"Remember me to a lady whitin
Parsley, sage, rosemary and thyme(2)
for one she was a true love of mine
II
Tell her to make me a cambric shirt
Without any seam or yet needle work
Tell her to wash it in yonder dry well
Where water ne'er stood nor rain ne'er fell
III
Tell her to hang it on yonder thorn
One that had stood since Adam was born
And if the young lady did well her work
Tell her to bring me my cambric shirt."
IV
"Oh where are you going?"
"I'm going to Cape Ann(3)"
"Take my love to this same young man.
Tell him to buy me an acre of land
Between the salt sea and the sea sand.
V
Tell him to plow it with with an old horse's horn
Sow it all over with one peppercorn.
Tell him to reap it with a sickle of leather,
Bind it up with a peacock's feather
VI
Thresh it with his wooden leg,
and fan it up in the skin of an egg,
tell him to cart it on a cake of ice,
cart it in with a yoke of mice
VII
And when this young man had finished his work,
tell him to come for his cambric shirt."
Traduzione italiano di Cattia Salto
I
"Oh, dove andate?"
"Vado a Lynn" (1)
" Salutatemi una di quelle parti
Prezzemolo, salvia, rosmarino e timo  (2) che un tempo era la mia innamorata
II
Ditele di farmi una camicia di batista
senza lavoro d'ago e filo
ditele di lavarla in quel pozzo asciutto, dove l'acqua mai sgorga e la pioggia mai cade
III
Ditele di stenderla su quello spino
che è rimasto dai tempi di Adamo
e se la fanciulla farà bene il suo lavoro
ditele di portarmi la mia camicia di batista."
IV
"Oh, dove andate?"
"Vado a Cape Ann (3)"
"Portate il mio amore a questo stesso giovanotto.
Ditegli di comprarmi un acro di terra, tra l'acqua del mare e la spiaggia sabbiosa.
V
Ditegli di ararlo con il corno di un vecchio cavallo
e di seminarlo con un  grano di pepe. Ditegli di mietere con  un falcetto di cuoio, e di legare i covoni con una piuma di pavone
VI
Di trebbiarlo con la sua gamba di   legno, e di stendere (i chicchi) sul guscio di un uovo, ditegli  di trasportarli su una torta di  ghiaccio, e con un giogo di topi
VII
E quando questo giovanotto avrà finito il suo lavoro, ditegli di venire per la sua camicia di batista."
NOTE
1) Lynn o Linn deriva da Lyne in Scozia, nel primo verso è il ragazzo a chiedere a un passante di andare a salutare la sua ex fidanzata che vive a Lynn
2) nella versione della signora Flanders il verso dice "Every globe goes merry in time", mentre in Child 2F dice "So sav'ry was said, come marry in time"
3) Cape Ann località aggiunta per contestualizzare la ballata nel Nord America. In Helen Hartness Flanders è scritto come Japan: è la volta ora della ragazza a chiedere al passante di andare a salutare l'ex-fidanzato che vive a Cape Ann
terza parte: Scarborough fair
FONTI
http://ontanomagico.altervista.org/captain-wedderburn.html
http://www.justanothertune.com/html/cambricshirt.html
http://www.bluegrassmessengers.com/us–canada-versions-2-the-elfin-knight.aspx