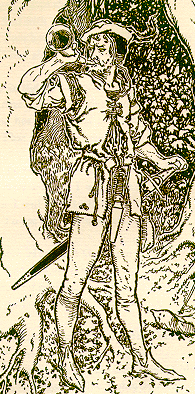 "Cambric shirt" è l'anello di congiunzione tra la ballata "The Elfin Knight" e la popolarissima "Scarborough fair" dei nostri giorni (o quantomeno degli anni 70): la ritroviamo come "Humours of Love" pubblicata nella collezione delle Madden Ballads (Cambridge Biblioteca Universitaria) databile al 1780
If you will bring me one Cambrick Shirt,
Sweet savory grows, rosemary and thyme,
Without any Needle, or Needle-work,
And you shall be a true Lover of mine.

Un'ulteriore variante della ballata è contenuta nel libro di canti e filastrocche Gammer Gurton's Garland; Or, The Nursery Parnassus. A Choice Collection of Pretty Songs and Verses. For the Amusement of all little good Children, Who can neither read or run compilato da Joseph Ritson (1752-1803) e pubblicato nel 1783 o 1784 (vedi) e poi ancora in numerose altre ristampe .
Can you make me a cambrick shirt,
Parsley, sage, rosemary and thyme,
Without any seam or needle work?
And you shall be a true lover of mine.

L'AMORE IMPOSSIBILE
Jürgen Kloss sempre nel suo saggio "Tell Her To Make Me A Cambric Shirt" From The "Elfin Knight" to "Scarborough Fair" (al quale si rimanda per l'analisi più approfondita vedi) identifica una terza variante della ballata pubblicata in Scots Magazine nel luglio del 1807 che potrebbe essere l'anello di congiunzione tra la ballata "The Elfin Knight" e le versioni inglesi,e quindi la Scarborough. E' interessante in particolare la prima strofa che non inizia più con la richiesta di fare una camicia, ma con il luogo d'incontro dei due innamorati in questo caso ancora una "yonder hill" già luogo di partenza dell'Elfin Knight.
I
[He:]
As I gaed up to yonder hill,
(Saffron, sage, rue, myrrh,and thyme,)
I met my mistress her name it was Nell,
" And lass gin ye be a true lover o' mine.
II
"Ye'll mak' to me a camric sark *,
"(Saffron, sage, rue, myrrh,and thyme,)
"Without either seam or needlewark,
"And that an' ye be a true lover o' mine.

* La camicia di lino, prende il nome forse dalla francese Cambrai che già produceva questa lavorazione nel 1677, era un tessuto pregiato la cui importazione in Gran Bretagna fu vietata durante il XVIII secolo, a ragione Kloss ritiene che la camicia della ballata sia un prodotto scozzese diventato sempre più comune a partire dal 1770. Prima (o anche dopo) troviamo Holland sark
Sparito l'elfo il corteggiatore di turno è un giovanotto che chiede alla donna delle "prove d'amore", e anche lei a lui, sono "compiti impossibili", e il gioco erotico ancora presente nell'"Elfin Knight" si trasforma in una ripicca fra innamorati; un'altra lettura però è quella dell'amore impossibile così come lo sono le prove da superare, ovvero paradossali, quasi un ossimoro: così il loro amore è finito (o non può continuare per un impedimento sopraggiunto o scoperto) e i due si sono lasciati.
Di tutte le versioni "Cambrick shirt" citate dal Kloss si riporta il versetto del mazzolino di erbe: "zafferano, salvia, ruta, mirra e timo" ma anche "prezzemolo, salvia, rosmarino e timo" (cf). E' nell'Ottocento che vari antiquari pubblicarono queste vecchie ballate anglo-scozzesi -George Ritchie Kinloch, William Motherwell e Peter Buchan pubblicarono varie collezioni nel 1827/8.
In 1890, English collector Sabine Baring-Gould was informed by a correspondent from Cornwall that this song used to be "enacted in farm houses. A male going outside and entering the room, and a female seated is addressed by him". The man sings the first half and then she replies with the set of requests he has to fulfill before he gets his cambric shirt (see Baring-Gould, Fair Copy CXXVIII, SBG/3/1/629, available at The Full English; see also Child IV, pp. 439-440). A game like this may have been used to affirm gender roles in a rural society: the woman has to take care of the clothes while the man has to work outside and plough the field. But on the other hand these kind of insolvable tasks could have also been a way of making fun of the excessive demands some adolescents might have of their future spouses. Not at least this song may have helped the girls to show some self-consciousness: before the man has the right to ask too much of her he better try to accomplish something special himself. There is no reason to exclude the possibility that this dialogue was used in a similar way much earlier. The anonymous ballad writers – whoever that was – could have then utilized it as a core for a longer narrative song by outlining a background story with the help of new introductory verses: the knight on the hill blowing his horn and then visiting the girl who had fallen in love with him; the messenger shuttling between the protagonists, presumably two former lovers; the man going up to "yonder hill" to meet his mistress. Other plots may have existed, too.
In fact these background stories all sound a little forced to me, as if they were grafted onto the dialogue to explain why the song's protagonist have to set each other these kind of insolvable tasks. [Jürgen Kloss]
[Nel 1890, la collezionista inglese Sabine Baring-Gould fu informata da un corrispondente dalla Cornovaglia che questa canzone era "recitata in una fattoria. Un uomo esce e poi entra nella stanza, e apostrofa una donna sulla sedia". L'uomo canta la prima metà e lei replica con l'insieme di richieste che lui deve soddisfare prima di ottenere la sua camicia di lino (vedi Baring-Gould, Fair Copy CXXVIII, SBG/3/1/629; vedi anche Child IV,  pp. 439-440).
Un gioco come questo potrebbe essere stato usato per affermare i ruoli di genere in una società rurale: la donna deve prendersi cura dei vestiti mentre l'uomo deve lavorare fuori e arare il campo. D'altra parte, questo tipo di compiti impossibili potevano essere anche un modo per prendere in giro le pretese che qualche adolescente potrebbe potuto avanzare nei confronti del futuro coniuge. Alla fine la canzone avrebbe aiutato le ragazze a mostrare un po 'di autocoscienza: prima che l'uomo avesse il diritto di chiedere troppo, doveva realizzare per lei qualcosa di speciale. Non c'è motivo di escludere la possibilità che questo dialogo sia stato usato in modo simile molto prima. Gli scrittori di ballate anonime – chiunque fossero – avrebbero potuto quindi utilizzarlo come base per una canzone narrativa più lunga delineando una storia di fondo con l'aiuto di nuovi versi introduttivi: il cavaliere sulla collina che suonava il corno e poi visitava la ragazza che era innamorata di lui; il messaggero intermediario tra i protagonisti, presumibilmente due ex amanti; l'uomo che sale sulla collina per incontrare la sua padrona. Potrebbero esistere anche altre trame.
In effetti, queste storie di sottofondo mi sembrano tutte un po 'forzate, come se fossero state innestate nel dialogo per spiegare perché il protagonista della canzone esigeva questo tipo di compiti impossibili.]
LA VERSIONE INGLESE: WHITTINGHAM FAIR
Che la ballata circolasse un po' per tutte le isole britanniche ce lo conferma la versione diffusa nel Northumberland. Abbiamo la testimonianza di una tradizione orale e di una ballata "folkloristica" nella seconda metà dell'Ottocento. Si confronti la versione di Thomas Hepple di Kirkwhelpington (manoscritto Thomas Hepple, ora disponibile presso FARNE ) e la versione "letteraria" pubblicata in the Newcastle Courant del 1879 (BNCN, Gale Document Nr. Y3205322708) e successivamente in Northumbrian Minstrelsy. A Collection Of The Ballads, Melodies, And Small-Pipe Tunes Of Northumbria (Newcastle-upon-Tyne 1882) del Rev. J. Collingwood Bruce e John Stokoe.
Whittingham è un paesello del Northumberland, ma per il resto si tratta dello stesso fraseggio di Scarborough
Joel Frederiksen in "The Elfin Knight – Ballads and Dances" 2007 Il canto si interrompe a metà della storia, ma è esattamente lo stesso testo nel Northumbrian Minstrelsy.

I
Are you going to Whittingham Fair
Parsley, sage, rosemary, and thyme
Remember me to one who lives there
For once she was a true love of mine
II
Tell her to make me a cambric shirt,
Without any seam or needlework
III
Tell her to wash it in yonder well,
Where never spring-water nor rain ever fell
IV
Tell her to dry it on yonder thorn,
Which never bore blossom since Adam was born
V
Now he has asked me questions three,
I hope he will answer as many for me;
[ometted ]
VI
Tell him to find me an acre of land,
Betwixt the salt water and the sea sand,
VII
Tell him to plough it with a ram's horn,
And sow it all over with one peppercorn,
VIII
Tell him to reap it with a sickle of leather,
And bind it up with a peacock's feather,
IX
And when he has done and finished his work,
Oh, tell him to come and he'll have his shirt,

Traduzione italiano di Cattia Salto
I
"Andate alla fiera di Whittingham ?"
Prezzemolo, salvia, rosmarino e timo
Salutatemi una di quelle parti
un tempo era la mia innamorata
II
Ditele di farmi una camicia di batista
senza lavoro d'ago e filo
III
Ditele di lavarla in quel pozzo,
dove l'acqua mai sgorga e la pioggia mai cade
IV
Ditele di stenderla su quello spino
che non è mai fiorito dai tempi di Adamo
V
Lui mi ha affidato tre compiti
e spero che risponderà ad altrettanti per me
[omesso]
VI
Ditegli di trovarmi un acro di terra
Fra l'acqua del mare e la spiaggia sabbiosa.
VII
Ditegli di ararlo con un corno di ariete
e di seminarlo per bene con il chicco di pepe
VIII
Ditegli di falciarlo con una falce di cuoio
e di legarlo con una piuma di pavone
IX
E quando l'avrà fatto e avrà finito il suo compito
ditegli di venire che avrà la sua camicia
Esiste anche un'altra versione sempre intitolata Whittingham Fair come registrata da Nancy Kerr e Eliza Carthy nel 1993 nell'album Eliza Carthy & Nancy Kerr.
Scrive così Nancy Kerr nel libretto: "Whittingham Fair proviene da Folk Song of the North Countrie di Frank Kidson e Alfred Moat, con il titolo di Scarborough Fair. La versione "northumbrizzata" proviene da mia madre, e la melodia si trova nei Traditional Tunes di Kidson". Aggiunge Eliza Carthy: "Il titolo di Whittingham Fair mi è venuto come in un lampo di ispirazione mentre stavo imparando la canzone in camera mia. Titolo originale, no?" [traduzione di Riccardo Venturi]
Evidentemente Eliza non sapeva dell'esistenza di una lunga tradizione della ballata nel Northumberland, le due ballate sono di fatto identiche. Come scrive Kloss "The Northumbrian Minstrelsy was indeed an influential collection, according to Gregory (2010, p. 68) even a "foundational document of the Late Victorian folksong revival". But it also has drawn much criticism because of the editors' policies (see Gregory 2004, pp. 369-76 & 2010, pp. 68-84). But that's the way it was at that time. It is always a good idea to check the original sources. Much of what was published has been tinkered with and shouldn't be used uncritically. But of course this applies to all collections of so-called "folk-songs". [The Northumbrian Minstrelsy fu in effetti una raccolta influente, secondo Gregory (2010, p. 68) persino un "documento fondamentale del revival popolare tardo vittoriano". Ma ha anche suscitato molte critiche a causa delle politiche dei redattori (vedi Gregory 2004, pagg. 369-76 e 2010, pagg. 68-84). Eppure era così in quel momento. È sempre una buona idea controllare le fonti originali. Gran parte di ciò che è stato pubblicato è stato modificato e non dovrebbe essere usato acriticamente. Ma ovviamente questo vale per tutte le raccolte di cosiddette "canzoni popolari"]

I
Are you going to Whittingham Fair?
Savoury (1), sage, rosemary and thyme,
Remember me to one who lives there,
She once was a true lover of mine.
II
Tell her to make me a cambric shirt,
Without any stitches or needlework,
III
Tell her to wash it in yonder dry well,
Where water ne'er sprung nor a drop of rain fell,
IV
Tell her to hang it on yonder thorn,
That never bore blossom since Adam was born,
V
Now he has asked me questions three,
I hope he will answer as many for me;
VI
Tell him to find me an acre of land,
Betwixt the salt water and the sea sand,
VII
Tell him to plough it with a ram's horn,
And sow it all over with one peppercorn,
VIII
Tell him to reap it with a sickle of leather,
And tie it up with a peacock's feather,
IX
When he has done and finished his work,
Well, tell him to come and tear up his shirt

Traduzione italiano di Cattia Salto
I
"Andate alla fiera di Whittingham ?"
Santoreggia, salvia, rosmarino e timo
Salutatemi una di quelle parti
un tempo era la mia innamorata
II
Ditele di farmi una camicia di batista
senza lavoro d'ago e filo
III
Ditele di lavarla in quel pozzo asciutto,
dove l'acqua mai sgorga e la pioggia mai cade
IV
Ditele di stenderla su quello spino
che non è mai fiorito dai tempi di Adamo
V
Ora lui mi ha fatto tre richieste
e spero che risponderà ad altrettante per me
VI
Ditegli di trovarmi un acro di terra
Fra l'acqua del mare e la spiaggia sabbiosa.
VII
Ditegli di ararlo con un corno di ariete
e di seminarlo tutto con il chicco di pepe
VIII
Ditegli di falciarlo con una falce di cuoio
e di legarlo con una piuma di pavone
IX
E quando l'avrà fatto e avrà finito il suo compito
ditegli di venire che avrà la sua camicia

NOTE
1) Summer savory (Satureja hortensis)
VERSIONI SCOZZESI
Cambric shirt
The Elfin Knight
VERSIONI INGLESI
Scarboroug fair
Whittingham Fair
VERSIONI AMERICANE
Cambric Shirt

VARIANTI
La pesca dell'anello (versione italiana)
FONTI
http://ontanomagico.altervista.org/captain-wedderburn.html
http://www.justanothertune.com/html/cambricshirt.html
https://www.antiwarsongs.org/canzone.php?lang=it&id=1076
http://tinyurl.com/IA-GG-p4
http://www.bluegrassmessengers.com/us–canada-versions-2-the-elfin-knight.aspx