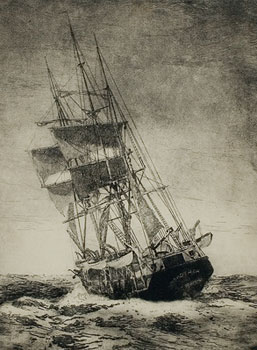 Sulla scia del film  "Pirati dei caraibi"  il produttore Hal Willner (con Gore Verbinski e Johnny Depp) diede alle stampe una prima compilation (Rogue's Gallery: Pirate Ballads, Sea Songs and Chanteys) dedicata a canzoni tradizionali ispirate alla vita della pirateria e della marineria in genere (2006 ). Il bis è arrivato nel 2013 con un altro doppio Cd (Son of Rogues Gallery: Pirate Ballads, Sea Songs & Chanteys)
In the wake of the film "Pirates of the Caribbean" the producer Hal Willner (with Gore Verbinski and Johnny Depp) gave the prints a first compilation, Rogue's Gallery: Pirate Ballads, Sea Songs and Chanteys, dedicated to traditional songs inspired by the life of piracy and marine in general (2006). The encore arrived in 2013 with another double CD (Son of Rogues Gallery: Pirate Ballads, Sea Songs & Chanteys)
Anche le grandi star del rock si sono lasciate trascinare dall'idea di comparire in una  galleria di brutti ceffi ("Rogue's Gallery" nel mondo anglosassone indica gli schedari fotografici dei criminali), in compagnia di grandi interpreti folk, blues, jazz, e chi ne ha più ne metta, per interpretare i canti dei pirati con la propria sensibilità e il relativo background musicale; il progetto coordinato da Hal Willner è iniziata con una lunga ricerca dei testi e delle melodie negli archivi storici e nel web e si è concretizzato in una serie di intense "session" a  Seattle, Los Angeles, Londra, Dublino e New York. Il materiale registrato è bastato per quattro cd pubblicati (in formato doppio) a sei anni di distanza .
Even the great rock stars have been carried away by the idea of appearing in a gallery of ugly guys ("Rogue's Gallery" in the Anglo-Saxon world indicates the criminal photo files), in the company of great folk, blues, jazz musicians, to interpret pirate songs with their own sensitivity and musical background; the project coordinated by Hal Willner began with a long research of texts and melodies in the historical archives and on the web and it has been realized in a series of high "sessions" in Seattle, Los Angeles, London, Dublin and New York. The recorded material was sufficient for four published CDs (in double format) six years later.
Il regista Verbinski usa metafore marine per descrivere l'esperienza.
«L´oceano. È tutto intorno al grande blu che riempie due terzi del pianeta. Il rapporto dell´essere umano con questo abisso crea un´interessante prospettiva. Credo che i navigatori del tempo stessero danzando con la morte, e queste sono le loro canzoni. Risuonano con la gente in qualche livello interiore che non è immediatamente chiaro perché non è nella nostra memoria, è nel nostro sangue. È quello che ci fa sentire così soli».
Director Verbinski uses marine metaphors to describe the experience. "The ocean. It's all about the vast blue that engulfs two thirds of the planet. The human being cast against that abyss creates an interesting bit of perspective. I think the sailors of the time were dancing with death, and these were their tunes. They resonate with people on some internal level that is not immediately obvious because it's not in our memory, it's in our blood. It operates on a cellular level. It's what makes us feel so alone."
ROGUES GALLERY: PIRATE BALLADS, SEA SONGS AND CHANTEYS
2006 – Anti-Records
Disc 1:
"Cape Cod Girls" – Baby Gramps – 7:14
"Mingulay Boat Song" – Richard Thompson – 4:13
"My Son John" – John C. Reilly – 1:38
"Fire Down Below" – Nick Cave – 2:50
"Turkish Revelry" – Loudon Wainwright III – 4:21
"Bully in the Alley" – Three Pruned Men (The Virgin Prunes) – 2:30
"The Cruel Ship's Captain" – Bryan Ferry – 3:35
"Dead Horse" – Robin Holcomb – 2:54
"Spanish Ladies" – Bill Frisell – 2:22
"Coast of High Barbary" – Joseph Arthur – 4:02
"Haul Away Joe" – Mark Anthony Thompson – 4:10
"Dan Dan" – David Thomas – 0:50
"Blood Red Roses" – Sting – 2:44
"Sally Brown" – Teddy Thompson – 2:54
"Lowlands Away" – Rufus Wainwright & Kate McGarrigle – 3:25
"Baltimore Whores" – Gavin Friday – 4:40
"Rolling Sea" – Eliza Carthy – 4:49
"The Mermaid" – Martin Carthy & The UK Group – 2:23
"Haul on the Bowline" – Bob Neuwirth – 1:29
"A Dying Sailor to His Shipmates" – Bono – 4:44
"Bonnie Portmore" – Lucinda Williams – 3:36
"Shenandoah" – Richard Greene & Jack Shit – 2:58
"The Cry of Man" – Mary Margaret O'Hara – 3:06
Disc 2:
"Boney" – Jack Shit – 1:55
"Good Ship Venus" – Loudon Wainwright III – 3:15
"Long Time Ago" – White Magic – 2:35
"Pinery Boy" – Nick Cave – 3:15
"Lowlands Low" – Bryan Ferry & Antony Hegarty  – 2:35
"One Spring Morning" – Akron/Family – 5:25
"Hog Eye Man" – Martin Carthy & Family – 2:44
"The Fiddler" – Ricky Jay & Richard Greene – 1:34
"Caroline and Her Young Sailor Bold" – Andrea Corr – 3:58
"Fathom the Bowl" – John C. Reilly – 3:44
"Drunken Sailor" – David Thomas – 3:44
"Farewell Nancy" – Ed Harcourt – 6:06
"Hanging Johnny" – Stan Ridgway – 3:28
"Old Man of the Sea" – Baby Gramps – 5:18
"Greenland Whale Fisheries" – Van Dyke Parks – 4:41
"Shallow Brown" – Sting – 2:30
"The Grey Funnel Line" – Jolie Holland – 4:53
"A Drop of Nelson's Blood" – Jarvis Cocker – 7:10
"Leave Her Johnny" – Lou Reed – 5:30
"Little Boy Billy" – Ralph Steadman – 5:33
SON OF ROGUES GALLERY: PIRATE BALLADS, SEA SONGS AND CHANTEYS
2013 – Anti-Records
Disc 1:

Non sono riuscita a recuperare alcuni testi e per il momento i titoli sono privi di link, se qualcuno avesse la buona volontà di sbobinarli…
(I have not been able to recover some texts and for the moment the titles are without links, if someone had the good will to transcribe them..)
Leaving of Liverpool – Shane MacGowan w/ Johnny Depp & Gore Verbinski
Sam's Gone Away – Robyn Hitchcock
River Come Down – Beth Orton
Row Bullies Row – Sean Lennon w/ Jack Shit
Shenandoah – Tom Waits w/ Keith Richards
Mr. Stormalong – Ivan Neville
Asshole Rules the Navy – Iggy Pop w/ A Hawk and a Hacksaw
Off to Sea Once More – Macy Gray
The Ol' OG – Ed Harcourt
Pirate Jenny – Shilpa Ray w/ Nick Cave & Warren Ellis
The Mermaid – Patti Smith & Johnny Depp
Anthem for Old Souls – Chuck E. Weiss
Orange Claw Hammer – Ed Pastorini
Sweet and Low – The Americans
Ye Mariners All – Robin Holcomb & Jessica Kenny
Tom's Gone to Hilo – Gavin Friday and Shannon McNally
Bear Away – Kenny Wollesen & The Himalayas Marching Band
Disc 2:
Non sono riuscita a recuperare alcuni testi e per il momento i titoli sono privi di link, se qualcuno avesse la buona volontà di sbobinarli…
(I have not been able to recover some texts and for the moment the titles are without links, if someone had the good will to transcribe them..)
Handsome Cabin Boy – Frank Zappa & the Mothers of Invention
Rio Grande – Michael Stipe & Courtney Love
Ship in Distress – Marc Almond
In Lure of the Tropics – Dr. John
Rolling Down to Old Maui – Todd Rundgren
Jack Tar on Shore – Dan Zanes w/ Broken Social Scene
Sally Racket Sissy Bounce – Katey Red & Big Freedia with Akron/Family
Wild Goose – Broken Social Scene
Flandyke Shore – Marianne Faithfull w/ Kate & Anna McGarrigle
The Chantey of Noah and his Ark (Old School Song) – Ricky Jay
Whiskey Johnny – Michael Gira
Sunshine Life for Me – Petra Haden w/ Lenny Pickett
Row the Boat Child – Jenni Muldaur
General Taylor – Richard Thompson w/ Jack Shit
Marianne – Tim Robbins w/ Matthew Sweet & Susanna Hoffs
Barnacle Bill the Sailor – Kembra Phaler w/ Antony/Joseph Arthur/Foetus
Missus McGraw – Angelica Huston w/ The Weisberg Strings
The Dreadnought – Iggy Pop & Elegant Too
Then Said the Captain to Me (Two Poems of the Sea) – Mary Margaret O'Hara
FONTI/LINK
http://www.anti.com/releases/pirate-ballads-sea-songs-and-chanteys/
http://www.anti.com/artists/rogues-gallery/
http://www.anti.com/press/hal-willner-productions-presents/