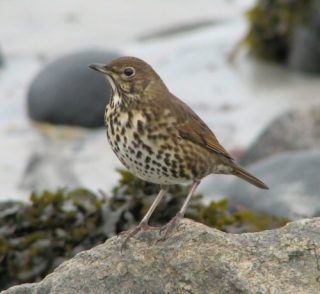 Smeòrach Chlann Dòmhnaill ('The Mavis of Clan Donald') is a scottish gaelic song in which the poet praises Sleat MacDonalds and North Uist.
It was composed by John MacCodrum (Iain Mac Fhearchair 1693–1779) one of the earliest of the "village poets"', who penned it as an 'antiquarian' re-creation of the Celtic bard Ossian in the 1760s
He says that he is a on the tops of the hills, looking at the sun and clear skies. He describes his own land, as the land of heroes and of poets. Clan Donald are praised for their skill and bravery in battle, there are also Jacobite references in the song.
Sinn Fhèin(Folk Group) 1983  ♪
Rachel Walker in Bràighe Loch Iall 2004 ♪ (I, II, III, VI, VII, VIII)
Julie Fowlis in Gach Sgeul – Every Story 2014 live (I, II, III, IV, V, VI)


Hoilibheag hilibheag hó ail il ó
Hoilibheag hilibheag hó ró i
Hoilibheag hilibheag hó ail il ó
Smeòrach le Clann Dòmhnaill mi
I
Smeòrach mis' air ùrlar Phaibil
Crùbadh ann an dùsal cadail
Gun deòrachd a théid nas fhaide
Truimid mo bhròin, thòirleum m' aigne
II
Smeòrach mis' air mullach beinne
'G amharc gréin is speuran soillear
Théid mi stòlda chòir na coille
Bidh mi beò air treòtas eile
III
Ma mholas gach eun a thìr féin
Cuim' thar éis nach moladh mise?
Tìr nan curaidh, tìr nan cliar
An tìr bhiadhchar fhialaidh mhiosail
IV
'N tìr nach caol ri cois na mara,
An tìr ghaolach, chaomhnach, channach,
An tìr laoghach, uanach, mheannach:
Tìr an arain, bhainneach, mhealach.
V
An Cladh Chomhghain mise rugadh,
'N Àird an Rùnair fhuair mi togail,
Fradharc a' chuain uaibhrich chuislich,
Nan stuagh guanach cluaineach cluiceach.
VI
Measg Chlann Dòmhnaill fhuair mi m' altrum
Buidheann nan seòl 's nan sròl daithte
Nan long luath air chuantan farsaing
Aiteam nach ciùin rùsgadh ghlas lann
VII
Na fir eòlach stòlda stàideil
Bha 's a' chòmhstri stròiceach scaiteach
Fir gun bhròn gun leòn gun airtneul
Leanadh tòir, is tòir a chaisgeadh
VIII
Buidheann mo ghaoil nach caoin caitean
Buidheann nach gann greann san aisith
Buidheann shanntach 'n àm bhith aca
Rùsgadh lann fo shranntraich bhratach

English translation *
Hoilibheag hilibheag hó ail il ó
Hoilibheag hilibheag hó ró i
Hoilibheag hilibheag hó ail il ó
A mavis (1) of Clan Donald
I
A mavis I on Paible's flatland
Huddled in a drowse of sleep
unwilling to go any further
in the depths of my sorrow my spirit made a mighty leap
II
A mavis I on a mountaintop
Watching the sun and cloudless skies
I will approach the forest quietly
and I'll be living on other sustenance
III
If every other bird praises its own land
Why then should not I?
Land of heroes, land of poets/The abundant, hospitable, estimable land.
IV
The land not narrow near the sea,
The delectable, mild,
comely land,
The land of calves and lambs and kids,
The land of bread and milk and honey.
V
ln Comgan's Churchyard I was born,
In Àird an Runnair I was reared,
In sight of the proud throbbing sea,
Of the sportive, fickle, playful
waves.
VI
Among Clan Donald I was nursed
Company of sails and colored banners
Of swift ships on wide oceans
A people not mild when baring grey blades (2).
VII
Men experienced, steady, stately
Haughty and keen in battle
Men without sorrow, without wounds, without weariness
Who would follow in the rout and who could also stop one
VIII
My beloved company, not smooth of temper
A company resolute in war
A company ambitious when it was necessary
To bare their blades beneath fluttering banners

References
* partially from Tom Thomson
1) "Mavis is indeed a colloquial name for the song thrush but can refer to both male and female birds. It appears to have been used in East Anglia, Ireland and Scotland. The name Mavis appears in Chaucer and was used by other Middle English poets. It comes from the French word mauvis and may be of Celtic origin. It was used by Shakespeare, as was the word throstle for song thrush, which, in East Anglia, refers to the mistle thrush. Just to confuse things, in southwest Scotland Mavis is generally the word used for the mistle thrush with throstle referring to the song thrush. Other names for the song thrush include dirsh, thrusher, thirstle and throggle and for the mistle thrush, skirlock, gawthrush, felfit and stormcock." (in http://ww2.rspb.org.uk/birds-and-wildlife/bird-and-wildlife-guides/ask-an-expert/previous/mavis.aspx)
But in this poem we can see the original gaelic word that is smeòrach (song thrush, mavis -turdus philomelos) and not smeòrach-mhòr or smeòrach-ghlas (mistle thrush -turdus viscivorus)

2) Tom Thomson notes "glas can mean a whole range of colours. Usually green (green field – that colour is glas), also blue, wan, grey-green, grey-blue, pale, etcetera. Or it can be a noun – lock, handcuff, … And while "lann" can mean blade or sword, it can also mean repository, enclosure, area… so a glas-lann could be a building with lots of locks (and rusgadh could perhaps mean opening it up so prisoners could escape) – but I think the "sword" meaning is much more likely in mid-18th century Gaelic poetry. A decade later after the German King and the anti-catholic parliament had continued their attempts at genocide and/or ethnic cleansing for a further decade and passed more laws clearly deigned to ensure that no Gael remained free, the lockup meaning would perhaps have been feasible, but not as early as I think this was written."
LINKS
https://dasg.ac.uk/corpus/textmeta.php?text=165&uT=y
'The Uist Collection – The poems and songs of John MacCodrum, Archibald MacDonald, and some of the minor Uist bards' (Rev. A. MacDonald ed., 1894
https://archive.org/details/uistcollectionpo00macd
http://theatreorgans.com/hammond/keng/kenhtml/scottour(b)/TheUists(Page3).htm
https://www.azlyrics.com/lyrics/juliefowlis/smeorachchlanndomhnaillthemavisofclandonald.html
http://www.tobarandualchais.co.uk/en/fullrecord/25571/10
http://www.celticlyricscorner.net/walker/smeorach.htm
http://www.countrylife.co.uk/country-life/folklore-mistle-thrush-66404