Una canzone del mare umoristica (del tipo caustico)  intitolata anche "Three Sailors from Bristol City" o "Little Billie", che tratta un argomento inquietante per la nostra civiltà, ma sempre dietro l'angolo: il cannibalismo!
Il mare è un luogo d'insidie e di scherzi del fato, una tempesta ti può portare fuori rotta, su una barcaccia di fortuna o una zattera, senza cibo e acqua, un tema trattato anche nella grande pittura ( Theodore Gericault, La zattera della Medusa vedi): la vita umana in bilico tra speranza e disperazione. Così nelle canzoni marinaresche si finisce per esprimere le paure più grandi con una bella risata!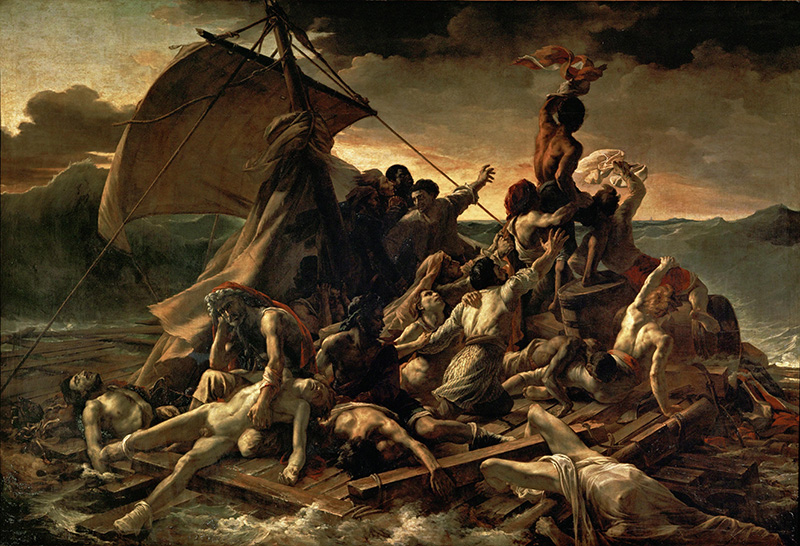 Il brano nasce nel 1863 come parodia scritta da William Thackeray di una canzone marinaresca francese dal titolo "La Courte Paille" (=la paglia corta)– diventata in seguito "Le Petit Navire" (The Little Corvette) e finita nelle canzoncine per bambini.
Dalle note del "Penguin Book" (1959):
"The Portugese Ballad  A Nau Caterineta  and the French ballad  La Courte Paille  tell much the same story.  The ship has been long at sea, and food has given out.  Lots are drawn to see who shall be eaten, and the captain is left with the shortest straw.  The cabin boy offers to be sacrificed in his stead, but begs first to be allowed to keep lookout till the next day.  In the nick of time he sees land ("Je vois la tour de Babylone, Barbarie de l'autre côté") and the men are saved.  Thackeray burlesqued this song in his  Little Billee.  It is likely that the French ballad gave rise to The Ship in Distress, which appeared on 19th. century broadsides.  George Butterworth obtained four versions in Sussex (FSJ vol.IV [issue 17] pp.320-2) and Sharp printed one from James Bishop of Priddy, Somerset (Folk Songs from Somerset, vol.III, p.64) with "in many respects the grandest air" which he had found in that county.  The text comes partly from Mr. Bishop's version, and partly from a broadside."  -R.V.W./A.L.L.
Secondo Stan Hugill "Little Boy Billy" era una sea shanty per il lavoro alle pompe, un lavoro noioso e monotono che poteva senz'altro essere rallegrato da questa canzoncina!
ASCOLTA Ralph Steadman in "Rogue's Gallery: Pirate Ballads, Sea Songs, and Chanteys, ANTI- 2006″.


There were three men of Bristol City;
They stole a ship and went to sea.
There was Gorging Jack and Guzzling Jimmy
And also Little Boy Billee.
They stole a tin of captain's biscuits
And one large bottle of whiskee.
But when they reached the broad Atlantic
They had nothing left but one split pea.
Said Gorging Jack to Guzzling Jimmy,
"We've nothing to eat so I'm going to eat thee."
Said Guzzling Jimmy, "I'm old and toughest,
So let's eat Little Boy Billee."
"O Little Boy Billy, we're going to kill and eat you,
So undo the top button of your little chemie."
"O may I say my catechism
That my dear mother taught to me?"
He climbed up to the main topgallant(1)
And there he fell upon his knee.
But when he reached the Eleventh(2) Commandment,
He cried "Yo Ho! for land I see."
"I see Jerusalem and Madagascaar
And North and South Amerikee."
"I see the British fleet at anchor
And Admiral Nelson, K.C.B. (3)"
They hung Gorging Jack and Guzzling Jimmy
But they made an admiral of Little Boy Billee.
Traduzione italiano di Cattia Salto
C'erano tre uomini di Bristol
che rubarono una nave ed andarono per mare.
C'erano Jack il Gordo e Jimmy il Trinca
e anche il giovane Billy.
Rubarono una lattina di biscotti al capitano
e una grande bottiglia di whisky.
Ma quando raggiunsero il mare aperto
non era avanzato che un pisello
secco.
Disse Jack il Gordo a Jimmy il Trinca
"Non abbiamo niente da mangiare così ti mangerò"
disse Jimmy il Trinca "Sono vecchio e rinsecchito,
è meglio mangiare il giovane Billy"
"Oh Giovane Billy stiamo per ucciderti e mangiarti
così sbottona il primo bottone della tua piccola blusa"
"Oh posso dire i comandamenti come la mia cara mamma mi ha raccomandato?"
S'arrampicò sulla cima dell'albero maestro
e poi si inginocchiò (sulla crocetta).
Ma quando arrivò all'11° comandamento (2)
gridò "Yo Ho! Terra".
"Vedo Gerusalemme e Madagascar
e il Nord e il Sud dell'America.
Vedo la flotta britannica all'ancora
e l'Ammiraglio Nelson K.C.B. (3)"
Impiccarono Jack il Gordo e Jimmy il Trinca
ma fecero ammiraglio il Giovane Billy.

NOTE
1) scritto anche come top fore-gallant
2) i suoi compagni non dovevano essere molto ferrati con la Bibbia (e probabilmente Billy ne avrebbe inventati di nuovi se non avesse avvistato una nave!)
3) sigle di "Knight Commander of the Bath" = Cavaliere Commendatore del Bagno, l'ordine militare cavalleresco fondato da Giorgio I nel 1725
E per corollario ecco la versione francese "Un Petit Navire"
continua
FONTI
http://www.mamalisa.com/?t=es&p=139
http://www.bartleby.com/360/9/84.html
https://en.wikipedia.org/wiki/Il_%C3%A9tait_un_petit_navire
http://mudcat.org/thread.cfm?threadid=8278
http://mudcat.org/thread.cfm?threadid=22872