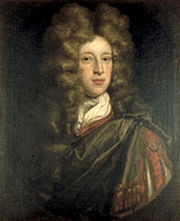 Robert Burns scrive nel 1789 la sua versione della Battaglia (la prima parte qui) sulla melodia "The Cameronian Rant": due pastori si incontrano su una collina e discutono su chi abbia vinto la battaglia di Sherra-moor (Sheriffmuir).
Le rivendicazioni al trono di Giacomo Stuart "Il vecchio Pretendente" si infransero nella Battaglia di Sheriffmuir il 13 novembre 1715, che si concluse in sostanza con un nulla di fatto (a parte tanti morti) – battaglia comandata da Lord Mar senza nemmeno la presenza in campo del "Pretendente"..
Giacomo Francesco Edoardo Stuart arrivò a bordo di una nave francese in dicembre, trovò la sua causa disperata e fuggì in Francia: l'esercito di Mar si disperse e la rivolta finì. Nel 1717 venne concesso, con l'"Act of Grace" un generale perdono a tutti gli Highlanders che parteciparono all'insurrezione.
ASCOLTA The Corries ; Sherramuir Fight
ASCOLTA Jamie McMenemy

I.
'O, cam ye here the fight to shun,
Or herd the sheep wi' me, man?
Or were ye at the Sherra-moor,
Or did the battle see, man?'
'I saw the battle, sair and teugh,
And reekin-red ran monie a sheugh;
My heart for fear gae sough for sough,
To hear the thuds, and see the cluds
O' clans frae woods in tartan duds,
Wha glaum'd at kingdoms three, man."CHORUS
Huh! Hey dum dirrum hey dum dan
Huh! Hey dum dirrum dey dan.
Huh! Hey dum dirrum hey dum dandy
Hey dum dirrum dey dan.
II.
'The red-coat lads wi' black cockauds
To meet them were na slaw, man:
They rush'd and push'd and bluid outgush'd,
And monie a bouk did fa', man!
The great Argyle led on his files,
I wat they glanc'd for twenty miles;
They hough'd the clans like nine-pin kyles,
They hack'd and hash'd, while braid-swords clash'd,
And thro' they dash'd, and hew'd and smash'd,
Till fey men died awa, man.
III.
'But had ye seen the philibegs
And skyrin tartan trews, man,
When in the teeth they daur'd our Whigs
And Covenant trueblues, man!
In lines extended lang and large,
When baig'nets o'erpower'd the targe,
And thousands hasten'd to the charge,
Wi' Highland wrath they frae the sheath
Drew blades o' death, till out o' breath
They fled like frighted dows, man!'
IV.
'They've lost some gallant gentlemen,
Amang the Highland clans, man!
I fear my Lord Panmure is slain,
Or in his en'mies' hands, man.
Now wad ye sing this double fight
Some fell for wrang, and some for right,
But monie bade the world guid-night:
Say, pell and mell, wi' muskets' knell
How Tories fell, and Whigs to Hell
Flew off in frighted bands, man!'
TRADUZIONE ITALIANO DI CATTIA SALTO
I
"Sei venuto qui per sfuggire alla battaglia
o per custodire le pecore con me, amico?
Oppure eri a Sheriffmuir
e hai visto la battaglia, amico?"
"Ho visto la battaglia, amara e dura
e il puzzo del sangue spargersi nei fossi;
il mio cuore tremava di paura
nell'ascoltare i colpi e nel vedere l'annuvolarsi
dai boschi dei clan in tartan
a sfidare i Tre Regni(1), amico "

II
Le giubbe rosse e coccarde nere(2)
ad incontrarli non erano riluttanti, amico:
essi si precipitavano e spingevano e il sangue scorreva copioso e molti corpi caddero, amico!
Il grande Argyle conduceva le sue file
(avranno attraversato più di venti miglia)
essi colpirono i clan come birilli,
li fecero a pezzi e sbudellarono mentre le grandi spade si scontravano,
ed essi si dibattevano, tagliavano e fracassavano finchè gli uomini predestinati morirono, amico."

III
"Ma avevi visto i kilt
e i pantaloni in tartan dagli sgargianti colori,amico,
quando mostravano i denti ai Whigs (3)
ai Covenanter(4) e ai Lealisti, amico!
Allineati su un ampio fronte
quando le baionette e gli scudi abbandonarono
e a migliaia si affrettarono alla carica (5)
con l'ira degli Highlands, essi dal fodero
sguainavano le lame mortali, a perdifiato
e (i Whigs) scappavano come piccioni timorosi, amico"

IV
"Hanno perduto dei galantuomini valorosi
tra i clan delle Highlands.
Temo che il mio Lord Panmure sia morto
o in mano ai suoi nemici.
E' tempo di cantare questo duplice scontro,
alcuni caddero a torto e altri a ragione,
ma molti diedero la buonanotte al mondo:
alla rinfusa, con il rintocco dei moschetti
dicci come i Conservatori (3) caddero e i Whigs volarono dritti all'inferno in bande spaventate"
NOTE
La versione originaria ha due ulteriori strofe prima del finale, che però non essendo più cantate al giorno d'oggi, non mi sono data la pena di tradurre.
1) per tutta la questione giacobita vedere la pagina dedicata qui
2) La coccarda appuntata sul cappello è una moda del Settecento ed era indossata come simbolo della fedeltà a una certa ideologia, o anche come indicazione di status sociale (e più spesso parte della divisa di un servitore). In Gran Bretagna la coccarda bianca indicava i giacobiti mentre i governativi indossavano la coccarda nera o blu.
3) una distinzione sommaria tra i due partiti classifica i tories, come proprietarî di terre (landed men), mentre i whigs, come rappresentanti della ricchezza mobiliare (moneyed men). Whigs, è una parola di probabile origine scozzese, forse col significato di predone, o forse viene da "whig", latte acido, di certo era un insulto che nel 1600 si rivolgeva a questa corrente politica ma rimase appiccicato come un etichetta nei secoli successivi. Non mi sembra il caso di andare a distinguere tra le sottili o più sostanziali divergenze tra i due partiti, quanto sottolineare che furono i Whigs ad appoggiare incondizionatamente la nuova dinastia inaugurata con l'elezione di Re Giorgio I di Hannover.
4) Covenanter era il nome dato agli scozzesi presbiteriani che si ricollegavano direttamente al patto di alleanza biblico (tra Dio e il popolo d'Israele). Le riunioni in aperta campagna vennero denominate "conventicles" e considerate illegali passibili di pena capitale.
5) gli scozzesi andavano così in battaglia: la famosa carica degli highlanders consisteva nel correre verso la schiera dei nemici slacciandosi il cinturone, liberandosi del plaid,precipitandosi a grandi balzi , urlando come ossessi e brandendo minacciosamente la grande spada (con i lembi della camicia che svolazzano sul culo nudo). Il kilt un tempo era infatti più che altro una lunga coperta drappeggiata introno ai fianchi e trattenuta da una cintura anzichè da una fibbia. vedi
TRADUZIONE IN INGLESE (tratta da qui; per la traduzione in francese invece qui)
I
O, came you here the fight to shun,
Or herd the sheep with me, man?
Or were you at the Sheriffmuir,
Or did the battle see, man?'
'I saw the battle, sore and tough,
And reeking red ran many a ditch;
My heart for fear gave sigh for sigh,
To hear the thuds, and see the clouds
Of clans from woods in tartan clothes,
Who grasped at kingdoms three, man.
II
The red-coat lads with black cockades
To meet them were not slow, man:
They rushed and pushed and blood outgushed,
And many a body did fall, man!
The great Argyle led on his files,
I know they shown for twenty miles;
They knocked the clans like nine-pin skittles,
They hacked and hashed, while broad-swords clashed,
And through they dashed, and hewed and smashed,
Till fated men died away, man.
III
'But had you seen the kilts
And flaring tartan trousers, man,
When in the teeth they dared our Whigs
And Covenant, Trueblues, man!
In lines extended long and large,
When bayonets over powered the targe,
And thousands hastened to the charge,
With Highland wrath they from the sheath
Drew blades of death, till out of breath
They fled like frightened pigeons, man!'
IV
'They have lost some gallant gentlemen,
Among the Highland clans, man!
I fear my Lord Panmure is slain,
Or in his enemies' hands, man.
Now would you sing this double fight,
Some fell for wrong, and some for right,
But many bade the world good night:
Say, pell and mell, with muskets' knell
How Tories fell, and Whigs to Hell
Flew off in frighted bands, man!'
LA TERZA VERSIONE: Sheriffmuir
Cantata dai McCalmans in 'Side By Side By Side' 1977: ho solo trovato il testo (qui)
FONTI
http://www.grianpress.com/Tannahill/TANNAHILL'S%20SONGS%2027C.htm
http://www.cobbler.plus.com/wbc/poems/translations/454.htm
http://digital.nls.uk/1715-rising/songs/will-ye-go-tae-sheriffmuir/index.html
http://www.contemplator.com/scotland/sheriffmur.html
http://mudcat.org/@displaysong.cfm?SongID=7898
http://data.historic-scotland.gov.uk/pls/htmldb/f?p=2500:15:0::::BATTLEFIELD:17
https://thesession.org/tunes/284
http://chrsouchon.free.fr/sheramui.htm
http://mysongbook.de/msb/songs/s/sheriffm.html
http://mysongbook.de/msb/songs/s/sherramu.html
http://www.readbookonline.net/readOnLine/29309/