In the rural economy of the past milking the cows (as well as the preparation of butter and cheese) was a task performed by women. Thus the wisdom of the Celtic women has given rise to a whole series of work songs, which are also spells to ward off the evil eye and to calm the cows, so that the milk production is abundant and blessed. It is well known that goblins are fond of butter and milk, and folklore includes witches and disturbing animals like milk suckers with hostile intentions, or determined to make the milk sour, or to prevent the transformation of the cream into butter!
THE SYMBOLS OF THE GODDESS
A maiden milking a cow is a figure found carved on the walls of many medieval churches, and is a very old presence in the land of Ireland, or more generally along the coasts of Europe: already in the megalithism there are names like The Cow and Calf attributed to particular rocks.. see more
MILKING SONG: Colin's cattle
In the peasant world there existed a whole series of prayers and invocations, often in the form of songs, which were part of the cultural baggage dating back to the time of the Druids; these Ortha nan Gaidheal in Scottish Gaelic, come from the bardic tradition that survived in the folklore, through the centuries of Christianity and despite the English cultural hegemony, and were collected and translated at the end of 1800 by Alexander Carmichael (1832-1912), who published them in his book "Carmina Gadelica".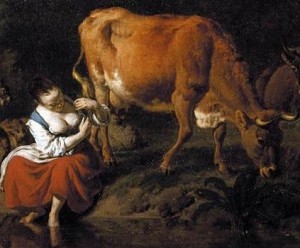 "Crodh Chailein" ( "Colin's cattle") is classified as a "milking song" and recorded on the field by Alan Lomax (South Uist) in the 1950s: it is a lullaby whispered to the cows to keep them quiet during milking, and to stimulate them magically in the production of a lot of milk. Scottish cows are so used to this treatment that they do not give milk without a song !!
Listen these three milking songs in sequence:: "Crodh Chailein", "Chiùinan Ghràidh" e "a' Bhanarach Chiùin"

Ethel Bassin in her "The Old Songs of Skye: Frances Tolmie and her Circle" (1997) shows two verses of the song collected by Isabel Cameron of the Isle of Mull (internal Hebrides) along with the legend of its origin reported by Niall MacLeòid , "the Skye bard."
Who sings is the woman kidnapped by the fairies on her wedding day and yet she gets permission to go every day to milk the cows of her husband named Colin: the husband can hear her singing but he can not see her. The bard assures us that the woman will return after one year and a day to her human husband! The abduction of the bride on wedding day was not so remote a possibility according to the beliefs of the time and there were many tricks to keep the fairies away in that occasion! (see more).
According to another legend, Colin's wife dies at a young age and comes back a few months after her burial for the evening milking of the cows singing this song
Mary Cameron Mackellar writes in her essay 'The Shieling: Its Traditions and Songs' (Gaelic Society of Inverness 1889 from here) "Weird women of the fairy race were said to milk the deer on the mountain tops, charming them with songs composed to a fairy melody or "fonn-sith."  One of these songs is said to be the famous "Crodh Chailein."  I give the version I heard of it, and all the old people said the deer were the cows referred to as giving their milk so freely under the spell of enchantment. .. Highland cows are considered to have more character than the Lowland breeds, and when they get irritated or disappointed, they retain their milk for days.  This sweet melody sung – not by a stranger, but by the loving lips of her usual milkmaid – often soothes her into yielding her precious addition to the family supply."
Mary Mackellar lyrics
Seist (chorus)
Chrodh Chailein, mo chridhe,
Crodh Iain, mo ghaoil,
Gun tugadh crodh Chailein,
Am bainn' air an fhraoch.
I
Gun chuman, gun bhuarach,
Gun lao'-cionn, gun laogh,
Gun ni air an domhan,
Ach monadh fodh fhraoch.
II
Crodh riabhach breac ballach,
Air dhath nan cearc-fraoicb,
Crodh 'lionadh nan gogan
'S a thogail nan laogh.
III
Fo 'n dluth-bharrach uaine,
'S mu fhuarain an raoin,
Gun tugadh crodh Chailein
Dhomh 'm bainn' air an fhraoch.
IV
Crodh Chailein, mo chridhe,
'S crodh Iain, mo ghaoil,
Gu h-uallach 's an eadar-thrath,
A beadradh ri 'n laoigh

The melody (see) also called Crochallan is also known as My Heart's In The Highlands . The oldest version in print (text and score) is in "The Elizabeth Ross Manuscript" (1812)
Donald Sinclair from Tiree 1968
♪
Between the Times

Scots Gaelic (from here)
Seist (chorus)
Crodh Chailein mo chridhe
Crodh chailein mo ghaoil
Gu'n tugadh crodh Chailein
Dhomh bainn' air an fhraoch
I
Gu'n tugadh crodh Chailein
Dhomh bainn' air an raon
Gun chuman(1), gun bhuarach
Gun luaircean(2), gun laugh.
II
Gu'n tugadh crodh Chailein
Dhomh bainne gu leoir
Air mullach a' mhonaidh
Gun duine 'nar coir
III
Gu bheil sac air mo chridhe
'S tric snidh air mo ghruaidh
agus smuairean air m'aligne
Chum an cadal so bhuam
IV
Cha chaidil, cha chaidil
cha chaidil mi uair
cha chaidil mi idir
gus an tig na bheil uam.
The cattle of Colin my dearest,
The cattle of Colin my love,
Colin's cattle would give me milk
Upon the heather
I
Colin's cattle would give me milk
Upon the field,
without a cogue(1), without a shackle,
without a luaircean(2), without a calf.
II
Colin's cattle would give
plenty of milk to me,
on top of the moor
without anyone near us.
III
There is a weigh on my dart,
and often tears on my cheek,
And sorrow on my mind
That has kept sleep from me.
IV
I will not sleep, I will not sleep,
I will not sleep an hour,
I will not sleep at all
until what I long for returns.
NOTE
1) cogue = wooden vessel used for milking cows
2) luaircean = a substitute calf, an inanimate prop over which the skin of a milk cow's deceased calf was draped, in order to console her with it's scent, thus encouraging her to continue to produce milk
Morvyn Menzies

English translation Charles Stewart*
I
I won't sleep, I won't sleep
I won't sleep one hour,
I won't sleep at all
Until what was taken returns.
II
May Colin's cattle give me
Milk for their love of me,
At the top of the hill
With no one nearby.
Chorus
Cows of my beloved Colin
Iain's cows, my dear;
Cows that would fill up the milking bucket,
Cows that rear the calves
III
My heart is heavy,
Tears frequently on my cheeks,
My mind is dejected,
And this stops me sleeping.
IV
I won't go to the birch wood
Or gathering nuts;
On a brown, ragged plaid
I wait for the cows.

Scots Gaelic (from here)
I
Cha chaidil, cha chaidil,
Cha chaidil mi uair,
Cha chaidil mi idir
Gus an tig na bheil bhuam.
II
Gun toireadh crodh Chailein,
Dhomh bainn' air mo ghaol,
Air mullach a' mhonaidh,
Gun duine nar taobh.
Seist (chorus)
Crodh Chailein mo chridhe,
Crodh Iain, mo ghaoil;
Crodh lìonadh nan gogan,
Crodh togail nan laogh.
III
Gu bheil sac air mo chridhe,
'S tric snigh' air mo ghruaidh,
Agus smuairean air m' aigne,
Chùm an cadal seo bhuam.
IV
Cha tèid mi don bheithe,
No thional nan crò;
Air breacan donn ribeach
Tha mi feitheamh nam bò.
NOTE
* in "The Killin Collection of Gaelic Songs"


typical pipe band version

SOURCE
http://www.skyelit.co.uk/poetry/collect21.html
http://www.lochiel.net/archives/arch116.html
http://scotsgaelicsong.wordpress.com/2014/03/18/scots-gaelic-song-crodh-chailein/ http://plover.net/~agarvin/faerie/Text/Music/54.html
http://www.tobarandualchais.co.uk/en/fullrecord/57427/8;jsessionid=97E1C046ADC0124A757755FF5E401B2F
https://thesession.org/tunes/11647