"My heart's in the Highlands" è una riscrittura di una vecchia ballata scozzese dalla penna di Robert Burns. In Terre Celtiche Blog oltre che la sua biografia e bibliografia anche un archivio dei canti da lui rielaborati, scritti ex-novo a partire da qualche verso del coro o semplicemente raccolti durante i suoi viaggi per le Highlands.
Robert Burns aveva la capacità di sviluppare storie verosimili da brevi frammenti di vecchie canzoni scozzesi, come per "My heart's in the Highlands" di cui solo due versi (i primi due del ritornello) sono originali.
La canzone è stata composta nel 1790 e pubblicata in 'Scots Musical Museum', Volume III, al numero 259 edizione del 1853 e la melodia riportata è un tradizionale dal titolo Faild na Miosg (in inglese The Musket Salute) già collezionata da James Oswald nel suo "Curious Collection of Scots Tunes" del 1740 e in "Caledonian Pocket Companion" del 1759
Il desiderio del protagonista è rivolto ad un passato idealizzato nel quale ha lasciato il suo cuore, il ricordo è addolcito dall'uso frequente dell'allitterazione. Nella seconda strofa il paesaggio tanto amato è descritto come visto dall'alto: prima emergono i rilievi montuosi, poi le fertili valli e il bosco selvaggio e infine il poeta si sofferma sui torrenti e le cascate che sono le lacrime di colui che deve partire e sa che non ritornerà più nelle Highlands.
Si tratta di due giovani musiciste scozzesi e questo è il loro cd d'esordio (peccato per la scelta infelice del nome condiviso da un gruppo pop tedesco già fondato nel 1975)
Mistico e fuori dal tempo l'arrangiamento di Arvo Pärt in due varianti: con la voce di Else Torp e con la voce del controtenore Stephen Wallace.
"Arvo Pärt (1935) è uno dei maggiori compositori viventi. Il minimalismo si fa in lui limpidezza armonica, dietro la cui semplicità costruttiva si nasconde e si esprime la forza di uno slancio, di un superamento. Il testo di My Heart's in the Highlands è del poeta scozzese Robert Burns (1759-1796). Il canto del poeta alla propria patria diventa nella sensuale e insieme distante voce di Else Torp un percorso mistico senza più terra, senza più spazio. Soltanto onde (continua)"
My heart's in the Highlands
My heart's in the Highlands,
my heart is not here,
My heart's in the Highlands,
a-chasing the deer(1);
Chasing the wild-deer,
and following the roe,
My heart's in the Highlands,
wherever I go.
I
Farewell to the Highlands,
farewell to the North,
The birth-place of Valour,
the country of Worth;(2)
Wherever I wander,
wherever I rove,
The hills of the Highlands
for ever I love.
II
Farewell to the mountains,
high-cover'd with snow,
Farewell to the straths
and green vallies below;
Farewell to the forests
and wild-hanging woods,
Farewell to the torrents
and loud-pouring floods.
Il mio cuore è in Scozia,
il mio cuore non è qui;
Il mio cuore è in Scozia
a cacciare il cervo (1),
a cacciare il cervo
e a inseguire  il capriolo,
il mio cuore è in Scozia
dovunque io vada.
I
Addio Scozia,
addio, o settentrione,
il paese del Coraggio,
il paese del Valore(2);
dovunque vagabondi,
dovunque mi avventuri,
le colline della Scozia
sempre amerò.
II
Addio, o montagne
dalle cime coperta di neve;
addio, o declivi
e verdi valli più in basso;
addio, o foreste
e boschi scoscesi;
addio, o torrenti
e acque scroscianti.
Traduzione italiana e note Cattia Salto
il tema della caccia più che essere un desiderio concreto è risolto come un'immagine romantica di medievale ascendenza. Per quanto cacciare i cervi sia stata una pratica umana per l'approvvigionamento del cibo (unita ahimè a un certo diletto) oggi è uno sport (!?) che si effettua unicamente nel periodo degli amori, da fine Agosto e fino alla prima settimana di Ottobre, perché i cervi sono più facilmente individuabili. Quasi ci si dimentica delle Highland clearances ossia l'esodo degli highlanders dalle loro terre per far posto a pecore e cervi!!
coraggio e valore da dimostrare in battaglia?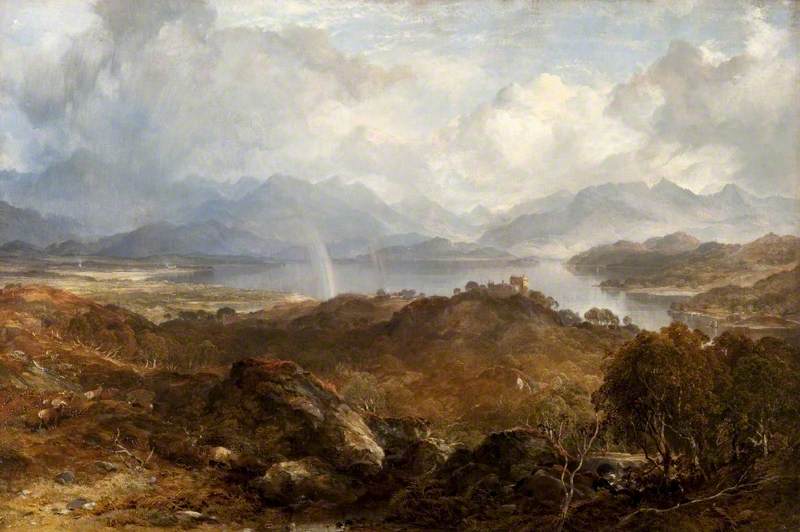 IL MIO CUORE È SUI MONTI
Versione italiana di sapore ottocentesco a cura di Pietro Turati
.
Vola a' miei monti il cor né mai qui resta,
Vola a' miei monti il cor del cervo a caccia,
Vola il cervo a cacciar della foresta,
Del capriuolo ad inseguir la traccia:
Ovunque io l'orme imprima
Sempre il mio core è de' miei monti in cima.

Addio, montagne del mio suol natio,
Patria de' forti, boreal contrada,
Madre di cuori generosi, addio;
Ovunque errante peregrino io vada
Imperituro affetto
Per i miei monti mi arde ognor nel petto.

Addio, de' monti miei nevose creste.
Addio, valli dai rivoli irrorate,
Addio, cascate eccelse, addio foreste,
E voi selve fra i greppi arrampicate
Del ripido pendio,
E voi, torrenti fragorosi, addio.
FONTI
ILLUSTRAZIONI:
Highland Landscape di John Knox
http://www.bbc.co.uk/arts/yourpaintings/paintings/highland-landscape-218344