"Matty Groves"/ Little Musgrave è una murder ballad sull'adulterio medievale che si conclude tragicamente con la morte dei due amanti. Dalla Gran Bretagna la ballata sbarca nel Nuovo Mondo, tra i Monti Appalachi.
Matty Groves: Monti Appalachi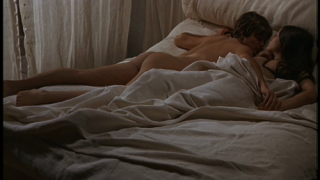 Tra i Monti Appalachi la ballata finisce nel repertorio delle bands di bluegrass con il nome di Mathy Groves o Matty Groves, e curiosamente le versioni americane rimangono ambientate in Scozia o in Inghilterra.
Ecco che mutati i tempi e i luoghi, la ballata di omicidio diventa un crimine passionale e il cattivo della serie è il servitore che non è stato capace di tenere la bocca chiusa.
TERZA MELODIA
La ascoltiamo dalla voce e chitarra di un grande del bluegrass Doc Watson, la sua versione testuale è quella più puritana, emendata da sconcezze sessuali e dalla violenza verso la moglie, che anzi viene presa con dolcezza sulle ginocchia.
Doc Watson in "The Songcatcher II: The Tradition That Inspired The Movie" 1966. Parole e Melodia di Stewart Yonce, Dolly Greer di Lenoir, North Carolina.
French/American band Moriarty in un bel video-racconto noir
I
Was on the high high holy day
The best day of the year
Little Matty Groves went to church
A gospel for to hear A gospel for to hear
II
And first to come down was dressed in green
And the second one dressed in red
The third to come down was Lord Daniel's wife
Just as fair as any queen, Just as fair as any queen
III
Then Matty Groves says to one of his men
See the fair one dressed in white
Although she is Lord Daniel's wife
I'll be with her tonight, I'll be with her tonight
IV
And little foot page he was standing by
And heard all that was said
He says Lord Daniel shall know tonight
Before I go to bed, Before I go to bed
V
He had fifteen miles for to go that night
And ten of them he run
He run til he come to the broke down bridge
Then he bent to his breast and he swum
He bent to his breast and he swum
VI
He swum til he come to where the grass was green
He took to his feet and he run
He run til he come to Lord Daniel's Gate
Then he rattled at the bells and he rung
He rattled at the bells and he rung
VII
What news, what news, what news
What news have you bring
Little Matty Groves is in your bed with your wife
And their hearts both beat as one
Their hearts both beat as one
VIII
Now if the truth you've told me
A rich man you shall be
But if a lie you've told to me
I'll hang you to a tree I'll hang you to a tree
IX
Then he gathered him up about fifty good men
And he done it with a free good will
Then he popped his bugle to his mouth
And he blowed it loud and shrill
He blowed it loud and shrill
X
I'd better get up said little Matty Groves
I'd better get up and go
I know your husband is coming home
I hear his bugle blow
I hear his bugle blow
XI
Lay down, lay down my precious one
Lay down and go to sleep
It's only my father's shepherd's horn
And he's a calling for his sheep
He's a calling for his sheep
XII
So they laid down together again
And soon were fast asleep
And when they awoke it was broad daylight
Lord Daniel at their feet
Lord Daniel at their feet
XIII
Get up from there your naked man
And put you on some clothes
I never intend for to have it said
That a naked man I slow
That a naked man I slow
XIV
Then Matty Groves struck the very first lick
And he wounded Lord Daniel sore
Lord Daniel struck the very next lick
And he drove Matty Groves to the floor
He drove Matty Groves to the floor
XV
Then he taken his lady by the hand
And he sat her on his knee
And he says now which do you love the best
Little Matty Groves or me
Little Matty Groves or me
XVI
Very well I like your rosy cheeks
Very well I like your chin
But better I love little Matty Groves
Than you and all of your kin
Than you and all of your kin
XVII
You can dig my grave on a pretty green hill
And dig it wide and deep
And put little Matty Groves in my arms
Lord Daniel at my feet
Lord Daniel at my feet
I
Era un giorno di festa
il primo dell'anno (1)
Little Matty Groves andò in chiesa
per sentire il Vangelo. per sentire il Vangelo.
II
La prima ad arrivare era vestita di verde
e la seconda era vestita di rosso.
La terza ad arrivare era la moglie di Lord Daniel
bella come una regina, bella come una regina.
III
Allora Matty Groves dice a uno dei suoi uomini
"Vedi quella bella vestita di bianco?
Anche se è la moglie di Lord Daniel,
stanotte me la faccio, stanotte me la faccio"
IV
E un servitore che le stava accanto
e sentì quello che si dissero
dice "Lord Daniel lo saprà stasera,
prima che io vada a dormire".
V
Doveva percorrere cinquanta miglia quella notte
e per dieci di esse egli corse,
finchè giunse sotto al ponte interrotto
allora si tuffò e nuotò,
si tuffò e nuotò.
VI
Nuotò fino ad arrivare dove l'erba era verde,
si mise in piedi e corse
corse finchè fu al rifugio di Lord Daniel,
così si attaccò al campanello e suonò,
si attaccò al campanello e suonò.
VII
"Che succede? Che succede? Che succede?
Che notizie mi porti?"
"Little Matty Groves è nel letto con vostra moglie
e i loro cuori battono come se fossero uno
e i loro cuori battono in uno"
VIII
"Allora se mi hai detto il vero
ti farò un uomo ricco,
ma se mi hai mentito
ti impiccherò all'albero, ti impiccherò all'albero".
IX
E radunò una cinquantina di brav'uomini
e lo fece di buona lena
poi si mise il corno tra le labbra
e soffiò forte e chiaro,
e soffiò forte e chiaro.
X
"E' meglio che mi alzi – disse Little Matty Groves-
è meglio che mi alzi e me ne vada.
Di certo tuo marito sta rientrando
perchè ho sentito il suo corno soffiare,
perchè ho sentito il suo corno soffiare"
XI
"Stai calmo, stai calmo, mio bene,
mettiti giù e dormi,
è solo il corno del pastorello di mio padre
che chiama le sue pecore,
chiama le sue pecore".
XII
Così si sdraiarono insieme di nuovo
e presto si addormentarono,
e quando si svegliarono era pieno giorno
con Lord Daniel ai loro piedi,
Lord Daniel ai loro piedi.
XIII
"Alzati da lì che sei nudo
e mettiti dei vestiti
che non si dica che io abbia
ucciso un uomo disarmato,
che io abbia ucciso un uomo disarmato"
XIV
Così Matty fece il primo affondo
e ferì Lord Daniel.
Lord Donald colpì per secondo
e Matty Groves cadde a terra,
Matty Groves cadde a terra.
XV
E poi prese sua moglie per mano
e la fece sedere sulle sue ginocchia
e le dice "Ora chi ti piace di più,
Little Matty Groves o me?
Little Matty Groves o me?"
XVI
"Mi piacciono le tue rosee guance
e altrettanto amo il vostro mento
ma amo di più Little Matty Groves,
che tu tutti i vostri averi,
che tu tutti i vostri averi".
XVII
"Scavate la mia fossa su una collinetta verde
e fatela ampia a profonda,
e mettete il giovane Matty Groves tra le mie braccia
e Lord Daniel ai miei piedi,
Lord Daniel ai miei piedi"
NOTE
Traduzione italiana Cattia Salto
1) letteralmente "il migliore giorno dell'anno" ossia il primo dell'anno ricco di speranze
FONTI
http://www.bluegrassmessengers.com/matty-groves–doc-watson-nc-1966-recording.aspx