In the small park of Calton Hill in the middle of Edinburgh is held the most spectacular Beltane festival in Europe, the Beltane Fire Festival organized by the Beltane Fire Society, a community of artists founded in 1988.
On the night of 30 April the Beltane fire feast is re-acting according to ancient customs, but with a hint of theatricality and modern spectacularization that make it unique: obviously the fire is the dominant element and yet it is the contour of a ritual narration, the awakening of the Green Man, with a succession of acrobatic dance performances and choreographies full of costumed characters: hundreds of figures embody divinities and spirits of Nature that inhabit Gaelic mythology.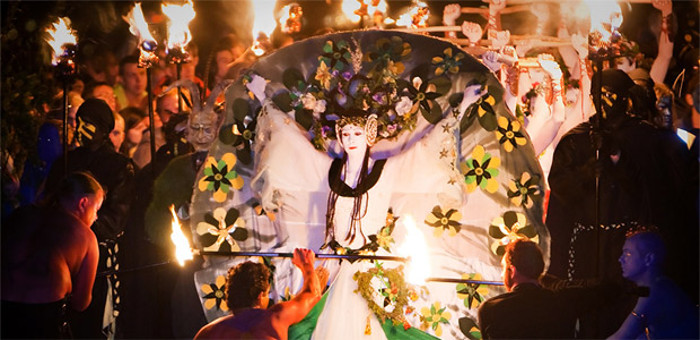 The particularity of this festival is that you can attend the feast as spectator but also participate as performer, after registration and attendance of some open meetings that are held a few months before the event; you can choose from a series of groups predefined by the organization (see)
The event is an happening in progress, the starting point is the National Monument of Scotland, built in the first half of the nineteenth century, known as Acropolis because inspired by the Parthenon of Athens.
Over the centuries on the hill overlooking Edinburgh, Greek-themed monuments have been erected, with the will to create a sort of a timeless space that emphasizes the sense of distance from the city. Entire Calton Hill is a succession of folly architecture buildings that are an exercise in style, such as a fake ruin or a classical temple.
From the Acropolis the parade proceeds along a pre-established path to the rhythm of the drums. At the head, the May Queen and the Green Man with their court; in parallel to the main procession there are a series of counter-performances and traveling groups that have evolved to balance the strong turnout of visitors and revive even the most dark corners of the park. As the procession approaches, the groups come to life and continue to play a part throughout the evening; the hill comes alive, reflecting the awakening of the earth at the passage of spring.
Dancers and acrobats, fires, sounds of horns and drums, men (and women) painted by blue, green, red and white, to represent the 4 natural elements (air, water, earth and fire): the heart of the spark are the White Bride and the Green Man, the feminine and male principle that with their sacred union light the Beltane fire.
And then…. dances, songs, and dances will follow throughout the night.
LINK
https://beltane.org/