Da due poeti irlandesi del Romanticismo (Thomas Moore e Gerald Griffin) le frasi che ogni donna vorrebbe sentire dal promesso sposo!
Eppure ancora in un tempo non molto lontano il matrimonio era combinato tra le famiglie per il tramite di un sensale (Matchmaking). Ovviamente si badava molto alle reciproche sostanze e i matrimoni tra poveri e benestanti erano molto rari. Sposo e padre della sposa negoziavano la dote della sposa (il denaro o una mucca o il corredo e varie suppellettili per la casa) che era una specie di eredità della donna e restava di proprietà della sposa (anche se i beni in dote erano amministrati dal marito).
Una donna senza dote non si sposava (ma forse una donna molto bella era già in possesso di una grande dote e aveva qualche possibilità di fare un buon matrimonio!)
BELIEVE ME IF ALL THOSE ENDEARING YOUNG CHARMS
Il poeta irlandese Thomas Moore (1779-1852) scrisse la canzone nel 1808, ma la leggenda vuole che fosse dedicata alla futura moglie per rassicurarla sul suo amore, infatti pare che la bella fanciulla (appena quattordicenne) avesse contratto il vaiolo e fosse rimasta sfigurata dalla malattia e perciò non volesse più riceverlo. Così Thomas all'epoca ventinovenne, scrisse la poesia e la recitò davanti alla porta chiusa della camera di lei che poco dopo lo lasciò entrare (e lo sposò).
Thomas Moore si sposò nel 1811 con l'attrice Elizabeth "Bessy" Dyke, sorella minore della ben più famosa (e altrettanto bella) Mary Ann Dyke; Thomas conobbe le sorelle Dyke nel 1809 al loro debutto sulle scene del Dublin Theatre come ballerine e si innamorò della maggiore (si dice che a lei fossero ispirate le sue poesie d'amore). Ma nel 1810 la sedicenne Mary Ann preferì sposare l'amico di Thomas, John R. Duff anch'egli attore con il quale si trasferì a Boston. L'interesse di Thomas si dirottò sulla seconda sorella: "Bessy" preferì, dopo il matrimonio fare vita ritirata e fuori dai salotti mondani; si dice che il matrimonio fosse felice, Bessy gli diede cinque figli (purtroppo tutti morti in giovane età, la prima Anne nata nel 1817 morì a 5 anni) e lo accudì come moglie fedele e amorevole.
GUIDA ALL'ASCOLTO
La melodia, dolce e fuori dal tempo, risale probabilmente al 1600 ed è stata arrangiata per la pubblicazione nelle "Irish Melodies" dall'amico Sir John Stevenson.
ASCOLTA con Jennie Oaks Baker (violino). Forse il più bell'arrangiamento per orchestra
ASCOLTA James Galway (flauto) & Phil Coulter (piano)
ASCOLTA Lucy Wainright Roche
ASCOLTA Allan Bruce in When Irish Eyes Are Smiling 2007 con lo stesso stile che fu del tenore irlandese John McCormack
I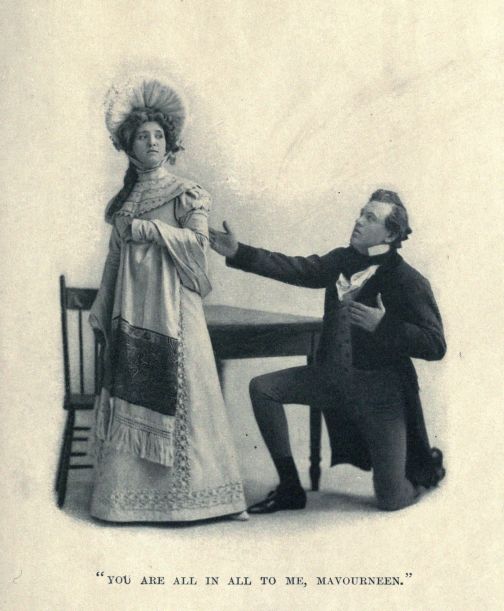 Believe me, if all those
Endearing young charms
Which I gaze on so fondly today
Were to change by tomorrow
And fleet in my arms,
Like fairy gifts(1) fading away
Though would'st still be adored
As this moment thou art
Let thy loveliness fade as it will
And around the dear ruin
Each wish of my heart
Would entwine itself
Verdantly still(2).
II
It is not while beauty
And youth are thine own
And thy cheeks Unprofaned by a tear
That the ferver and faith
Of a soul can be known
To which time will but
Make thee more dear(3)
No the heart that has truly loved
Never forgets(4)
But as truly loves
On to the close
As the sunflower turns
On her god when he sets
The same look which
She'd turned when he rose.
NOTE
1) la bellezza della donna non è sono nella freschezza della sua gioventù è una bellezza ricca di fascino, un raro dono di perfezione 2) è molto romantica l'immagine poetica delle rovine avvinte dall'edera, e come dire che la vecchiaia è il ricordo del passato il cui fascino perdura nel tempo ..
3) Il passare del tempo non intaccherà la verità dei sentimenti del poeta verso la donna amata anzi solo da vecchia lei potrà essere certa del di lui amore
4) il vero amore è per sempre: quando si ama davvero non si smetterà mai di amare
5) il sole che tramonta (la vecchiaia di una bella donna) non è meno amato dal girasole (il poeta) del sole dell'alba (la giovinezza di una bella donna) e il poeta la contempla e ammira sempre allo stesso modo, perchè è dalla donna amata che trae la sua vita
TRADUZIONE ITALIANO DI DARIO PARRINELLO (parzialmente ritoccata, tratta da qui)
I) Credimi, se tutto il fascino amabile della gioventù che ammiro con così affetto oggi dovesse mutare domani e svanire tra le dita, come scompaiono i doni fatati(1), tu saresti ancora adorata come lo sei in questo momento. Lascia che la tua bellezza svanisca come deve e accanto alle care rovine ogni desiderio del mio cuore si intreccerebbe ancora orgoglioso(2).
II) Non è mentre la bellezza e la gioventù sono tue e le guance inviolate dalle lacrime, che il fervore e la fede di un'anima possono essere conosciuti, alla quale il tempo farà tutto tranne renderti non meno cara!(3) No, il cuore che ha davvero amato non dimentica mai,(4) ma continua ad amare fino alla fine, come il girasole volge verso il suo dio mentre tramonta lo stesso sguardo che gli rivolse quando sorse.
MARY OF THE CURLING HAIR
La canzone è stata composta da Gerald Griffin (1803-1840) il poeta e scrittore di Limerick anche autore di molte canzoni di successo.
Così scrive Jane Lyons nel suo saggio Gerald Griffin – Limerick Poet and writer: "The rhythm and rhyme systems used by Gerald Griffin are so simple and natural that his verses look quite spontaneous, and betray not the slightest trace of effort, a characteristic indeed, of all our Anglo- Irish lyrists from Thomas Moore to William Butler Yeats."
Contemporaneo di Thomas Moore ne seguì la maestria e seppe accostare inglese e gaelico a sentimenti così legati alla tradizione che oggi molti ritengono le sue canzoni dei tradizionali irlandesi "molto vecchi". Così l'aria è probabilmente una vecchia melodia irlandese arrangiata sulle nuove parole.
"My Mary of the curling hair," to the air of "Shule a-gra," is one of the sweetest love-songs poet ever penned, the Irish words being mingled in very musically and effectively. Those things are especially suited to music, like the well known "Aileen a Roon," and "I love my love in the morning." Every young lady who has a voice and a piano has played and sung the songs of Gerald Griffin at some time or other, but little do they think as they sing them, that the author at thirty-eight bid the muses farewell, and ended his unblemished life in a monastery".(James Duffy tratto da qui)
GUIDA ALL'ASCOLTO
Credo che la più antica registrazione risalga agli anni 1930 con la voce del noto tenore irlandese Hubert Valentine in cui sono accreditati come collaboratori (contributors) Charles W A Ball e W Davidson.
ASCOLTA The Wolfhound 1974 (strofe da I a III)
ASCOLTA Frank Patterson in Galway Bay & Other Irish Favourites2011, proprio come si cantava negli anni 30-40 (strofe I, IV)
I) My Mary of the curling hair The laughing teeth(1) and bashful air A bridal morn(2) is dawning fair With blushes(3) from the skies. Chorus: Sisul Siul Siul a run Siul co socair agus siul go ciuin(4). My pride(5) my pearl my own dear girl My Mountain Maid arise.
II) We were known from infancy, Thy fathers hearth was home to me. No selfish love was mine for thee, Unholy and unwise.
III) I am no stranger proud and gay To win thee from thy home away And find thee for a distant day A theme for wasting sights(6)
IV) And soon my love would be my bride, contented by our own fireside,(7) for cares and feels will dance outside as we are love united(8).
NOTE
1) with smiling eyes
2) wedding day
3) blessing in the skies
4) nel ritornello viene inserita come citazione la popolare ballata "Siuil a Ruin" (vedi)
5) love
6) se ho ben capito il senso!
7) il focolare aveva un forte senso simbolico nella tradizione irlandese; spesso la sposa si trasferiva nella casa di famiglia dello sposo per diventare "la donna di casa". C'era un passaggio di consegne dell'autorità tra la nuora e la nuova arrivata, le "pinze per il fuoco"
8) in originale dice " My veins shall feel the rosy tide, That lingering Hope denies."
TRADUZIONE ITALIANO DI CATTIA SALTO
Mary dai capelli ondulati, dal sorriso luminoso e l'aria timida. Il mattino delle nozze sta per sorgere bello mentre il cielo si arrossa Vieni, vieni, vieni, amore mio, presto, vieni da me, muoviti piano,(4) Mio vanto, mia perla, mia dolce ragazza, mia montagnina alzati Che noi ci conoscemmo dall'infanzia il cuore di tuo padre era la mia casa, non provavo amore egoista nei tuoi confronti, profano o sventato! Io non sono un estraneo, (ma) valoroso e allegro, che vincerò nel portarti fuori di casa e non ti darò in un giorno lontano, un motivo per visioni desolate! Ma presto il mio amore sarà mia sposa contenta accanto al nostro focolare(7), che preoccupazioni e sentimenti danzeranno fuori mentre noi stiamo uniti nell'amore
BELIEVE ME, IF ALL THOSE ENDEARING YOUNG CHARMS FONTI
http://it.paperblog.com/believe-me-if-all-those-endearing-young-charms-1583411/
http://courses.wcupa.edu/fletcher/britlitweb/smcelroya.htm
https://jscholarship.library.jhu.edu/handle/1774.2/9233
http://www.irishmusicdaily.com/believe-me-if-all-those-endearing-young-charms
ILLUSTRAZIONI http://www.gutenberg.org/files/41656/41656-h/41656-h.html
MARY OF THE CURLING HAIR FONTI http://archiver.rootsweb.ancestry.com/th/read/IRELAND/2000-11/0973910088
http://www.ricorso.net/rx/az-data/authors/g/Griffin_G1/life.htm http://www.libraryireland.com/articles/GeraldGriffinIDJ1-5/index.php http://www.ucc.ie/celt/griffin.html http://searchworks.stanford.edu/view/7650976
(Cattia Salto, settembre 2014)