"Whiskey in the jar" (Kilgary Mountain), one of the most popular Irish pub songs, is the story of a outlaw who, after robbing an English landowner, is betrayed by his woman. His weaknesses: barley juice and beautiful women!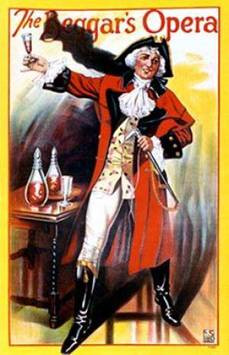 The story probably dates back to the 17th century and recalls Redmond O'Hanlon (c. 1620 – 1681) known as the Robin Hood of Ulster (Northern Ireland) because in addition to robbing the British (or making him pay a "tax "of protection so that no one would rob them), returned the rents paid by the Irish peasants, stealing them from their wealthy English landowners. There are various versions of the ballad with different stanzas, but the story always maintains the same structure and the ending is always the prison.
In the book The Folk Songs of North America, Alan Lomax, folk music historian, suggests that song inspired The Beggar's Opera "The folk of seventeenth century Britain liked and admired their local highwaymen; and in Ireland (or Scotland) where the gentlemen of the roads robbed English landlords, they were regarded as national patriots. Such feelings inspired this rollicking ballad." (in The Folk Songs of North America)
The protagonist of the song is probably Richard Power, who leaves County Kerry to join the outlaws led by O'Hanlon and robs an English soldier (among the favorite targets), but he is captured because deceived by the beautiful Jenny : during the night, while Richard is drunken, she hides his sword and puts his gunpowder in the water. Surrounded by soldiers and unable to defend himself, Richard surrenders. His only hope of avoiding hanging is a brother enlisted in the army, who could make him escape!
I
As I was going over the far
famed Kerry mountains
I met with captain Farrell
and his money he was counting.
I first produced my pistol,
and then produced my rapier.
Said "stand and deliver,
for I am a bold deceiver"
musha ring dumma do damma da
whack for the daddy 'o
whack for the daddy 'o
there's whiskey in the jar
II
I counted out his money,
and it made a pretty penny.
I put it in my pocket
and I took it home to Jenny.
She said and she swore,
that she never would deceive me,
but the devil take the women,
for they never can be easy
III
I went into my chamber,
all for to take a slumber,
I dreamt of gold and jewels
and for sure it was no wonder.
But Jenny took my charges
and she filled them up with water,
Then sent for captain Farrel
to be ready for the slaughter.
IV
It was early in the morning,
as I rose up for travel,
The guards were all around me
and likewise captain Farrel (1).
I first produced my pistol,
for she stole away my rapier,
But I couldn't shoot the water (5)
so a prisoner I was taken.
V
If anyone can aid me,
it's my brother in the army,
If I can find his station
down in Cork or in Killarney.
And if he'll come and save me,
we'll go roving near Kilkenny,
And I swear he'll treat me better
than me darling sportling Jenny
VI
Now some men take delight
in the drinking and the roving (2),
But others take delight
in the gambling and the smoking (3).
But I take delight in the juice of the barley,
And courting pretty fair maids
in the morning bright and early
NOTE
1) The Dubliners "Up comes a band of footmen and likewise captain Farrell"
2) The Dubliners "There's some take delight in the carriages a rolling"
3) The Dubliners "and others take delight in the hurling and the bowling"
In this version of The Thin Lizzy the beauty is called Molly and the story stops at the gunfire with which the bandit tries to escape capture. The moral, however, is always the same: barley juice and beautiful women make the man weak! This version more than a "rebel song" looks like a question of cheating
THE THIN LIZZY
I
As I was goin' over the Cork and Kerry mountains
I saw Captain Farrell and his money he was countin'
I first produced my pistol and then produced my rapier
I said stand and deliver or the devil he may take ya
Chorus
Musha ring dum a doo dum a da
Whack for my daddy-o
Whack for my daddy-o There's whiskey in the jar-o
II
I took all of his money and it was a pretty penny
I took all of his money yeah I brought it home to Molly
She swore that she'd love me, never would she leave me
But the devil take that woman for you know she trick me easy
III
Being drunk and weary I went to Molly's chamber
Takin' my money with me and I never knew the danger
For about six or maybe seven in walked Captain Farrell
I jumped up, fired off my pistols and I shot him with both barrels
IV
Now some men like the fishin' and some men like the fowlin'
And some men like ta hear, ta hear cannon ball a roarin'
Me I like sleepin' specially in my Molly's chamber
But here I am in prison, here I am with a ball and chain yeah
LINK
https://terreceltiche.altervista.org/the-rambling-blade-ovvero-il-ladro-gentiluomo-nelle-ballate-irlando-scozzesi/
http://mudcat.org/thread.cfm?threadid=3116
http://www.antiwarsongs.org/canzone.php?id=36987&lang=it