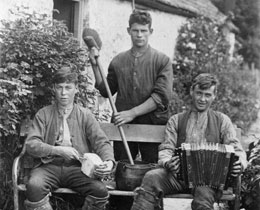 La ballata proviene dalla Scozia e dalla tradizione orale, è stata raccolta da John MacDonald di Pitgaveny, Elgin ed è chiaramente una Bothy Balld. "This song is a reworking by the singer of a traditional fragment. Because it has similar verses and tune one would conclude that it is a bothy parody of the ballad "The Gipsy Laddie" mentioned by Ord in Bothy Songs and Ballads (p. 42). In fact it uses a similar tune to that sung by Jeannie Robertson for The Gipsy Laddie." (Peter Kennedy in The Folksongs of Britain and Ireland)
Zingari e traveller (o traiveller) si trovano così accomunati nelle ballate popolari dallo stessa tema: una Lady o la figlia del Laird viene "conquistata" dal fascino esotico di un rude zingaro o dal fascino di un virile e possente aratore, e preferisce la strada che le comodità di un castello o di una ricca fattoria; come gli zingari nomadi anche il bracciante agricolo trovava lavoro solo stagionalmente nelle fattorie, e aveva la strada come unica alternativa.
Come per il fascino esotico degli zingari così per i cavallanti si diceva che conoscessero delle arti segrete per "sussurrare" ai cavalli: si attribuiva loro un potere magico di seduzione, che poteva piegare la volontà di bestie e donne (potere che aveva effetto sulla mente femminile perchè debole, ovviamente secondo una certa mentalità)
ASCOLTA Malinky in 3 Ravens 2002


I
Come saddle tae me,
my auld gray mare
Come saddle tae me, my pony o
I'm on the road and I'm goin far awa
Awa wi the rovin ploughboy o
CHORUS
Ploughboy-o ploughboy-o
Follow my rovin ploughboy-o
II
Last night I lay
in a fine feather bed
Sheets and blankets sae cosy o
The night I maun lie
in a cauld barn shed
Rowed in the airms o my ploughboy o
III
Champion ploughboy,
my Geordie lad
Cups and medals and prizes o
In bonnie Deveronside
there's nane can compare
Wi my jolly rovin ploughboy o
IV
Fare ye weel tae auld Huntly toon
And fareweel tae Drumdelgie(3) o
I'm on the road and I'm goin far awa
Awa wi the rovin ploughboy o
V
What care I for the auld laird himself?
What care I for his siller O?
Gae saddle tae me my auld grey mare
I'm awa wi the rovin ploughboy O
traduzione italiano di Cattia Salto
I
Vieni a sellare per me
la mia vecchia cavalla grigia,
vieni a sellare per me il mio pony,
sono in strada e per andare lontano,
con il mio cavallante vagabondo.
RITORNELLO
il mio cavallante -e
seguo il mio cavallante vagabondo -o
II
Ieri notte dormivo
in un bel letto di piume,
lenzuola e coperte così comode -e,
questa notte devo dormire
in un freddo fienile, avvolta (1) tra le braccia del mio giovane cavallante -e.
III
Un cavallante campione,
il mio ragazzo, Geordie,
con coppe e medaglie e premi
nel bel Deveronside
nessuno può competere (2) con il mio allegro cavallante vagabondo.
IV
Addio alla vecchia fattoria di Huntly
e addio a Drumdelgie (3)
sono in strada per andare lontano
con il mio cavallante vagabondo.
V (4)
Cosa m'importa del vecchio proprietario della fattoria?
Cosa m'importa del suo denaro ?
Vai a sellare per me la mia vecchia cavalla grigia, che vado via con il cavallante vagabondo.
NOTE
1) Row'd: wrapped
2) gare di aratura si svolgevano tra cavallanti delle vicine fattorie
3) famosa "fairm-toun" [fattoria] nel Cairnie, Aberdeenshire
4) strofa aggiuntiva di John MacDonald
continua The Gipsy Laddie
FONTI
http://www.educationscotland.gov.uk/ scotlandssongs/secondary/genericcontent_tcm4555654.asp http://sangstories.webs.com/rovinploughboy.htm http://www.antiwarsongs.org/canzone.php?id=13433&lang=it http://multescatola.com/biblioteca/miscellanea/societa-del-verbo-del-cavaliere.php http://mysongbook.de/msb/songs/r/rovinplo.html http://mudcat.org/thread.cfm?threadid=69590