"Mr Tapscott" is a sea shanty/emigration song known as "The Irish Girl", "The Irish Emigrant", " Yellow Meal". (see firt part)
The Irish Girl of Mr Tapscott
It tells the story of an Irish girl who, from Liverpool embarks on a packet ship of Mr. Tapscott directed to New York. Her arrival point is Brooklyn's Irishtown not as famous as the Five Points in Manhattan but even more crowded by Irish immigrants. Irishtown was in the Fifth Ward / Vinegar Hill, an Irish stronghold full of illegal whiskey distilleries and detached from Anglo-American culture, in which even the police dared not set foot. Like the famous Irish revolutionary Michael Collins said in the movie, "There is one weapon that the British cannot take away from us: we can ignore them."  More generally, the masses of poor and desperate Irish settled along the coast of Brooklyn, on the waterfront from Williamsburg to Gowanus.
The waterfront neighborhoods of antebellum Brooklyn was such a place. These neighborhoods of mostly English Protestants and old Dutch aristocracy were quickly overwhelmed by these Catholic "invaders" crippled by diseases, starving and with a legacy of rebelliousness, secrecy, violence and faction fighting within their fiercely communal cooperations. In short, these great numbers of Brooklyn immigrants were in no way interested in assimilating into the incumbent Anglo-Protestant culture. (from qui)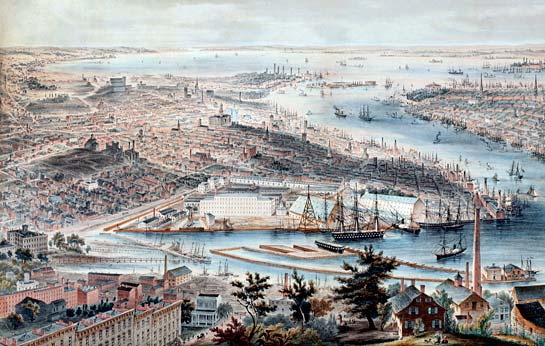 MR TAPSCOTT (John Short)
Text and melody are a variant of "The New York gals" ("Can't You Dance the Polka?") This is what the authors of the Short Sharp Shanties project write in the notes: This shanty text is more widely known as The Irish Girl, The Irish Emigrant or Yellow Meal and the texts are fairly consistent – however, this text is one of only two instances where we have deliberately changed any words: we were not prepared to use the 'N' word – nor did Sharp, although he noted it, so we have used his text for the 'Foulton Ferry' verse. Short's tune is, of course, more widely known as carrying New York Gals or Can't You Dance the Polka (which are, arguably, text variants of Jack-All-Alone (a.k.a. Patrick Street/Barrack Street) – which used the tune of the polka Larry Doolan  (a.k.a.The Irish Jaunting Car) –  published 1852). The tune was also used for the American Civil War song The Bonny Blue Flag (1861) and subsequently for The Southern Girl's Reply. The text has also been recorded, as a shanty, sung to Heave Away, Me Johnny (to which Short sang Banks of the Sweet Dundee.   (from here)
Sam Lee from Short Sharp Shanties : Sea songs of a Watchet sailor Vol 1  ♪

I
As I was a-walking down
by the Clarence Dock (1),
I overheard an Irish girl
conversing with Tapscott (2).
Chorus (after each verse):
And away you Santy (3), my dear Annie,
Oh you Santy, I'll love you for your money
II
"Good morning Mister Tapscott,
good morning, sir," says she,
"O have you got a ship of fame
to carry me o'er the sea?"
III
"O yes, I have a ship of fame,
tomorrow she sets sail,
She's lieing in the Waterloo Dock taking in her mail."
IV
The day was fine when we set sail
but night has scare begun (4)
A dirty nor'west wind came up
and drove us back again.
V
Our captain, being an Irishman,
as you shall understand,
He hoisted out his small boat on the banks of Newfoundland.
VI
'Twas at the Castle Gardens (5) fair
they landed me on shore,
And if I marry a Yankee boy
I'll go to sea no more.
VII
I went down to Foulton Ferry (6)
but I could not get across,
I jumped on the back
of a ferryboat man
and rode him like an hoss.
VIII
My father is a butcher,
my mother chops the meat,
My sister keeps a slap-up (7)
shop way down on Water Street (8).
NOTES
1) The port of Liverpool is a port system along the Mersey river estuary. The first basin of Liverpool was built in 1715 and then developed into a system of interconnected docks that allowed the movements of ships uninterruptedly despite the tides. Most of the small quayside of the southern part of the port of Liverpool were closed in 1971, as new basins were opened to accommodate the new cargo ships.
2)This shanty may have had a special appeal to Short: 'Tapscott' was William Tapscott from a Minehead (Somerset) family that had lived in the town (a neighbour to Watchet) from at least the mid-1770s.  William was an American packet ship broker, with offices on Regents Road, Liverpool, and Eden Quay, Dublin. He worked in conjunction with his brother James, who looked after the New York end of the business, and specialized in selling pre-paid passages to successful immigrants who now wished to bring their families to America.  They were agents for the Black Ball Line and, at one period, also for the Red Cross Line of American packets.  Together, they fleeced the unsuspecting. The Tapscott brothers were systematic villains, whose frauds began with their advertisements: although Taspcott advertised that his passages were on ships of over 1000 tons, and even as much as 2000 tons, in fact most were barely 600 tons. As their wealth increased the Tapscotts set up their own shipping line.  Cheap emigrant passages was the name of the game – but conditions were atrocious and the food poor (the 'yellow meal', i.e. corn grits, of the alternative title).  In 1849 William Tapscott was adjudged bankrupt, and in the same year was charged with fraud, concerning the money of shareholders in the business. He was found guilty and sentenced to three years' penal servitude (from qui)
3 it recall to another sea shanty and to Santy Anna- Santiana . Santy here is used as a term of endearment in Italian could be Santina
4) Passengers often suffered from seasickness, especially with strong winds from the north wind
5) Castle Clinton or Fort Clinton or Castle Garden was a circular fort located in New York City in Battery Park, in the southern part of the island of Manhattan: from the mid-nineteenth century, it was used as the first sorting center for the european immigration. The station was in operation until 1890, when the federal administration, under pressure of a second and more massive immigration wave coming from all the states of Europe, decided to open a more functional one in Ellis Island.
6) Fulton Ferry was the ferry that connected Brooklyn with New York and that remained in business until the construction of the famous bridge (1883) see more
7) nowaday we translates slap-up as "excellent" but I imagine a place to eat an economic meal (origins here),the term is however associated with a quality positive as something very good, but it may also mean a trendy place.
8) on the waterfront of Brooklyn
LINK
http://www.castlegarden.org/
http://visualizingnyc.org/essays/john-bachmanns-new-york/
https://artofneed.wordpress.com/2013/11/04/the-brooklyn-irish/
https://artofneed.wordpress.com/2013/03/30/brooklyns-irishtown/
https://artofneed.wordpress.com/2013/10/18/801/
https://www.vwml.org/record/CJS2/10/2877
https://mainlynorfolk.info/folk/songs/mrtapscott.html
http://www.theshipslist.com/ships/lines/tapscott.shtml