TITLES: A Fair Young Maid all in her Garden, There Was A Maid In Her Father's Garden, Pretty, Fair Maid in the Garden, John Riley, Johnny Riley, The Broken Token, The Young and Single Sailor
Joan Baez popularised this ballad with John Reily title in the 60s (a lot of groups proposed it in that decade including Simon & Garfunkel, Judi Collins): it is a classic love story of probable seventeenth-century origins, in which the woman remains faithful to her lover or promised spouse who has gone to war or embarked on a vessel. The song is classified as reily ballad because it is structured as a dialogue between the protagonist (in disguise) usually called John or George, Willie or Thomas Riley (Rally, Reilly) and the woman, example of loyalty, and often appears a sign of recognition, for example, a gift exchanged or an object broken in half (other examples: "Her mantle so green", "The Banks of Claudy").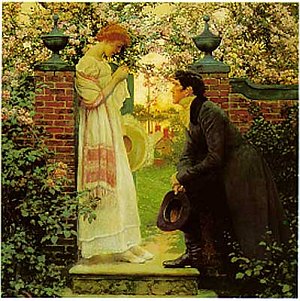 In most of these stories the man returns after a long time and, not recognized by the woman, tests her loyalty. But the girl refuses, saying she can not give him her heart because she is waiting for the return of her true love. The man so reassured, reveals himself and the two crown their love with marriage.
The story recalls the archetypal figures of Ulysses and Penelope, when Ulysses, in disguise, returns twenty years after to his Ithaca , and he is not recognized by his wife. It is also a subject of fiction, on men returning from war changed in physique and psyche or who are clearly another person, accepted in spite of everything by his wife mostly for practical reasons; she ends up preferring this new or different person to the previous husband!
The origin of the theme in English and American balladry has been identified in the seventeenth-century ballad entitled "The constant maids resolution: or The damsels loyal love to a seaman" found under the title "The Constant Damsel" in "The Vocal Enchantress" ( Dublin 1791) and in various nineteenth-century American publications under various titles. There are many text versions with small variations combined with different melodies
JOHN RILEY
Although a traditional song, it has been credited to Rick Neff and Bob Gibson (of the Byrds, the American version of the Beatles), in the album "Fifth Dimension" of 1966 (see): actually the song had already been recorded by the american folk singer Joan Baez in her second album released in 1960 with the title of "John Riley"; in the notes she writes traditional song, arrangement by Joan Baez; it is her version to become a standard!
Broceliande

Iernis


I
Fair young maid all in her garden,
strange young man passer-by, he said:
«Fair maid, will you marry me?».
This answer then was her reply:
II
‒ Οh, no, kind   sir, I cannot marry thee,
for I've a love and he sails the sea.
Though he's been gone for seven years,
still no man shall marry me.
III
‒ What if he's in some battle slain
or if he's drowned in the deep salt sea?
What if he's found another love
and he and his love both married be?
IV
‒ Well, if he's in some battle slain
I will die when the moon doth wane.
And if he's drowned in the deep salt sea,
then I'll be true to his memory.
V
And if he's found another love
and he and his love both married be,
I wish them health and happiness,
where they dwell across the sea.
VI
He pickes her up in his arms so strong
and kisses gave her: One, two, three.
‒ Say weep no more, my own true love,
for I'm your long-lost John Riley!
NOTE
1) seven is a recurring number in ballads to indicate the duration of a separation. The reference to the number seven is not accidental: it is a magic or symbolic number linked to death or change. If a husband left for the war and did not return within seven years, the wife could remarry.
SOURCES
http://mudcat.org/thread.cfm?threadid=15555
http://mudcat.org/thread.cfm?threadid=67277