La melodia è stata scritta dal "Pipe Major" John MacLellan (1875-1949) di Dunoon (Scozia) con il titolo di "The Bens Of Jura" (egli la rinominò in ben due occasioni: la prima quando si trovò in Sud Africa arruolato nella Highland Brigade – "The Highland Brigade's March To Heilbronn", e poi quando andò in Egitto le diede il nome di "The Burning Sands Of Egypt"). In alcuni siti è tuttavia accreditata a Malcolm Johnson di Barra (che in realtà fu solo l'interprete il quale eseguì la melodia davanti a Marjory Kennedy-Fraser).
Fu solo nel 1914 che diventò una canzone con le parole composte dal reverendo Kenneth MacLeod. La canzone con il titolo "The road to the Isles" venne pubblicata nella poderosa raccolta di Marjory Kennedy-Fraser "Songs of the Hebrides" (vol II 1917, per la collezione in pdf vedi qui) Kenneth MacLeod la pubblicò anche nel suo libro The Road to the Isles (1927), con il commento "Written for the lads in France during the Great War. The track referred to here led in the old days from the Northern Isles to the Cattle Trysts of Falkirk and Carlisle."
ROAD TO THE ISLES
LA MELODIA E' ovviamente una "marcing song" per cornamuse e tamburi
ASCOLTA Kings Own Scottish Borderers

La canzone è popolarissima in Scozia e ha un che d'antan, il protagonista è un soldato (o un emigrante) che sta lasciano le sue amate Isole Azzurre (le Ebridi) per percorrere la "Strada delle Isole" fino a Fort William, uno dei forti che faceva parte della catena di fortificazioni (insieme a Fort Augustus e Fort George) utilizzata per tenere sotto controllo le possibili rivolte giacobite. E' rimasto come presidio militare fino al 1855. Fort William è il centro più importante della Scozia, snodo ferroviario e stradale (qui si dipartono la West Highland Way e la Great Glen Way).
ASCOLTA Gaberlunzie


Chorus:
Sure, by Tummel and Loch Rannoch
and Lochaber(1) I will go.
By heather tracks
wi' heaven in their wiles(2);
If it's thinkin' in your inner heart
braggart's in my step,
You've never smelt
the tangle o' the Isles.
I
Oh, the far Coolins(3)
are puttin' love on me.
As step I wi'
my cromach(4) to the Isles.
It's by Sheil(5) water
and track is to the west.
By Aillort and by
Morar(6) to the sea,
The cool cresses(7)
I am thinkin' o' for pluck,
And bracken for a
wink on Mother's knee(8).
II
The far Coolins are
puttin' love on me,
As step I wi' the
sunlight for my load.
It's the blue Islands
are pullin' me away,
Their laughter puts
the leap upon the lame(9),
The blue Islands from
the Skerries to the Lews(10),
Wi' heather honey
taste upon each name(11)

Traduzione italiana Cattia Salto
CORO
Dal Tummel al Loch Rannoch
e al Lochaber andrò
per i sentieri di erica
con il cielo nei loro riflessi.
Se credete nel profondo dei vostri cuori
che io mi vanti
non avete mai annusato
le alghe delle Isole.
I
Le lontane Cuillins
mi riempiono d'amore
mentre avanzo con il mio
bastone da pastore per le Isole
è dal Lago Sheil
per la pista a Ovest.
Dall'Ailort e dal
Morar al mare
il crescione fresco
sto pensando di prendere(7)
e le felci per riguardo
ai consigli di mia madre(8).
II
Le lontane Cuillins
mi riempiono d'amore
mentre avanzo
nella luce del sole con il mio fardello
sono le Isole Azzurre
che mi lascio indietro,
il loro riso fa saltellare
anche lo zoppo.
Le isole azzurre dagli
Skerries a Lews
con il gusto del miele d'erica
su ogni nome(11)
NOTE
1) i laghi Rannoch e Lochaber si trovano rispettivamenete nel Perth e Kinross il primo, e ad ovest delle Highlands scozzesi il secondo, il fiume Tummel parte dal Loch Rannoch scorre nel Perthshire fino al Tay e a metà del suo percorso si allarga fino a diventare il Loch Tummel,
2) letteralmente "sarebbe nelle loro astuzie", ma in italiano non avrebbe molto senso
3) Cuillin Hills catena di montagne nulla Isola di Skye
4) bastone da pastore
5) lo Shiel è un lago vicino a Fort William
6) Loch Ailort nel Morar è delimitata a nord-est dal villaggio dello stesso nome, Lochailort e a ovest dal Sound of Arisaig; Morar (nei pressi di Loch Morar )
7) come scrive lo stesso Kenneth MacLeod "Traditionally, watercress is regarded as both food and drink; it is said to have been the food of the pilgrims on their way to Iona" Secondo una fantasiosa credenza inglese, il crescione può rivelare il futuro a una ragazza in cerca di marito: deve seminare una fila di crescione e una di lattuga il 24 di marzo, e stare ad aspettare, se spunta prima la lattuga, il marito sarà dolce e comprensivo, se nasce prima il crescione, l'amato sarà severo, puntiglioso, forse violento.
8) wink (termine arcaico per occhio): il senso della frase mi sfugge. Ho trovato sul dizionario che l'espressione ""at your mother's knee" si usa per indicare "If you ​learned something at ​your mother's ​knee, you ​learned it when you were a ​child"
9) credo sia una citazione da Isaia 35:6 "Then will the lame leap like a deer"
10) sono le isole Ebridi che vanno per l'appunto dall'isola di Skyle fino all'Isola di Lews e comprendono le Ebridi Interne e le Ebridi Esterne. Skerries sono isolotti rocciosi appena fuori l'isola di Skye e il castello di Lews (vicino Stornoway sulla Isle of Lewis )
11) credo sia un giro di parole per dire che per il protagonista il nome dei luoghi appena lasciati gli lasciano in bocca un gusto dolce-amaro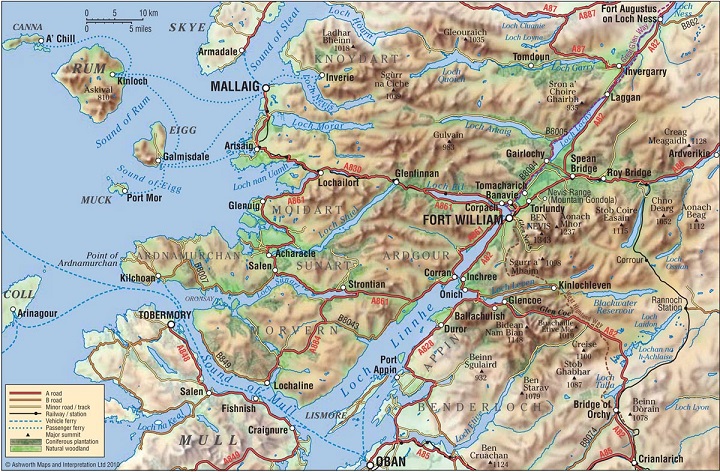 UNA VISITA
Con il nome la 'strada per le isole' si indica in Scozia la A830, che collega Fort William con Mallaig, il porto sulla costa ovest delle Highlands scozzesi per le isole Ebridi
VIDEO datato 1955 che percorre la A830
http://www.undiscoveredscotland.co.uk/fortwilliam/oldfort/index.html
http://www.msereno1970.com/scozia/scozia_4.html
FONTI
http://thesession.org/tunes/4190 http://www.pipetunes.ca/composers.asp?pg=Details&composerID=23
http://www.joe-offer.com/folkinfo/songs/651.html http://www.celticangelmusic.com/making-of-road-to-the-isles/ http://mudcat.org/thread.cfm?threadid=13906