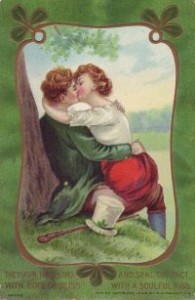 Among the traditional celebrations in the midsummer this song of the aubade that the young men addressed to their sweethearts in the early hours of the Leman day, that is the midsummer day, which marked the period in which weddings were combined; in all probability the song was associated with the blueberry feast and was originally supposed to be the song of women.
Tra i festeggiamenti tradizionali di mezz'estate questo canto dell'aubade che i giovanotti rivolgevano alle loro innamorate nelle prime ore del leman day, cioè il giorno di mezz'estate che segnava il periodo in cui si combinavano i matrimoni; con buona probabilità la canzone era associata alla festa del mirtillo e in origine doveva essere il canto delle donne.
BILBERRY SUNDAY
[LA DOMENICA DEL MIRTILL]
It was celebrated mostly in July, when blueberry berries ripen or in August, often combined with the Celtic festival of Lughnasa. Boys and young girls went to the moors from morning to evening gathering blueberries and making friends, it was therefore a celebration dedicated to courtship and combining marriages. At the end of the day, the marriageable women would have prepared a cake with the collected blueberries, to give as a present for the next party, to the boy they were in love with.
Si celebrava per lo più a luglio, quando maturano le bacche del mirtillo o ad Agosto, spesso abbinata alla festa celtica di Lughnasa: giovinetti e le giovanette stavano su per i monti nella brughiera da mattino a sera a raccogliere i mirtilli e a fare amicizia, era perciò una festa dedicata al corteggiamento e a combinare i matrimoni (sotto i buoni uffici di Lugh). Alla fine della giornata le donne da marito avrebbero preparato una torta con i mirtilli raccolti, da regalare durante la festa successiva, al ragazzo di cui erano innamorate. 
From the repertoire of the Copper family the song is also known as "Arise and Pick a Posy", "Lemady", Sweet Lemany "," One Midsummer's Morn "
Dal repertorio della famiglia Copper il brano è conosciuto anche con il titolo " Arise and Pick a Posy", "Lemady", Sweet Lemany" , "One Midsummer's Morn"
Jarlath Henderson in  Hearts Broken, Heads Turned, 2016 

I=VI
As I was a-walking
one fine summer's morning,
the fields and meadows 
they looked so green and gay;
And the birds were singing
so pleasantly adorning,
Right early in the morning
at the break of the day.
II
Hark, oh hark,
the nightingale is singing,
the lark she is a-taking
her flight all in the air.
On yonder green bower
the turtle doves are building,
The sun is just a-glimmering.
Arise my dear.
III
Arise, oh, arise love
and get your charming posies,
They are the fairest flowers
that grow in yonder grove.
I will pluck off them all,
sweet lilies (1). pinks (2) and rosies,
All for my Sweet Lemeney,
the girl I adore
IV
Oh, Lemeney (3), oh, Lemeney,
you are the fairest creature,
you are the fairest creature
that ever my eyes did see.
And she played it all over
all upon her pipes (4) of ivory,
Right early in the morning
at the break of the day.
V
How could my true love,
how could she vanish from me
Oh, how could she go so
I never shall see her more.
it was her cruel parents
who looked so slightly on me,
And it's all for the white robe (5)
that I once used to wear.

Traduzione italiano Cattia Salto
I
Mentre stavo camminando
in un chiaro mattino d'estate
i campi e i prati sembravano tanto verdi
e dai vivaci colori;
e gli uccelli stavano cantando
e piacevolmente abbellendo
proprio al mattino presto
all'inizio del giorno
II
Alzati, alzati
l'usignolo canta
l'allodola s'invola
nell'aria
su quel verde nido
che le tortore stanno costruendo
il sole sta giusto splendendo
alzati mia cara
III
Alzati, o alzati amore
e prendi l'incantevole mazzolino di fiori
sono i fiori più belli
che crescono nel bosco
raccoglierò
i bei gigli, i cisti e le rose
tutti per la mia dolce innamorata
la ragazza che adoro
IV
Oh Lemeney
sei la più incantevole creatura
sei la più incantevole creatura
che mai i miei occhi videro
e lei danzava
sul piffero d'avorio
proprio al mattino presto
all'inizio del giorno
V
Come ha potuto il mio amore
come ha potuto dileguarsi
come ha potuto andarsene così
che non la rivedrò mai più
a causa dei suoi genitori crudeli
che mi guardarono con diffidenza
per via dell'abito bianco
che un tempo ero solito indossare
 
NOTE
1) Lily = purity [Giglio= purezza]
2) the pink indicates a large variety of pink flowers probably "pink rockrose", ie the cistus, arrived in the English gardens around 1650. This flowers are more properly belonging to the Mediterranean vegetation called "May roses" both for the period of flowering and for the resemblance to wild roses.
[il temine è un po' generico e sta a indicare una grande varietà di fiori rosa forse è il "pink rockrose", ossia il cistus, arrivato nei giardini inglesi intorno al 1650. Sono fiori più propriamente appartenenti alla macchia mediterranea dette "rose di maggio" sia per il periodo della fioritura che per la somiglianza con le rose selvatiche.]
3) proper name [nome proprio]
4) double entendre. [inevitabile il doppio senso]
5) why was a white dress the sign of a suitor not suitable for marriage? [perchè un abito bianco era segno di un pretendente non idoneo al matrimonio?]
LINK
http://thewildsideoflife.tripod.com/id44.html
https://mainlynorfolk.info/copperfamily/songs/sweetlemeney.html
https://mudcat.org/thread.cfm?threadid=13441