Under the heading Codefish shanty we have two versions, one of Cape Cod and the other of South Australia: the titles are "Cape Cod girls" and "Rolling King" or "Bound for South Australia" (or simply "South Australia").
Which of the two versions was born before is not certain, we can only detect a great variety of texts and also the combination with different melodies. At the beginning probably a "going-away song", one of those songs that the sailors sang only for special occasions ie when they were on the route of the return journey.
SOUTH AUSTRALIA VERSION
"As an original worksong it was sung in a variety of trades, including being used by the wool and later the wheat traders who worked the clipper ships between Australian ports and London. In adapted form, it is now a very popular song among folk music performers that is recorded by many artists and is present in many of today's song books.In the days of sail, South Australia was a familiar going-away song, sung as the men trudged round the capstan to heave up the heavy anchor. Some say the song originated on wool-clippers, others say it was first heard on the emigrant ships. There is no special evidence to support either belief; it was sung just as readily aboard Western Ocean ships as in those of the Australian run. Laura Smith, a remarkable Victorian Lady, obtained a 14-stanza version of South Australia from a coloured seaman in the Sailors' Home at Newcastle-on-Tyne, in the early 1880's. The song's first appearance in print was in Miss Smith's Music of the Waters. Later, it was often used as a forebitter, sung off-watch, merely for fun, with any instrumentalist joining in. It is recorded in this latter-day form. The present version was learnt from an old sailing-ship sailor, Ted Howard of Barry, in South Wales. Ted told how he and a number of shellbacks were gathered round the bed of a former shipmate. The dying man remarked: "Blimey, I think I'm slipping my cable. Strike up South Australia, lads, and let me go happy." (A.L. Lloyd in Across the Western Plains from here)
This kind of songs were a mixture of improvised verses and a series of typical verses, but generally the refrain of the chorus was standardized and univocal (even for the obvious reason that it had to be sung by sailors coming from all the countries).
The length of the song depended on the type of work to be done and could reach several strophes. The song then took on its own life as a popular song in the folk repertoire.
The first appearance in collections on sea shanties dates back to 1881.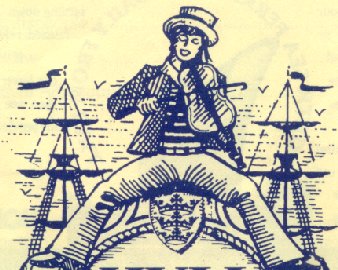 The Clancy Brothers & Tommy Makem 1962 the version that has been the model in the folk environment

Let's see them in a pirate version in the TV adaptation of the "Treasure Island"

Johnny Collins, from "Shanties & Songs of the Sea" 1996

The Pogues

Gaelic Storm from Herding Cats (1999) they recall the version of the Pogues. It is interesting to compare the same group that has also tried with the arrangement of  Cape Code Girls.

In South Australia(1) I was born!
Heave away! Haul away!
South Australia round Cape Horn(2)!
We're bound for South Australia!
Heave away, you rolling king(3),
Heave away! Haul away!
All the way you'll hear me sing
We're bound for South Australia!


As I walked out one morning fair,
It's there I met Miss Nancy Blair.
I shook her up, I shook her down,
I shook her round and round the town.
There ain't but one thing grieves my mind,
It's to leave Miss Nancy Blair behind.
And as you wallop round Cape Horn,
You'll wish to God you'd never been born!
I wish I was on Australia's strand
With a bottle of whiskey in my hand
NOTES
1) Land of gentlemen and not deportees, the state is considered a "province" of Great Britain
2) the ships at the time of sailing followed the oceanic routes, that is those of winds and currents: so to go to Australia starting from America it was necessary to dub Africa, but what a trip!!


3) Another reasonable explanation  fromMudcat "The chanteyman seems to be calling the sailors rolling kings rather that refering to any piece of equipment. And given that "rolling" seems to be a common metaphor for "sailing" (cf. Rolling down to old Maui, Roll the woodpile down, Roll the old chariot along, etc.) I would guess that he is calling them "sailing kings" i.e. great sailors. There are a number of chanteys which have lines expressing the idea of "What a great crew we are." and I think this falls into that category." (here)
Moreover every sailor fantasized about the meaning of the word, for example Russel Slye writes " When I was in Perth (about 1970) I met an old sailor in a bar. I found he had sailed on the Moshulu (4 masted barque moored in Philly now) during the grain trade. I asked him about Rolling Kings. His reply (abridged): "We went ashore in India and other places, and heard about a wheel-rolling-king who was a big boss of everything. Well, when the crew was working hauling, those who wasn't pulling too hard were called rolling kings because they was acting high and mighty." So, it is a derogatory term for slackers. (from here).
And yet without going to bother ghostly Kings (in the wake of the medieval myth of King John and the fountain of eternal youth) the word could very well be a corruption of "rollikins" an old English term for "drunk".
Among the many hilarious hypotheses this (for mockery) of Charley Noble: it could be a reference to Elvis Prisley!

There is also a MORRIS DANCE version confirming the popularity of the song
LINK
http://www.historicalfolktoys.com/catcont/95301.html
http://www.shanty.org.uk/archive_songs/cape-cod-girls.html
http://www.folkways.si.edu/paul-clayton/cape-cod-girls/american-folk/music/track/smithsonian
http://www.capecod.com/about-cape-cod/cape-cod-history/
http://www.cavolettodibruxelles.it/2014/11/cape-cod
https://mainlynorfolk.info/lloyd/songs/southaustralia.html
http://www.jsward.com/shanty/codfish/index.html
http://shanty.rendance.org/lyrics/showlyric.php/australia
https://en.wikipedia.org/wiki/South_Australia_(song)
http://www.mudcat.org/thread.cfm?threadid=48959
http://www.abc.net.au/arts/blog/barnaby-smith/morris-dancing-broken-knuckles-bells-folk-festivals-150327/default.htm