"Siuil a Ruin" written in English as "Shule Aroon", or as "Suil a Gra" (Shule agrah), is the call made by a woman to her love that went to France to fight with the "Wild Geese", for he come back to her.
"Siuil a Ruin" scritto con la grafia inglese come "Shule Aroon", o come "Suil a Gra" (Shule agrah), è il richiamo lanciato da una donna al suo amore andato in Francia a combattere con le "Wild Geese", perchè ritorni da lei.
The original version probably dates back to 1690 when the Limerick treaty allowed the Irish of the Jacobite faction to follow in exile in France, the deposed king James II, and perhaps it was composed entirely in Gaelic, left in the refrain as nonsense phrases in the subsequent English version. The song emigrated to America and became a traditional song of the American Revolution of 1776. In America it changes its title to "Johnny Has Gone For A Soldier" (Buttermilk Hill) or "Gone the Rainbow".
La versione originale probabilmente risale al 1690 quando il trattato di Limerick permise agli Irlandesi della fazione giacobita di seguire nell'esilio in Francia, il deposto re Giacomo II, e forse era composta interamente in gaelico, rimasto solo nel ritornello come frasi non-sense nella successiva versificazione in lingua inglese. La canzone emigrò in America e divenne un canto tradizionale della Rivoluzione americana del 1776. In America cambia il titolo in  "Johnny Has Gone For A Soldier" (Buttermilk Hill) o anche come "Gone the Rainbow".
The first printed versions date back to 1800, it is a fragment of Scottish origin "Dick Macphalion" (1823) (cf) and a text "I Wish I Was By That Dim Lake" in "Irish Melodies" vol IX by Thomas Moore (1825) with the melody "I wish I were on yonder hill "arranged by Joseph Robinson.
Le prime versioni stampate risalgono al 1800, si tratta di un frammento di origine scozzese "Dick Macphalion" (1823) (vedi) e di un testo "I Wish I Was By That Dim Lake" in "Irish Melodies" vol IX di Thomas Moore  (1825) con la melodia "I wish I were on yonder hill" arrangiata da Joseph Robinson.
THE MELODY
[LA MELODIA]
The melody is almost a lullaby, melancholy or nostalgic, everything suggests that the woman is singing while working on her spinning wheel. In the refrain it is as if the girl said "Come back to me, if you are still alive , come back to me" and remind me of the letter written by Ada to Inman in the movie "Cold Mountain" (American civil war 1861-1865) "If you are fighting, stop fighting. If you are marching, stop marching. Come back to me. Come back to me is my reques"
However, this heartfelt appeal as the main interpretation is contradicted in some verses of the song in which the woman accepts separation as an inescapable fact.
La melodia è quasi una ninna-nanna, malinconica o nostalgica, tutto lascia pensare che la donna stia cantando mentre lavora al filatoio.
Nel ritornello è come se la ragazza dicesse "Torna da me, se non sei ancora morto, torna da me" e mi ricorda la lettera scritta da Ada a Inman nel film "Cold Mountain" (guerra civile americana 1861-1865) "Quel che resta del mio coraggio è riposto nella fiducia che ho in voi e nella certezza che ho di rivedervi, quindi ve lo dico più chiaro che posso: se state combattendo, smettete di combattere! Se state marciando, smettete di marciare! Tornate da me….. Tornate da me….. Questo vi chiedo. Tornate da me, tornate da me."
Questo richiamo accorato come chiave di lettura principale è però contraddetto in alcune strofe del canto in cui la donna accetta la separazione come un fatto ineludibile.
It is difficult to sort through the various performances as it is a very popular piece among folk music groups and soloists, but I point out in particular the version of Sissel and Figgy Duff Band
E' difficile fare una cernita tra le varie esecuzioni essendo un brano molto popolare tra i gruppi e i solisti di musica folk, ma segnalo in particolare la versione di Sissel e della Figgy Duff Band
The Chieftains & Sissel Kyrkjebø in Tears of Stone (1999) the Norwegian singer more commonly known as Sissel, the song is slower and more suspended as in a dreamlike dimension (stanzas I, III, V, VII and refrain every 2 stanzas)
la cantante norvegese nota più comunemente come Sissel, il canto è più lento e sospeso come in una dimensione onirica (strofe I, III, V, VII e ritornello ogni 2 strofe)
Clannad in Dùlaman 1976 (strofe I, III, V, VI, VII)
Pamela Morgan &Anita Best in The Colour of Amber, 1991 "Suil a Gra": the refrain is that of the American version (see note 2) the verses are sung in anticipation of VII, I, III, V. The version was collected by Anita Best herself with Genevieve Lehr (John Joe English of Branch, St. Mary's Bay, NL, published as # 96, in "Come And I Will Sing You: A Newfoundland Songbook", pp.165-166, Genevieve Lehr publisher (University of Toronto Press © 1985/2003).
The black and white video is also beautiful and intense
il ritornello è quello della versione americana (vedi nota 2) le strofe sono cantate anticipando la VII, I, III, V. La versione è stata collezionata dalla stessa Anita Best con Genevieve Lehr (John Joe English of Branch, St. Mary's Bay, NL, e pubblicata come #96, in "Come And I Will Sing You: A Newfoundland Songbook", pp.165-166, Genevieve Lehr editore (University of Toronto Press © 1985/2003).
Bello e intenso anche il video in bianco nero
Saoirse official video

I
I wish I was on yonder hill
'Tis there I'd sit and cry my fill,
Till every tear would turn a mill,
Is go dte tu mo mhuirnin slán (1)
CHORUS (2)
Siúil, siúil, siúil a rúin
Siúil go sochair agus siúil go ciúin
Siúil go doras agus éalaigh liom ,
Is go dté tú mo mhúirnín [ mhairnin] slán 
II
His hair was black and his eyes were blue
His arms were strong and his words were true,
I wish in my heart that I were with you
And a blessing walk (3) with you, my love.
III
I'll sell my rock, I'll sell my reel
I'll even sell my spinning wheel (4)
to buy my love a sword of steel (5)
Is go dte tu mo mhuirnin slán
IV (6)
Then the king, he was forced to flee
Took my love across the sea
I wish in my heart he were here with me
And a blessing walk with you, my love
V
I'll dye my petticoats, I'll dye them red (7)
and it's round the world I will beg for bread
until my parents would wish me dead.
Is go dte tu mo mhuirnin slán
VI
I wish, I wish, I wish in vain
I wish I had my heart again
And vainly think I'd not complain
Is go dte tu mo mhuirnin slán
VII (8)
But now my love has gone to France
To try his fortune to advance.
If he e'er come back, 'tis but a chance
Is go dte tu mo mhuirnin slán
Traduzione italiana Riccardo Venturi
I
Vorrei essere su quella collina lassù
dove sederei a piangere a dirotto
ed ogni lacrima girerebbe un mulino,
e al sicuro per sempre il mio amore sarà
RITORNELLO
Vieni, vieni, vieni, amore mio,
presto, vieni da me, muoviti piano,
vieni qui da me e fuggiremo assieme,
e al sicuro per sempre il mio amore sarà
II
Aveva i capelli neri e gli occhi azzurri,
le braccia forti e parole sincere.
Nel mio cuore vorrei essere con te,
e una bella passeggiata con te, amore mio
III
Venderò l'aspo e la conocchia,
venderò l'unico telaio [filatoio a ruota]che ho per comprare una spada d'acciaio al mio amore e al sicuro per sempre il mio amore sarà.
IV
Allora il re dovette fuggire
e si portò via il mio amore, al di là del mare.
Nel mio cuore vorrei che fosse con me,
e una bella passeggiata con te, amore mio.
V
Mi tingerò le gonne, le tingerò di rosso
e me ne andrò per il mondo a mendicar pane finché i miei non vorranno che sia morta
e al sicuro per sempre il mio amore sarà.
VI
Vorrei, vorrei, vorrei ma invano,
vorrei riavere qui il mio amore,
e invano penso che non avrei un lamento,
e al sicuro per sempre il mio amore sarà.
VII
Ma ora il mio amore è andato in Francia
a cercare di fare fortuna.
Se tornasse sarei ben fortunata,
e al sicuro per sempre il mio amore sarà
NOTE
1) in english= And may you go safely, my darling or somethimes " And a blessing walk with you, my love" (in gaelic: Iss go jay too mavoorneen slahn.)
2) Traslated in English by Stephen Salzano
walk, walk, walk, my love [secret love];
walk calmly and walk quietly,
walk to the door and fly with me,
and safe journey to you my darling [or beloved or sweetheart,] goodbye'
"(Siúil) go doras" = 'go dtí an' or 'dhan'.
Stephen Salzano notes: "until then 'go dtí sin;' I dont know where dté comes from ; its not in the Irish dictionary; probably changed to make the song more poetic or is old Iris"
The refrain is also written in English (phonetics) as


[Il ritornello è scritto anche in inglese (fonetica) come]
Shule, shule, shule aroon
Shule go succir agus, shule go kewn;
Shule go dheen durrus oggus aylig lume
And a blessing walk with you, my love


(english translation)




Come, come, come O love,




Quickly come to me, softly move,




Come to the door and away we'll flee,


And safe forever may my darling be.)


In the American version it becomes


[Nella versione americana diventa]
Súil, súil, súil a grá,
Súil go socair agus súil a dhrá,
Súil go doras agus éalaigh,
Is go dtí a mhúirnín, slán.
3) the woman wishes her boyfriend a safe journey, the phrase means "have a good trip"
la donna augura al fidanzato un viaggio sicuro , la frase significa "che tu faccia buon viaggio"
4) the parts of the spinning wheel mentioned are sometimes written as flax, rack or rod instead of rock and meal instead of reel. (cf)
spinning wheel è  un filatoio (più impropriamente detto arcolaio) qui sono citate le parti del filatoio a ruota (o mulinello), talvolta scritti come flax, rack o rod al posto di rock e meal al posto di reel. (vedi dettaglio)
5) in my opinion the woman would be willing to sell all her precious things to buy a good sword to her man, because he could have some more chances to stay alive and return to her, safe and sound
a mio avviso la donna sarebbe disposta a vendere tutto ciò che ha di prezioso per comprare una buona spada al suo uomo, non perchè voglia sostenere la sua decisione di andare a combattere, bensì perchè egli possa avere qualche chance in più di restare vivo e ritornare da lei sano e salvo
6) probably in vogue in the 1700s and in the 1800s this stanza is no longer sung by the artists of the 1900s and by contemporaries. As Robert Louis Stevenson reports in his novel "The Master of Ballantrae" (1889) this was a song beloved by Jacobites exiles in France and the king to whom they alluded and placed their hopes was the Bonny Prince Charlie
probabilmente in auge nel 1700 e nel 1800 questa strofa non è più cantata dagli artisti del 1900 e dai contemporanei. Come riferisce Robert Louis Stevenson nel suo romanzo "The Master of Ballantrae" (1889) era una canzone amata dai giacobiti esuli in Francia e il re ai quali alludevano e riponevano le loro speranze era il Bonny Prince Charlie continua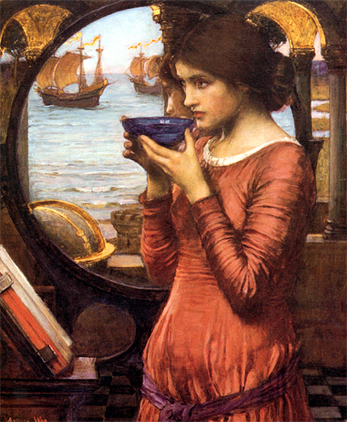 7) THE RED COLOR: one would expect the girl to be dressed in black, but this color has only recently become in our culture, the color of mourning; for the Celts red was the color of someone from the other world, while for the Ancient Romans it was the wedding color of the spouses, worn to evoke fertility. Alan Lomax indicates the color red as a symbol of a faithful woman (without, however, elaborating on this). Certainly the color code varies from era to era and from location to location. In the Middle Ages red was the color of the lover, and in the legends it was the color that protected against witches and diseases. But it was a color worn by the rich and symbolized the royal virtues of value and victory in war. In the Renaissance it was still the color of power and prestige worn by commanders and judges (and in Italy by the Medici's). In the Church it was connected with martyrdom but on the contrary it could also symbolize the devil.
IL COLORE ROSSO: ci si aspetterebbe che la ragazza si tingesse le vesti di nero, ma questo colore solo più recentemente è diventato nella nostra cultura, il colore del lutto; per i Celti il rosso era il colore di qualcuno che proveniva dall'altro mondo, mentre per gli Antichi Romani era il colore nunziale degli sposi, indossato per evocare la fertilità. Alan Lomax indica il colore rosso come simbolo di donna fedele (senza però approfondire in merito). Di certo il codice dei colori varia di epoca in epoca e di località in località. Nel Medioevo il rosso era il colore dell'amante, e nelle leggende era il colore che proteggeva dalle streghe e dalle malattie. Era però un colore indossato dai ricchi e simboleggiava le virtù regali del valore e della vittoria in guerra. Nel Rinascimento era ancora il colore del potere e del prestigio indossato dagli uomini di comando e dai giudici (e in Italia dai medici). Nella Chiesa era collegato con il martirio ma all'opposto poteva anche simboleggiare il diavolo.
8) An alternative version of the stanza
Una versione alternativa della strofa
"I wish my love would return from France,
his fame and fortune there advanced.
If we meet again, 't will be by chance.
Is go dte tu mo mhuirnin slán"
Interesting and personal versions of Cecil Corbel that with his pop style has transformed a song into a dance piece (stanzas I, II, VI, VII), and of Anúna  with their ancestral and mystical style: they add a verse between I and the II of the standard version,
Interessanti e personali le versioni di Cecil Corbel che con il suo stile pop ha trasformato brano in un pezzo dance (strofe I, II, VI, VII), e degli Anúna , con il loro stile ancestrale e mistico: aggiungono una strofa tra la I e la II della versione standard,
"I wish I sat on my true love's knee
Many a fond story he told to me
He told me things that ne'er shall be"
("vorrei sedermi sulle ginocchia del mio amore, tante storie affascinanti ha da raccontami, mi dice cose che non accadranno mai")
and they ended with the 5th stanza
e chiudono con la V strofa
Ulteriori ascolti consigliati
Tara McNeill (live)
Órla Fallon
SIÚIL, A GHRÁ
Contrary to what one might suppose, the Gaelic version is later than the Macaronic text
Contrariamente a quanto si potrebbe supporre la versione in gaelico è posteriore al testo in maccheronico
Na Casaidigh in "1691″, 2009
I
A bhuachaillín aoibhinn álainn ó
Ba leathan do chroí a's ba dheas do phóg,
Mo léan gan mise leat féin go deo
A's go dté tú , a mhuirnín, slán
curfa (chorus)
Siúil, Siúil, Siúil, a ghrá
Níl leigheas le fáil ach leigheas an bháis
Ó d'fhag tú mé, is bocht mo chás,
A's go dté tú , a mhuirnín, slán
II
Is minic a bhréag tú mé ar do ghlúin,
Ag cur do scéil dom féin in iúl
Ach chaill mé thú 's tú mo rún,
A's go dté tú, a mhuirn ín, slán
III
Ach cuireadh ar Rí Séamas ruaig
A's d'imigh na géanna leis ar luas
A's d'imigh mo bhuachaill leo, monuar,
A's go dté tú , a mhuirnín, slán
English translation
I
O gentle beautiful youth,
Broad was your heart and sweet your kiss,
Alas that I am not with you forever,
And may you go, my love, safely.
Chorus:
walk, walk, walk, oh love'
There is no cure to this but death.
Since you left me, wretched is my plight,
And may you go, my love, safely.
II
Often you beguiled me on your knee
Telling me of your life
But I lost you and you are my love,
And may you go, my love, safely.
III
But King James was routed,
And the geese (1) went with him at speed,
And my lad went with them, alas,
And may you go, my love, safely

Traduzione italiana Cattia Salto
I
O ragazzo bello e caro
dal cuore grande e dai dolci baci,
peccato che non possa esserti sempre vicina, torna, amore mio, in salvo.
Ritornello
Cammina amore, cammina, cammina
attento a  non restare ucciso, 
da quando mi hai lasciata, sono disperata,
torna, amore mio, in salvo.
II
Spesso mi hai tenuta sulle ginocchia
raccontandomi della tua vita
ma ti ho perduto, tu che sei il mio amore,
torna, amore mio, in salvo.
III
Ma re Giacomo fu messo in fuga
e le oche volarono con lui
e il mio ragazzo andò con lui, ahimè,
torna, amore mio, in salvo.

NOTE
1) After the victory of the Boyne (1690) in which England marked a fixed point on the dominion of Ireland, the Penal Laws were approved that penalized the Catholics, preventing them access to positions of power in public affairs and even rights owned on their own land; the Irish Catholics are deprived of the right to vote, they are excluded from the army, from the local and central administration and from the judiciary
So many were the young Irish Catholics who sought their fortune in European armies (who were possibly fighting against England!).
By extension the wild geese are all the men and women who left Ireland as emigrants for all they could not accomplish in their country!
Dopo la vittoria del Boyne (1690) in cui l'Inghilterra segnò un punto fermo sul dominio dell'Irlanda, vennero approvate le Penal Laws che penalizzavano i cattolici, impedendo loro l'accesso a posizioni di potere negli affari pubblici e finanche diritti di proprietà sulla propria terra; gli Irlandesi cattolici vengono privati del diritto di voto, sono esclusi dall'esercito, dall'amministrazione locale e centrale e dalla magistratura (mancava solo che gli facessero portare la stella gialla!)
Così molti furono i giovani irlandesi cattolici che cercarono la fortuna negli eserciti europei (che fossero possibilmente in lotta contro l'Inghilterra!).
Per estensione le oche selvatiche sono tutti gli uomini e le donne che hanno lasciato l'Irlanda come emigranti per tutto ciò che non potevano realizzare nel loro paese!
LINK
http://ontanomagico.altervista.org/sailing-lowlands.htm
http://ontanomagico.altervista.org/ye-jacobites.htm
http://en.wikipedia.org/wiki/Si%C3%BAil_A_R%C3%BAin
http://www.irishgaelictranslator.com/translation/topic53844.html
http://www.celticartscenter.com/Songs/Irish/SiuilARuin.html
http://thesession.org/tunes/6753
http://mudcat.org/thread.cfm?threadid=7985
http://mudcat.org/detail_pf.cfm?messages__Message_ID=48603
http://www.antiwarsongs.org/canzone.php?id=336&lang=it
http://stec-173395.blogspot.it/2011/05/fuso-e-telaio.html
http://mudcat.org/thread.cfm?threadid=30259
http://chrsouchon.free.fr/shulegra.htm