"Rosin the Beau", "Roisin the Bow" "Ol' Roisin Le Beau" è un canto pubblicato in America nel 1838 che riprende il tema di "Jug of punch" in cui il protagonista esprime il desiderio di essere sepolto insieme al suo amato whiskey.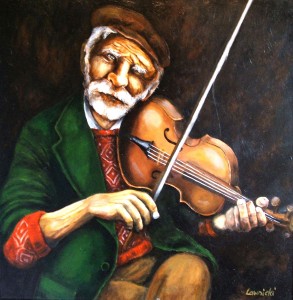 Può darsi che Rosin the Beau derivi da "to rosin the bow" (in italiano: resinare l'archetto del violino)  espressione che sta a significare un bere smodato, affibbiata  al popolare violinista itinerante per la sua propensione alle colossali bevute.
La melodia, di origine scozzese o irlandese, è molto  conosciuta e cantata su una varietà di testi: " The robber",  "Wrap me in my tarpaulin", "Wrap me  in my old stable jacket". E' citata  da Barrett nel suo libro "English Folk Songs" (1891) e da Williams in "Folk Songs of the upper Thames" (1923). In Irlanda è stata adoperata come  melodia per "Eoghan Choir",  una satira scritta in gaelico da un certo Barrett  della contea di Mayo verso il 1880. Nel 1920 venne  usata per una ballata dell'IRA "The boys of Kilmichael" che  celebrava il successo di un'imboscata presso Kilmichael.
Bayard (1981) notes the air was known to most fiddlers, fifers, and singers in Pennsylvania, as in many parts of the country. He identifies a melody by James Oswald which appears in his 2nd Collection (1740's, pg. 25) as a 6/8 "Gigg," that is extremely close to "Rosin," and he wonders if this was the ancestral tune for the air, or if Oswald himself was influenced by an older air. Further, he says a tune called "Dumfries House" in Gow's Complete Repository (3rd Ed., Part I, pg. 13) ascribed to John Riddle has a 2nd strain that equals "Rosin the Beau," and a Welsh harp tune in Bennett's Alawon fy Ngwlad also is quite close. The Fleishchmann index (1998) gives that the tune was derived from a 17th century Irish tune in 6/4 meter called "On the Cold Ground;" that tune, however, is English, attributed to Matthew Lock from the play The Rivals. (tratto da qui)
Rosin il bello è un uomo molto  popolare, forse un traveiller e un violinista che  nella sua vecchiaia medita sulla morte, ed esprime il desiderio di essere  seppellito con due barilotti di birra nella bara; nello stesso tempo, per  allungarsi la vita, incita la gente a brindare alla salute del vecchio Rosin detto il Bello!
Una drinking song nel repertorio dei The Dubliners, The Clancy Brothers e Bod Dylan, di cui conoscono molte versioni testuali.
ASCOLTA The 97th Regimental String Band


I
I've traveled all over this wild world,
And now to another I  go.
And I know that  good quarters (1) are waiting
To welcome old Rosin the Beau.(x3)
And I know that good  quarters are waiting to welcome old Rosin the Beau.
II
When I'm dead and  laid out on the counter
a voice you will  hear from below,
Saying "Send  down a hogshead of whiskey
Take a drink with  old Rosin the Beau
III
Then get a half dozen stout fellows
And lied them all up in a row
Let them drink out  of half gallon bottles
To the memory of Rosin the Beau
IV
Then get a half  dozen stout fellows
And let them all stagger and go
And dig a great hole  in the meadow
And in it put Rosin  the Beau
V
Then get ye a couple  of bottles.
Put one at me head  and me toe.
With a diamond ring  scratch upon 'em
The name of old  Rosin the Beau.
VI
I feel that old  tyrant (3) approaching,
That cruel  remorseless old foe,
And I lift up me  glass in his honour.
Take a drink with  old Rosin the Beau

Traduzione di Cattia Salto
I
Ho girato tutto il mondo
e ora me ne andrò all'altro,
ma so che le schiere angeliche (1) mi aspettano per dare il benvenuto al vecchio Rosin il Bello. ma so che le schiere angeliche mi aspettano per dare il benvenuto al vecchio (2) Rosin il Bello.
II
Quando sarò morto e  disteso su un catafalco
una voce griderà da sottoterra
dicendo "Mandate giù un barilotto di whiskey.
per bere con il vecchio Rosin il Bello".
III
Allora prendete una mezza dozzina di forti compagni
e metteteli tutti in fila
che bevano mezzo gallone
alla memoria di Rosin il Bello.
IV
Allora prendete una  mezza dozzina di forti compagni che scavino a turno una grande buca nel prato per metterci dentro Rosin il Bello.
V
Poi prendete un paio di bottiglie
mettetele una alla testa e una ai piedi
con un anello di  diamanti incidetevi sopra
il nome del vecchio Rosin il Bello.
VI
Vedo il vecchio tiranno (3) avvicinarsi, uno spirito crudele e spietato.
alzo il bicchiere in suo onore,
venite a bere con il vecchio Rosin il Bello.
NOTE
1) good  quarters= schiere angeliche o fatate altri traducono con "bei posti"
2) old è un termine affattuoso usato spesso come intecalare che non necessariamente indica l'età avanzata può anche voler dire semplicemente "caro"
3) tyrant: per gli inglesi La Morte è un maschio spesso in abiti militari
FONTI
https://mainlynorfolk.info/lloyd/songs/rosinthebeau.html
https://thesession.org/tunes/7639
http://mudcat.org/thread.cfm?threadid=10100
http://www.maggiesfarm.eu/testiO/olroisinlebeau.htm