La ballata "Polly on the Shore", anche conosciuta con il titolo di "The Valiant Sailor",  è una popolare sea song al tempo di Orazio Nelson; la sua prima comparsa su una raccolta risale al 1744 (in "The Irish Boy's Garland")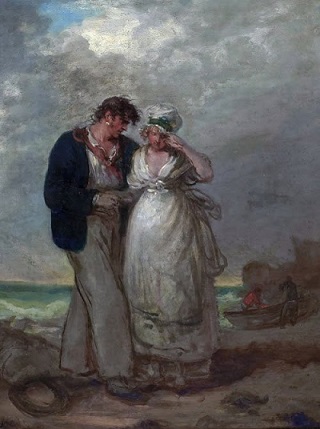 : è il lamento (ovvero l'addio) di un giovane marinaio arruolato a forza sulla British Royal Navy che finisce ferito a morte; il suo pensiero tra il boato delle cannonate, il lamento dei feriti e l'odore del sangue misto alla polvere da sparo e al puzzo della morte, si perde nell'immagine di Polly dagli occhi scuri, la sua Polly alta e snella sulla spiaggia della loro terra.
L'ARRUOLAMENTO NELLA BRITISH NAVY
Ai tempi di Orazio Nelson si faceva ricorso a metodi brutali per l'arruolamento nelle Forze Navali Britanniche con il sistema detto "impressment" ossia l'arruolamento forzato ad opera di una "press-gang" nel corso di retate di massa o con il pretesto dell'arresto per reati minori in cui il malcapitato anche solo perchè vagabondo e ubriaco finiva legato come un salame e imbarcato (spesso privo di sensi). L'arruolamento poteva avvenire anche in mare e "per causa di forza maggiore" dopo aver abbordato una nave mercantile!
Nella versione di Trevor Lucas (nell'album Nine dei Fairport convention) il capitano di mare responsabile dell'impressment è nientemeno che un corsaro

When I, as pressed by a sea captain,
a privateer to trade
To the East Indies we were bound
to plunder the raging main
And it's many the brave and a gallant ship
we sent to a watery grave
Ah, for Freeport we did steer,
our provisions to renew
When we did spy a bold man-of-war
sailing three feet to our two

TRADUZIONE ITALIANO
Appena arruolato da un capitano, un corsaro dei commerci,
eravamo diretti per le Indie Orientali come predoni del vasto oceano
e più di una nave di prodi e coraggiosi
abbiamo seppellito sott'acqua:
a Freeport ci dirigemmo
per rinnovare le provviste
quando spiammo una nave da guerra
che salpava, tre piedi contro i nostri due. 
L'avvertimento espresso nella ballata è quello di stare alla larga dalla guerra e negli anni del folk revival e dell'intervento americano nella guerra del Vietnam questo divenne ovviamente un gettonato brano anti-militarista.
ASCOLTA John Jones in Risin Road (il primo singolo della voce degli Oysterband) 2009

ASCOLTA Trembling Bells & Alasdair Roberts 2010

ASCOLTA The Trees 1970

Le versioni si rifanno al testo registrato da Shirley Collins nel 1970, (ASCOLTA) nelle note di copertina dell'album Love, Death & the Lady Shirley dice di averla ripresa dall'ottantenne George Maynard Copthorne, Sussex.

I
Come all you wild young men
And a warning take by me,
Never to lead your single life astray
And into no bad company.
As I myself have done,
It being in the merry month of May,
When I was pressed by a sea-captain
And on board a man-o-war I was sent.
We sailed on the ocean so wide
And our bonny bonny flag we let fly.
Let every man stand true to his gun
For the Lord knows who must die.
II
Oh our captain was wounded full sore
likewise were the rest of his crew
Our main mast rigging(1)
it was scattered on the deck
So that we were obliged to give in.
Our decks they were all spattered with blood
And so loudly the cannons did roar
And thousands of times(2) I wished meself alone,and all alone with me Polly on the shore
She's a tall and a slender girl
She has a dark and a-roving eye
And here am I lie a-bleeding on the deck
And for her sweet sake(3) I will die
III
Farewell, to my parents and my friends,
and farewell to my dear Polly too
I'd never would crossed the salt sea so wide
If I'd have been ruled by you
TRADUZIONE ITALIANO DI CATTIA SALTO
I
Venite tutti, voi ragazzacci
e date retta al mio avvertimento
non perdete mai la retta via per le cattive compagnie come io stesso ho fatto!
Era il mese del bel maggio, quando fui "arruolato" da un capitano di marina e a bordo di una nave da guerra fui mandato.
Navigammo sul vasto oceano
e la nostra bella bandiera sventolava
e ogni uomo si aggrappava al suo fucile, che solo Dio sa chi morirà.
II
Il nostro capitano fu ferito in pieno
come pure accadde al resto della ciurma, il sartiame(1) del nostro albero maestro era sparpagliato sul ponte, così fummo costretti ad arrenderci.
Tutto il ponte era cosparso di sangue
e così forte i cannoni ruggivano
e mille volte avrei voluto essere solo,
tutto solo con la mia Polly sulla spiaggia
lei è una ragazza alta e snella
e ha occhi scuri e vivaci
e qui giaccio esangue sul ponte
e per il suo dolce amore io morirò
III
Addio ai genitori e agli amici
e addio anche alla mia cara Polly
non avrei mai voluto attraversare il vasto mare salato
se fossi stato sotto il tuo comando

NOTE
1) tra le tecniche di guerra navale del Settecento c'era quella preferita da Spagnoli e Francesi di fare fuoco con i cannoni nel sartiame per abbattere gli alberi delle navi nemiche. Impossibilitate a fare manovre queste potevano essere abbordate e conquistate in un combattimento corpo a corpo. Nella tattica inglese invece si sparava con i cannoni direttamente allo scafo.
2) oppure "many's the time have I"
3) sake vuol dire anche a causa di , ma in questo contesto è per amore di, nel senso che la ragazza non è responsabile del suo arruolamento in marina.
FONTI
https://mainlynorfolk.info/martin.carthy/songs/pollyontheshore.html
https://antiwarsongs.org/canzone.php?id=45254&lang=it
https://afolksongaweek.wordpress.com/2015/05/24/week-196-polly-on-the-shore/
http://mudcat.org/thread.cfm?threadid=9854
http://ontanomagico.altervista.org/arthur-mcbride.htm