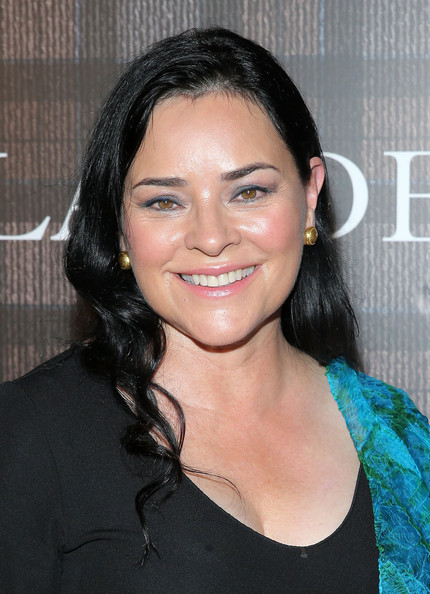 In the first book of the Outlander saga written by Diana Gabaldon chapter 16 Jamie recites, the day after their wedding, an old love song to Claire, giving her a fish.
"A good size," he said proudly, holding out a solid fourteen-incher. "Do nicely for breakfast." He grinned up at me, wet to the thighs, hair hanging in his face, shirt splotched with water and dead leaves. "I told you I'd not let ye go hungry."
He wrapped the trout in layers of burdock leaves and cool mud. Then he rinsed his fingers in the cold water of the burn, and clambering up onto the rock, handed me the neatly wrapped parcel.
"An odd wedding present, may be," he nodded at the trout, "
"It's an old love song, from the Isles. D'ye want to hear it?"
"Yes, of course. Er, in English, if you can," I added.
"Oh, aye. I've no voice for music, but I'll give you the words." And fingering the hair back out of his eyes, he recited,
"Thou daughter of the King of bright-lit mansions
On the night that our wedding is on us,
If living man I be in Duntulm,
I will go bounding to thee with gifts.
Thou wilt get a hundred badgers, dwellers in banks,
A hundred brown otters, natives of streams,
a hundred silver trout, rising from their pools

A nighean righ nan roiseal soluis
Alexander Carmichael in his "Carmina Gadelica" Vol II, reports the fragment of this old Scottish Gaelic song, translating into English, and assuming that the author was a Macdonalds of the Isle of Skye. (a clan renowned for the poetic fame of its exponents of prominence)
Skye is probably the island of the Hebrides more similar to the land of Avalon, privileged location of many fantasy films, but more recently a inflated destination for mass tourism (with all the negative aspects of high prices, streets overcrowded by tourist buses and even to the most inaccessible destinations you risk finding yourself in a large company)
English translation *
I
Thou daughter of the king of bright-lit mansions,
On the night that our wedding is on us,
If living man I be in Duntulm
I will go bounding to thee with gifts.
II
Thou wilt get an hundred badgers dwellers in banks,
An hundred brown otters native of streams,
Thou wilt get an hundred wild stags that will not come/ To the green pastures of the high glens.
III
Thou wilt get an hundred steeds stately and swift,
An hundred reindeer  intractable in summer,
And thou wilt get an hundred hummelled red hinds,
That will not go in stall in the Wolfmonth of winter

Scottish Gaelic
I
A nighean righ nan roiseal soluis (1),
An oidhche bhios oirnne do bhanais,
Ma 's fear beo mi an Duntuilm (2)
Theid mi toirleum (3)  da d'earrais.
II
Gheobh tu ciad bruicean tadhal bruach,
Ciad dobhran donn, dualach alit,
Gheobh tu ciad damh alluidh nach tig
Gu innis ard ghleannaidh. (4)
III
Gheobh to ciad steud stadach, luath,
Ciad bràc (5) bruaill an t-samhraidh,
'S gheobh tu ciad maoilseach (6) maol, ruadh,
Nach teid am buabhall am Faoileach (7) geamhraidh
NOTES
* Alexander Carmicheall: evidently the composition of one of the Macdonalds of the Isles, several of whom were poets
1) roiseal soluis= fine bright light or display of light,
2) Duntulm  (Scottish Gaelic: Dùn Thuilm) is a township on the most northerly point of the Trotternish peninsula of the Isle Of Skye. The village is most notable for the coastal scenery coupled with the ruins of Duntulm Castle,
3) tòirleum: leum bras
4) Diana Gabaldon concludes the poem by adding a verse that recalls the comic situation created between the two protagonists "a hundred silver trout, rising from their pools"
5) bràc= brae= Beurla (reindeer)
6) bean an fhèid
7) Faoilteach= Wolfmonth, historical names for January include its original Roman designation, Ianuarius, the Saxon term Wulf-monath (meaning "wolf month")
The symbolism of matrimonial gifts is evident: the abundance of herds is auspicious for the fertility of the couple.
LINK
http://www.sacred-texts.com/neu/celt/cg2/cg2106.htm
http://www.electricscotland.com/books/pdf/carminagadelicah02carm.pdf
http://luideagbheag.blogspot.com/2016/11/a-nigheann-righ-nan-roiseal-soluis.html
https://www.thecastlesofscotland.co.uk/the-best-castles/scenic-castles/duntulm-castle/
https://50sfumaturediviaggio.com/2017/07/01/isola-di-skye-informazioni-generali/
https://50sfumaturediviaggio.com/2017/06/30/isola-di-skye-4-giorni-tra-le-nuvole/