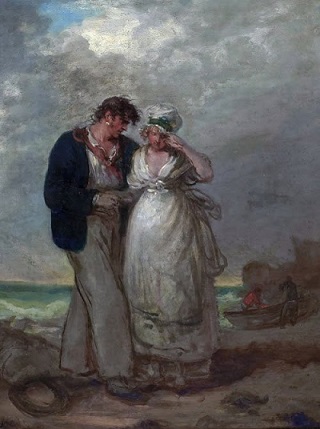 Anche con il titolo di "One morning in the Spring", "Early, Early in the Spring", "The Single Sailor" è una sea song di incerta origine riprodotta quasi in modo identico in alcune raccolte folk songs inglesi e americane (nella raccolta di Cecil Sharp in North Carolina la matrice è chiaramente appalachiana).
"Vaughan Williams heard this fine tune from a Norfolk singer, but he neglected to take all the words. Later, his widow filled out the text with verses from a set found by Cecil Sharp in North Carolina. Versions have turned up in various parts of Britain, from Aberdeen to Somerset, and at least one example has the hero present at the battle of Cartagena in 1739 (there's an account of the battle in Smollett's Roderick Random). The tune (a mixolydian-type hexatonic) became important in America, and variants have served for "Black Is the Colour of My True Love's Hair" and "The Trail to Mexic"o. "(A.L. Lloyd nelle note dell'album Farewell Nancy di Cyril Tawney 1964)
Il tema è quello degli innamorati separati dalla guerra e di un matrimonio combinato nel frattempo dalla famiglia per far sposare lei con un buon partito. Se il matrimonio con la donna che ama non sarà più possibile l'uomo prenderà il mare come marinaio e navigherà senza mai fermarsi ( formare una famiglia) fino alla sua morte. La melodia richiama quella di "Black is the Colour"
ASCOLTA Cyril Tawney in Farewell Nancy  1964
ASCOLTA Akronin in Rogue's Gallery: Pirate Ballads, Sea Songs, and Chanteys, ANTI- 2006.

I
It was one morning in the spring
I went on board to serve the king(1),
I left my dearest dear behind,
Who often times told me her heart was mine.
When I came back to her father's hall
Inquiring for my jewel all
Her cruel father, this reply
Her momma says if you deny
She has married another man
A richer man for all his life
A richer man for all his life
And he has made her his lawful wife
O' God curse gold and silver too
And all false women who won't prove true
For some will take and then will break
All for the sake of richery
II
O' stop young man don't talk too fast
The fault is great but none of mine
The fault is great but none of mine
Don't speak so hard of the female kind
If I had gold you might have part
As I have none you've gained my heart(2)
You've gained it all with free good will
So keep my vows and hold them still
Since hard fortune around me frowns
I'll sail this ocean round and round
I'll sail this ocean until I die
I'll quit my ways on the mountain high

traduzione italiano di Cattia Salto
I
Era un mattino di primavera
che andai per mare a servire il Re
e lasciai alle spalle il mio caro amore, che molte volte mi aveva donato il suo cuore.
Quando feci ritorno alla casa del di lei padre, chiedendo del mio gioiello,
suo padre, crudele, replicò così:
"Sua madre disse che voi l'avete rifiutata, e lei si è sposata con un altro uomo, un uomo ricco,
sposata per tutta la vita
e lui l'ha resa la sua moglie legittima" "Per dio siano maledetti l'oro e l'argento e tutte le false donne che non dicono la verità, perchè prima ti prendono e poi ti lasciano, tutto per la brama di ricchezza."
II
"Taci giovanotto non andare troppo avanti, la colpa è grande
ma non è stata mia,
non dire così male del genere femminile. Se io ho l'oro e tu devi andartene, tuttavia io non ho nessun altro, tu solo hai vinto il mio cuore,
l'hai vinto tutto con la buona volontà, così prendi le mie promesse e tienile ancora con te"
Da quando la mala sorte mi accompagna, andò per mare in tondo in tondo navigherò per l'oceano, finchè morirò è lascerò la mia strada in cima alla montagna.


NOTE
1) probabilmente la guerra anglo-spagnola (1739-1742) un conflitto coloniale che si svolse nel Mare dei Caraibi e nelle colonie meridionali del Nordamerica allo scopo di spezzare il dominio spagnolo sui territori delle Indie Occidentali.
2) qui la donna replica alle maledizioni lanciate dall'uomo dicendo di aver continuato ad amare sempre e lui solo

FONTI
https://mainlynorfolk.info/folk/songs/earlyearlyinthespring.html http://mudcat.org/thread.cfm?threadid=129736