"My heart's in the Highlands" is a rewrite of an old Scottish ballad penned by Robert Burns
Robert Burns had the ability to develop plausible stories from short fragments of old Scottish songs, as in "My heart's in the Highlands" of which only two verses (the first two of the refrain) are original.
The song was composed in 1790 and published in 'Scots Musical Museum', Volume III, (at number 259) edition of 1853 (cf) and the melody reported is a traditional one entitled "Faild na Miosg" (in English The Musket Salute) already collected by James Oswald in his "Curious Collection of Scots Tunes" of 1740 and in "Caledonian Pocket Companion" of 1759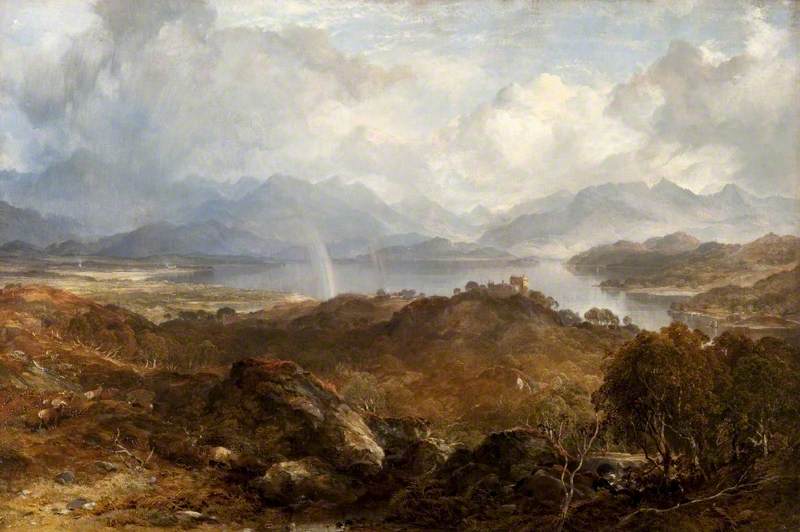 The desire of the protagonist is addressed to an idealized past in which he left his heart: in the refrain the theme of hunting rather than being a concrete desire is resolved as a romantic image of medieval ancestry. The memory is softened by the use of alliteration, in the second verse the much loved landscape is described as seen from above: first the mountain reliefs emerge, then the fertile valleys and the wild wood and finally the poet dwells on the streams and waterfalls that are the tears of the one who has to leave and knows that he will never return to the Highlands.
My heart's in the Highlands, my heart is not here,
My heart's in the Highlands, a-chasing the deer(1);
Chasing the wild-deer, and following the roe,
My heart's in the Highlands, wherever I go.
I
Farewell to the Highlands, farewell to the North,
The birth-place of Valour, the country of Worth;(2)
Wherever I wander, wherever I rove,
The hills of the Highlands for ever I love.
II
Farewell to the mountains, high-cover'd with snow,
Farewell to the straths and green vallies below;
Farewell to the forests and wild-hanging woods,
Farewell to the torrents and loud-pouring floods.
NOTES
1) As much as hunting the deer has been a human practice for the supply of food (combined alas with a certain delight) today it is a sport (!?) That takes place only in the mating period, from the end of August and up to the first week of October, because deer are more easily identified. We almost forget the Highland clearances or the exodus of the highlanders from their lands to make way for sheep and deer.
2) courage and value to be demonstrated in battle?
LINK