La tradizione del travestimento e dei
mimi travestiti
è molto antica e diffusa un po' per tutta Europa: uomini che indossano maschere e costumi tradizionali o estemporanei come quelli carnevaleschi (ma sempre ritualizzati) cantano, ballano, recitano (o mimano) per esorcizzare gli spiriti maligni e i demoni, di modo che ogni nuovo anno, possa iniziare purificato e carico di energia positiva.
Sono chiamati nelle isole britanniche "mummers" o "guisers", ma anche "morris dancers". continua
prima parte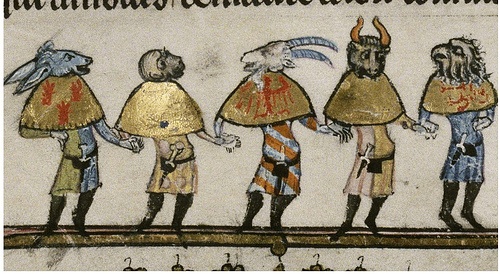 Nella festa di Mezz'Inverno i Mummers andavano a visitare i loro vicini di casa in casa, cantando e ballando, un'usanza solstiziale che richiama certe tradizioni celtiche di Samain.
I Mummers si accompagnavano con i musicisti nelle notti di Natale a fare fracasso e a suonare per le strade e davanti alle case (Wandering Waits) o con agili danzatori che si esibivano con le spade (sword dance) o con fazzoletti, campanelli o bastoni (Morris dance)

LA RECITA NATALIZIA
La recita, nata dalla tradizione popolare ma anche dai guitti di professione, narrava un  rito di morte-rinascita: i personaggi erano stereotipati, c'era il capo comico vestito da Spirito del Natale, c'erano il capitano turco ovvero l'infedele, San Giorgio il santo patrono dell'Inghilterra, il drago e il dottore. Con grida e urla il cattivo capitano sfida San Giorgio a duello e ovviamente muore. Ma il dottore lo riporta in vita e lo induce al pentimento. San Giorgio ingaggia la battaglia finale con il drago e lo uccide; ancora una volta il dottore riporta in vita la vittima, ma San Giorgio spiega che il drago nella storia muore e quindi lo uccide ancora e il drago, un drago malconcio e simpatico, muore con grande strepito.
SINGING THE TRAVELS
The Husbandman and the Servingman o Singing the Travels è un canto che faceva parte di una recita medievale di mummers dal titolo The Seven Champions of Christendom a Symondsbury nel Dorset. Una prima versione stampata si trova in The Loyal Garland, 1686 e nel Roxburghe Collection, vol. II., 188 (Collier's Roxburghe Ballads, p. 312), God speed the plough, and bless the corn-mow, &c., (melodia I am the Duke of Norfolk) che così inizia
"My noble friends, give ear,
If mirth you love to hear,
I'll tell you as fast as I can,
A story very true:
Then mark what doth ensue,
Concerning a husbandman."
Una versione più lunga, si trova in Sussex Songs di Lucy E. Broadwood e John Broadwood, (Londra 1890) e in Some Ancient Christmas Carols di Davies Gilbert (Londra 1823).
Nel Medioevo The Husbandman è l'uomo di campagna, cioè un contadino libero e piccolo proprietario terriero, letteralmente un padrone di casa. Il canto è un'accesa disputa tra le classi medie, che cointrappone vantaggi e svantaggi di essere un lavoratore indipendente oppure un servitore; così facendo si esaltano i piaceri dell'onesto lavoro in campagna.
ASCOLTA Silly Sisters (Maddy Prior e June Tabor)


I (Husbandman)
Well met, my brothers dear, all along the highway riding
So solemn I was walking along.
So pray come tell to me what calling yours may be
And I'll have you for a servant man.
II (Servingman)
Some serving men do eat the very best of meat
Such as cock, goose, capon and swan.
But when lords and ladies dine, they drink strong beer, ale and wine,
That's some diet for a servant man.
III (Husbandman)
Don't you talk about your capons, let's have some rusty bacon
And aye, a good piece of pickled pork
That's always in my house. A crust of bread and cheese –
That's some diet for a husband man.
IV (Servingman)
When next to church they go with their livery fine and gay
And their cocked hats and gold lace all around
With their shirts as white as milk, and stitched as fine as silk,
That's some habit for a servant man.
V (Husbandman)
Don't you talk about your livery, nor all your silken garments
That's not fit for to travel the bushes in.
Give me my leather coat, aye, and in my purse a groat,
That's some habit for a husband man.
VI (Servingman)
So me must needs confess that your calling is the best
And will give you the uppermost hand.
So now we won't delay but pray both night and day,
God bless the honest husband man.

Traduzione italiano di Cattia Salto
I (il contadino)
"Ben incontrato, mio caro fratello, che viaggiate lungo la strada maestra su cui così solenne stavo passando.
Così vi prego di dirmi quale possa essere il vostro mestiere che io vi prenderò (1) come servitore."
II (il servitore)
"Alcuni servitori mangiano la carne migliore come galletto, oca, cappone e cigno. Quando i signori e le signore pranzano essi bevono birra forte, birra leggera e vino,
questa è la dieta di un servitore."
III (il contadino)
"Non ditemi dei vostri capponi, piuttosto prendete un po' di pancetta affumicata e si, una bella fetta di prosciutto che non manca mai nella mia casa. Una crosta di pane e formaggio, questa è la dieta di un contadino."
IV (il servitore)
"Mentre verso la chiesa vanno, con le loro divise belle e vivaci
e i loro cappelli a tricorno bordati con trine dorate,
con le loro camice bianche come il latte e tessute così fini come la seta; ecco degli abiti per un servitore."
V (il contadino)
"Non ditemi della vostra livrea nè dei vostri abiti di seta, che non sono adatti per camminare in mezzo ai cespugli. Datemi la mia giacca di pelle e nella borsa un grosso (2); ecco gli abiti di un contadino"
VI (il servitore)
"Così devo confessare che il vostro mestiere è migliore
e vi darò la vittoria (3).
Così ora senza indugio preghiamo notte e giorno che Dio benedica l'onesto contadino.
NOTE
1) nel senso che secondo la sua opinione lo considera un servitore
2) groat (grosso) è una monetad'argento di vecchio conio (vedi)
3) vi passerò la mano

ASCOLTA Young Tradition


I
Well met, well met, my friend, all on the highway riding,
Though freely together here we stand.
I pray now tell to me of what calling this thou be
And art thou not a servingman?
II
Oh no, my brother dear, what makes thee to inquire
Of any such thing from my hand?
Indeed I will not frain but I will tell you plain:
I am a downright husbandman.
III
Well, if an husbandman you be, will you walk along with me,
Though freely together here we stand.
For in a very short space I may take you to a place
Where you may be a servingman.
IV
As to thy diligence, I give thee many thanks,
But nought do I require from thine hand.
But I pray now to me show wherefore that I may know
The pleasures of a servingman.
V
Well, isn't it a nice thing to ride out with the king,
With lords, dukes or any such men;
For to hear the horn to blow and see the hounds all in a row,
That's pleasures of a servingman.
VI
But my pleasure's more than that, to see my oxen fat
And a good stock of hay by them stand;
With my plowing and my sowing, my reaping and my mowing,
That's pleasures of an husbandman.
VII
But then we do wear the finest of grandeur,
My coat is trimmed with fur all around;
Our shirts as white as milk and our stockings made of silk:
That's clothing for a servingman.
VIII
As to thy grandeur give I the coat I wear
Some bushes to ramble among;
Give to me a good greatcoat and in my purse a grout,
That's clothing for an husbandman.
IX
But then we do eat the most delicate fine meat
Of goose, and of capon, and swan;
Our pastry's made so fine, we drink sugar in our wine,
That's diet for a servingman.
X
As to thy ducks and capons, give I my beans and bacon,
And a good drop of ale now and then;
For in a farmer's house you will find both brawn and souse,
That's a living for an husbandman.
XI
Kind sir, I must confess although it causes me distress
To grant to you the uppermost hand;
Although it is most painful, it is altogether gainful
And I wish I'd been an husbandman.
XII
So now, good people all, both be you great and small,
All knowing the king of our land;
And let us, whatsoever, to do our best endeavour,
For to maintain an husbandman.

Traduzione italiano di Cattia Salto
I
"Ben incontrato amico mio, che viaggiate lungo la strada maestra
anche se liberamente per qui insieme andiamo, vi prego di dirmi quale sia il vostro impiego,
non siete voi un servitore?"
II
"Oh no, mio caro fratello, cosa vi fa indagare
su una cosa del genere sul mio conto?
Tuttavia non indugerò ma parlerò spedito: io sono proprio un contadino"
III
"Bene se siete un contadino, potete camminare al mio fianco, così che liberamente insieme andiamo. Perchè in breve potrei portarvi in un posto
dove voi potreste essere un servitore"
IV
In quanto alla vostra diligenza, vi rendo molte grazie,
ma nulla richiedo dalla vostra
mano.
Piuttosto vi prego di mostrarmi, affinchè possa conoscere,
i divertimenti di un servitore"
V
"Beh non è assai piacevole andare a cavallo con il re con Signori, Duchi o uomini di tal fatta? per sentire il corno suonare e vedere i segugi tutti in fila
questo è il divertimento di un servitore"
VI
"Ma il mio divertimento è migliore di quello, guardare i miei grassi buoi
e una bella scorta di fieno stare ai loro piedi;
arare, seminare, mietere e falciare
questo è il divertimento di un contadino"
VII
"Eppure indossiamo la più bella magneficenza,
la mia giubba è tutta bordata di pelliccia;
le nostre camice sono bianche come il latte le nostre calze di seta;
ecco gli abiti per un servitore."
VIII
"Quanto alla vostra magneficenza, prendete piuttosto la giubba che indosso per camminare tra i cespugli. Datemi un buon pastrano e nella borsa un grosso(2); ecco gli abiti per un contadino."
IX
"Eppure mangiamo la carne più delicata e raffinata,
d' oca, cappone e cigno.
i nostri pasticci (4) sono così buoni
beviamo vino addolcito,
questa è la dieta di un servitore."
X
"Quanto alle vostre anatre e capponi, prendete  piuttosto i miei fagioli e pancetta e un bel sorso di birra di tanto in tanto; perchè nella casa del contadino si trova sia gelatina che sopressata (5), questa è la dieta di un contadino."
XI
"Gentile signore, devo confessare con rammarico, che avete vinto la mano;
sebbene con angustia, è tuttavia evidente che vorrei essere un contadino"
XII
Così ora brava gente, sia grandi che piccoli, che tutti conosciamo il re della nostra terra;
facciamo tutto il possibileper fare del nostro meglio
e sostenere un contadino.

NOTE
2) probabilmente sta per "in my purse a groat"
4) nelle tavole dei signori medievali erano comuni i pasticci di carne cioè delle crostate di pasta ripiene con carne tritata e spezie.
5) vari tipi di carne in gelatina vedi,
FONTI
http://ontanomagico.altervista.org/mumming.htm
https://terreceltiche.altervista.org/mumming-st-george/
https://mainlynorfolk.info/peter.bellamy/songs/thehusbandmanandtheservingman.html
http://www.finedictionary.com/husbandman.html
http://from-bedroom-to-study.blogspot.it/2012/12/the-comedic-capers-of merrymaking.html
http://www.hymnsandcarolsofchristmas.com/Hymns_and_Carols/
servingman_and_the_husbandman.htm
http://www.traditionalmusic.co.uk/folk-song-lyrics/Husbandman_and_Servingman.htm