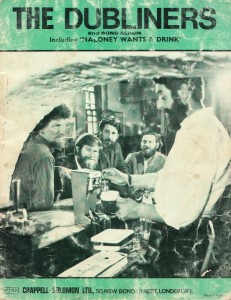 "Maloney wants a drink" è una drinking song da manuale scritta da Dominic Behan, in cui il nostro Paddy se fosse vissuto nel tempo biblico, avrebbe sedotto Eva, per poi abbandonarla … e andare in cerca di un altro "drink". Anche la seducente Salomè con la sua danza del ventre non riesce ad abbindolare Maloney che, da navigato uomo di mare, lascia una donna in ogni porto..
Dominic Behan ha scritto parecchie canzoni, alcune diventate molto popolari, questa è stata registrata dai Dubliners nel loro album uscito subito dopo il famosissimo "Seven Drunken Nights"  (vedi) intitolato "A drop of the Hard Stuff" (in italiano "Un goccio di roba forte"): il titolo è significativo perchè oltre a canzoni da pub, ce n'erano alcune filo IRA in chiave umoristica ma anche "Anti-British stuff"! L'album raggiunse il 5° posto nella hit parade britannica seguito da More of the Hard Stuff che rimase nella Top Ten per circa sei mesi.
Scrive Philip Kay definendo i Dubliners dei "freeborn men" nel suo blog (qui – articolo che vi consiglio di leggere tutto) "It's probably easy to dismiss it all now as "Irish drinking songs", but the mixture was a carefully calculated one, of bawdy drinking songs, some of the best songs by important contemporary songwriters like Behan and MacColl, many of which had social commentary as intransigent as anything Bob Dylan ever wrote, several pro-Irish and anti-British songs, and the whole sweetened by some of the most stirring yet melodious dance music heard from any Irish group."
The Dubliners in More of the Hard Stuff 1967


I
When Eve was in the garden,
Adam climbed an apple tree,
He went aloft up to the top,
to see what he could see.
He gazed in awe of what he saw,
fair made the poor man grieve.
For Patrick John Maloney stood there, whispering to Eve…
`Ah kiss me, love, and miss me, love
And dry your bitter tears.
My loving you`ll remember now
For many, many years.
Be happy love, be satisfied,
I left you in the pink(1).
There`s many a man that wants a bride.
Maloney wants a drink.`
II
Salome danced for Paddy,
taking off her seven veils.
Salome said "Maloney that's a trick that never fails."(2)
Malone put Salome`s own
clothing in a sack.(3)
`I`ll run along now to the pawn(4),
and bring your bottle(5) back.`
III
From London to Nebraska,
and from Glasgow to Hong Kong,
From Cardiff to Alaska,
from Peking to Saigon,
Wherever girls are lonely,
I know that in his role,
It`s there you`ll find Maloney,
a-waiting to console…

Traduzione italiano di Cattia Salto
I
Quando Eva era nel giardino dell'Eden, Adamo salì su un melo,
si arrampicò fino alla cima,
per vedere cosa gli riuscisse di vedere,
ma ciò che vide lo impressionò,
il pover uomo era proprio afflitto, perchè Patrick John Maloney se ne stava lì, sussurrando a Eva
"Ah baciami, amore, ti mancherò, amore, asciuga le tue lacrime tristi.
Il mio amore tu ricorderai
per molti, molti anni.
Sii lieta amore, e contenta,
ti ho lasciato in rosa,
c'è più di un uomo che desidera una sposa,
ma Maloney vuole un drink".
II
Salomè danzò per Paddy,
togliendosi i suoi sette veli.
Salomè disse "Maloney questo è un trucco che non fallisce mai."
Maloney mise il vestito di Salomè
in una sacca
"Farò la mia mossa
e ti riporterò la bottiglia."
III
Da Londra al Nebraska
e da Glasgow a Hong Kong,
da Cardiff all'Alaska,
da Pechino a Saigon,
ovunque ci siano ragazze sole,
stanne certo,
lì troverai Maloney,
in attesa di consolarle..

NOTE
1) in the pink: il significato di "essere in rosa" è quello di stare bene, in salute, ma anche "su di giri" nel senso euforico di chi ha bevuto qualche drink
2) la frase in altre versioni è detta da Paddy, ma a mio avviso ha più senso se detta da Salomè
3) significa che Paddy fa i bagagli per andarsene; il termine "own" è scritto in vari modi
4) letteralmente " Seguirò ora il pedone"
5) scritto a volte come "bundle"

FONTI
http://mudcat.org/thread.cfm?threadid=47622
https://phillipkay.wordpress.com/2011/07/09/freeborn-men/
http://itsthedubliners.com/ref_song_1967_sb.htm