Il testo originario, se mai vi è stato, è andato perduto ed è stato riscritto dal poeta scozzese Allan Ramsay, durante una sua passeggiata lungo le sponde del fiume Irvine, nei pressi del "Patrick's Mill", folgorato dalla bellezza di una contadinella intenta a stendere il fieno,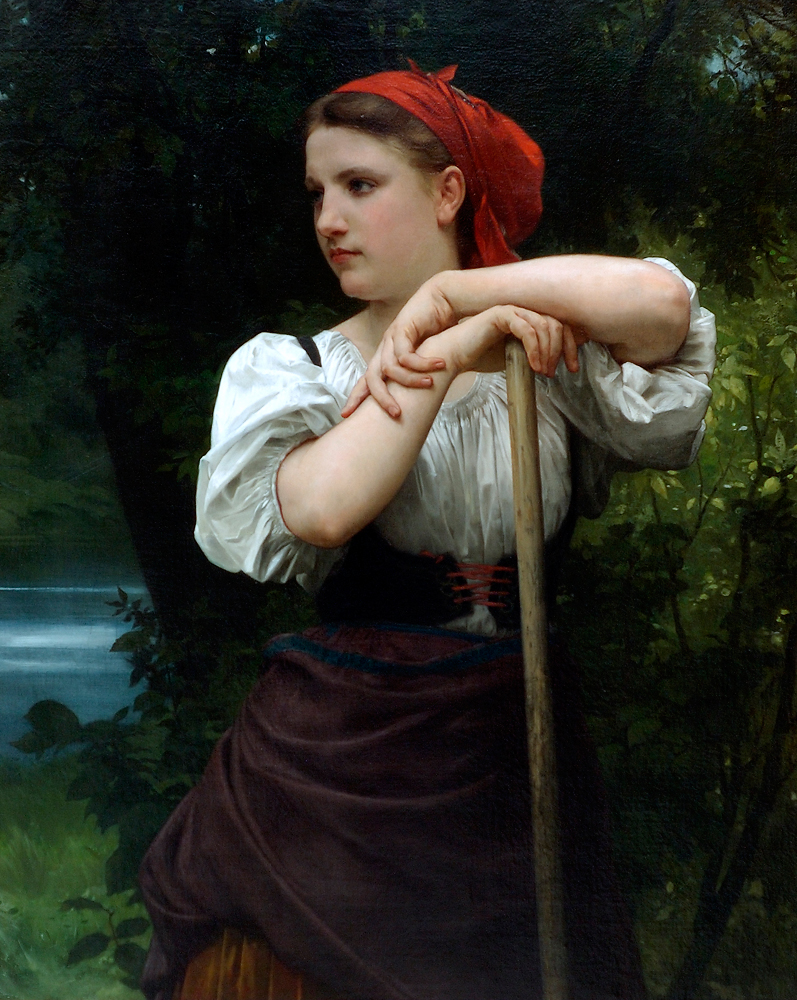 Come racconta Robert Burns, quella sera stessa Ramsay scrisse i versi adattandoli ad un'antica melodia.
"The Lass o' Patie's Mill is one of Ramsay's best songs. In Sir J. Sinclair's statistical volumes are two claims, one, I think, from Aberdeenshire, and one from Ayrshire, for the honour of this song. The following anecdote, which I had from the present Sir William Cunningham of Robertland, who had it of the late John Earl of Loudon, I can, on such authorities, believe: Alan Ramsay was residing at Loudon Castle with the then earl, father to Earl John; and one afternoon, riding or walking out together, his lordship and Allan passed a sweet romantic spot on Irwine water, still called Patie's Mill, where a bonnie lassie was tedding hay bare-headed on the green. My lord observed to Allan that it would be a fine theme for a song. Ramsay took the hint, and lingering behind he composed the first sketch for it, which he produced at dinner." (Robert Burns)
La canzone venne pubblicata nel Tea-Table Miscellany (1724-27) e compare nelle maggiori collezioni di musica scozzese del Settecento, fu proprio William Thomson nel Orpheus Caledonius (1725) ad attribuire la melodia a Davide Rizzo (o David Riccio come lo chiamavano in Scozia) musicista e compositore piemontese alla corte di Scozia nella metà del 500. John Gay per "L'opera del Mendicante" (1728) riprese la melodia e modificò il testo col titolo "I like the fox shall grieve".
Franz Joseph Haydn ne fece una trasposizione per violino, violoncello e pianoforte in forma di "Andante grazioso in do maggiore" opera 160 del 1800 e 160/a del 1804.
Un ulteriore rifacimento, sempre con altre parole, fu quello di J.R. Planche nel melodramma romantico "The vampyre or the bride of the isles", adattamento del famoso Vampiro di John William Polidori.
LA MELODIA

"The lass of Patie's Mill" o "Peggy's Mill" è conosciuta nelle isole Shetland come una scottish country dance, tanto per abbondare l'aria è stata anche attribuita a Turlough O'Carolan (vedi) ed è nota con il titolo di Carolan's Cap (da non confondere con Carolan's Cup che è un'altra melodia)
ASCOLTA Palladian Ensemble

ASCOLTA Ensemble 3 arrangiamento di Michael Langer per 4 chitarre

Michael Langer & Sabine Ramusch

Mentre la melodia è ancora in repertorio nella musica folk scozzese o nella musica classica/barocca, la versione cantata è più rara, oggi il testo ci fa sorridere, ma la bellezza della melodia resta immutata.
ASCOLTA Paul Elliott versione barocca (strofe I, II e IV)

ASCOLTA Rory e Alex McEwen in "Scottish songs and Ballads", 1958 (strofe I, III e IV) un arrangiamento più tradizionale


I
The lass of Patie's Mill,
So bonnie, blythe, and gay,
In spite of all my skill(1)
She stole my heart away.
When tedding of the hay,
Bare-headed(2) on the green,
Love 'midst her locks (3) did play,
And wanton'd in her e'en.
II
Her arms, white, round, and smooth.
Breasts rising in their dawn(4),
To age it would give youth,
To press them with his hand.
Thro' all my spirits ran
An extasy of bliss,
When I such sweetness fan'
Wrapt in a balmy kiss.
III
Without the help of art,
Like flow'rs which grace the wild,
She did her sweets impart,
Whene'er she spoke or smiled.
Her looks they were so mild,
Free from affected pride,
She me to love beguiled;
I wish'd her for my bride.
IV
O! had I all the wealth
Hopetoun's high mountains(5) fill;
Insured long life and health,
And pleasure at my will;
I'd promise and fulfil
That none but bonnie she,
The lass of Patie's mill
Should share the same
Traduzione italiano di Cattia Salto
I
La ragazza del Mulino di Pat
così bella, luminosa e gaia,
nonostante tutta la mia educazione (1)
mi ha rubato il cuore.
Mentre rivoltava il fieno
a capo scoperto (2) nel campo
Amore tra i suoi riccioli (3) giocava e anche capricciosamente in lei.
II
Le sue braccia, bianche tonde e lisce, seni che si sollevano nella loro alba (4), alla maturità darebbero la giovinezza,
a stringerli con la mano.
Di corsa tutto il mio umore si gettava
in un estasi di beatitudine
quando io patito di tale dolcezza,
ero avvolto in un bacio balsamico
III
Senza l'aiuto dell'arte
come i fiori che abbelliscono la natura, lei impartiva le sue grazie,
ogni volta che parlava o sorrideva.
I suoi sguardi erano così miti,
liberi dall'orgoglio vezzoso,
lei mi sedusse all'amore,
l'ho desiderata per mia sposa
IV
Oh, se avessi tutte le ricchezze
che le alte montagne di Hopetoun (5) soddisfano; lunga vita e salute assicurate, e il piacere a volontà;
prometterei di fare in modo che nessuna, ma solo lei la bella,
la fanciulla del Mulino di Pat condivida lo stesso.
NOTE
1) "skill" nel senso di signorilità, compostezza, padronana di sè, capacità di controllare i propri impulsi comportandosi secondo le buone maniere
2) lo spettacolo era certamente insolito perchè in genere le donne nei campi si coprivano il capo con un fazzoletto o un cappello di paglia, sia per ripararsi dai raggi del sole che dalla polvere
3) anche in Italia si collega il capello riccio con i capricci di femmina ("ogni riccio un capriccio")
4) se non intendo male la "metafora" il poeta vuole forse dire che i seni della contadina sono acerbi, come quelli di una ragazzina?
5) si riferisce alle montagne della località in cui è nato, rinomate per le miniere (vedi)
FONTI
http://thesession.org/tunes/6731
http://www.nigelgatherer.com/tunes/tab/tab6/lassp.html
http://digital.nls.uk/special-collections-of-printed-music/pageturner.cfm?id=94650504