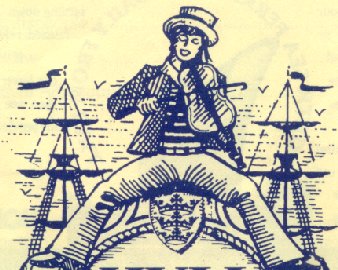 "(Jolly) Jack Tar" o "Jack Tar on Shore" è l'ennesima canzone del mare sullo stereotipo del marinaio:  è Jack Tar, un ubriacone e donnaiolo, forse lavativo e piantagrane, sempre pronto a fare a pugni.
A.L. Lloyd scrive nelle note dell'album "Blow Boys Blow":
Probably the commonest parable in sailor song is that of Jack in money and made a fuss of, while Jack without money is turned out of doors. The East Indiamen sailing out of London's Blackwall Docks had Jack Tar as their favourite homiletic ballad. The song, still much sung, has never appeared in any English printed collection, though two Nova Scotian versions have been published. The present set comes from Harry Cox, of Catfield, Norfolk, a living storehouse of folk song. (tratto da qui)
Il nostro marinaio è sbarcato a terra con le tasche gonfie, vuole fare festa in una locanda, ma quando i soldi finiscono la locandiera lo invita ad andarsene: parte la rissa, sedata dalla guardia notturna che convince il marinanio a riprendere il mare.
Dan Zanes w/ Broken Social Scene in Son Of Rogues Gallery 'Pirate Ballads, Sea Songs & Chanteys ANTI 2013


I
So come all you ladies gay
who delights in sailors' joy,
Come listen while I sing you a song.
When Jack Tar comes on shore
with his gold and silvery store,
There's no one can get rid of it so soon.
II
The first thing Jack require
is a fiddler to his hand
And likewise the best liquor
of every kind,
And a pretty girl likewise
with two dark and rolling eyes,
And Jack Tar is suited to his mind.
III
The landlady she comes in,
dressed all in her Sunday best,
She looked like some bright
and evening star.
She is ready to wait on him
when she finds he's plenty of tin,
Chalk him down, two for one
behind the bar.
IV
Now Jack all in his rage
he threw bottles at her head
And likewise all the glasses he let fly.
And the poor girl in her fright
called the watchmen of the night,
Saying, "Take this young sailor away."
V
Now Jack did understand
that a ship lay wanting hands (1)
And to her went straight down.
With a sweet and a pleasant gale
he unfurled his lofty sail,
Bid adieu to the lassies of the town.
VI
So he laid her on a tack
like a cutter(2) or a smack (3),
As she rolled from the lee
to the weather,
And we kept her full and by
just close to wind as she would lay,
We were bound for Blackwall (4)
in stormy weather.
traduzione italiano di Cattia Salto
I
Ventite tutte voi signorine allegre
che vi dilettate nel piacere dei marinai, venite ad ascoltare mentre canto una canzone: quando Jack Tar viene a terra con tanto oro e argento, nessuno se ne può sbarazzare troppo presto!
II
La prima cosa che Jack esige è un violinista al fianco,
e anche il migliore liquore di ogni marca,
e anche una ragazza graziosa
con due occhi scuri e vivaci, così Jack è attrezzato secondo la sua idea.
III
L'ostessa entra,
vestita con l'abito della festa
sembrava come una luminosa
stella della sera.
E' pronta, per servire proprio lui,
ma quando scopre che è pieno di monetine, lo sbatte giù, in un battibaleno, dietro al bancone
IV
Allora Jack tutto arrabbiato,
le tirava le bottiglie in testa
e anche tutti i bicchieri volavano;
e la povera ragazza per paura
chiamò la guardia notturna, dicendo "Portate via questo giovane marinaio!"
V
Ora Jack sapeva che una nave
aveva bisogno di marinai
e fece rotta verso di lei.
Con un vento dolce e piacevole dispiegò la sua vela maestra,
e disse addio alle ragazze della città.
VI
Così la fece virare
come un cutter o uno smack
mentre ruotava da sottovento
al vento,
e la tenevamo di bolina
stretta al vento come dovrebbe andare
eravamo diretti a Blackwall
con la tempesta.

NOTE
1) wanting hands: letteralmente "mani alla bisogna": credo che tutta la strofa sia a doppio senso e sia descritto un rapporto sessuale.
2) cutter sono le barche a vela veloci utilizzate come postali
3) smack: imbarcazione tradizionale da pesca delle coste inglesi, costruite e utilizzate in tutto il XIX secolo e nei primi anni del 20 esimo.
4) Blackwall è un quartiere dell'East End di Londra, parte del borgo di Tower Hamlets: Blackwall è stato un significativo porto nei secoli passati da cui partivano le navi dirette verso l'oceano
continua "Get up Jack! John, sit down!"
FONTI
https://www.8notes.com/scores/5045.asp
http://www.wtv-zone.com/phyrst/audio/nfld/21/jacktar.htm
https://mainlynorfolk.info/folk/songs/jacktaronshore.html
http://www.horntip.com/mp3/1990s/1993_sea_songs_and_shanties_[saydisc]_(CD)/23_jack_tar_on_shore.htm
http://porttowns.port.ac.uk/sailors-on-shore-leave/