TITOLI: Fair Maid all in her Garden, There Was A Maid In Her Father's Garden, Pretty, Fair Maid in the Garden, John Riley, Johnny Riley, The Broken Token, The Young and Single Sailor
La ballata è stata resa popolare con il titolo di John Reily da Joan Baez negli anni 60 (un bel po' di gruppi la proposero in quel decennio tra cui Simon&Garfunkel, Judi Collins ): è una classica storia d'amore di probabili origini seicentesche, in cui la donna resta fedele al suo amante o promesso sposo partito per la guerra o imbarcato su un vascello. La canzone viene classificata come reily ballad  perchè è strutturata in forma di dialogo tra il protagonista (sotto mentite spoglie) in genere chiamato John o George, Willie o Thomas Riley (Rally, Reilly) e la donna, specchiato esempio di fedeltà, e spesso compare un segno di riconoscimento ad esempio un dono scambiato o un oggetto spezzato a metà (altri esempi: "Her mantle so green", "The Banks of Claudy").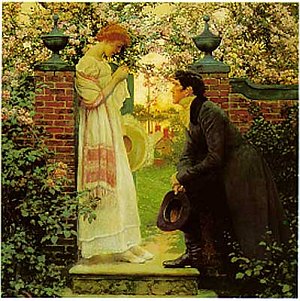 Nella maggior parte di queste storie l'uomo ritorna dopo molto tempo e, non riconosciuto dalla donna, mette alla prova la sua fedeltà corteggiandola. Ma la fanciulla rifiuta dicendo di non potergli dare il suo cuore perchè è in attesa del ritorno del suo vero amore. L'uomo così rassicurato, si rivela alla donna e i due coronano il loro amore con il matrimonio.
La storia richiama le figure archetipe di Ulisse e Penelope, quando Ulisse, che ritorna dopo vent'anni dalla guerra (e dalle sue peripezie nei mari) alla sua Itaca sotto mentite spoglie, non è riconosciuto dalla moglie, e la interroga per mettere alla prova la sua fedeltà. E' anche un tipico tema da romanzo, sugli uomini che ritornano dalla guerra cambiati nel fisico e nella psiche o che sono palesemente un'altra persona, accettata nonostante tutto dalla moglie per lo più per motivi pratici; la moglie finisce poi per preferire questa nuova o diversa persona al precedente marito!
L'origine del tema nella balladry inglese e americana è stata identificata nella ballata seicentesca dal titolo "The constant maids resolution: or The damsels loyal love to a seaman" ritrovata sotto il titolo di "The Constant Damsel" nel "The Vocal Enchantress" (Dublino 1791) e in varie pubblicazioni americane ottocentesche sotto vari titoli. Molte sono le versioni testuali con piccole variazioni abbinate a diverse melodie
PRIMA MELODIA: JOHN RILEY
Pur essendo un brano tradizionale è stato accreditato a Rick Neff e Bob Gibson (dei Byrds, la versione americana dei Beatles), nell'album "Fifth Dimension" del 1966 (vedi): in realtà la canzone era già stata registrata dalla folk singer americana Joan Baez nel suo secondo album  pubblicato nel 1960 con il titolo di "John Riley"; le note riportano brano tradizionale, arrangiamento di Joan Baez, è la sua versione ad essere diventata uno standard.
Broceliande

Iernis


I
Fair young maid all in her garden,
strange young man passer-by, he said:
«Fair maid, will you marry me?».
This answer then was her reply:
II
‒ Οh, no, kind   sir, I cannot marry thee,
for I've a love and he sails the sea.
Though he's been gone for seven years,
still no man shall marry me.
III
‒ What if he's in some battle slain
or if he's drowned in the deep salt sea?
What if he's found another love
and he and his love both married be?
IV
‒ Well, if he's in some battle slain
I will die when the moon doth wane.
And if he's drowned in the deep salt sea,
then I'll be true to his memory.
V
And if he's found another love
and he and his love both married be,
I wish them health and happiness,
where they dwell across the sea.
VI
He pickes her up in his arms so strong
and kisses gave her: One, two, three.
‒ Say weep no more, my own true love,
for I'm your long-lost John Riley!
traduzione italiano Cattia Salto
I
Una bella giovane fanciulla era nel giardino
e un giovane forestiero le venne vicino
"Bella fanciulla, vuoi sposarmi?"
e con questa risposta replicò
II LEI
"Oh no, gentile signore, non posso sposarvi
Poiché io ho un amore per mare,
anche se è via ormai da sette anni, (1)
e non sposerò nessun altro uomo"
III LUI
"E se lui fosse stato ucciso in qualche battaglia
o annegato negli abissi salati dell'oceano,
o magari avesse trovato un altro amore
e si fossero sposati? "
IV LEI
"Se è deceduto in qualche battaglia
io morirò al calar della luna
e se lui è annegato negli abissi salati dell'oceano,
sarò fedele alla sua memoria.
V
E se ha trovato un nuovo amore
e si è sposato con un'altra,
auguro loro salute e felicità,
ovunque vivano aldilà del mare "
VI
Lui la prese tra le sue forti braccia
e le diede uno, due e tre baci
"Non piangere più, amore mio
perchè io sono il tuo a lungo perduto John Riley"
NOTE
1) sette è un numero ricorrente nelle ballate per indicare la durata di una separazione. Il riferimento al numero sette non è casuale: è un numero magico o simbolico legato alla morte o al cambiamento. Un tempo la ferma del servizio militare durava sette anni, se un marito partiva per la guerra e non tornava entro i sette anni, la moglie poteva risposarsi.
seconda parte continua
FONTI
http://mudcat.org/thread.cfm?threadid=15555
http://mudcat.org/thread.cfm?threadid=67277