Una sea song sulla nave The Dreadnought  il postale americano varato nel 1853, fiore all'occhiello della Compagnia Marittima "Red Cross", soprannominato "The Wild Boat of the Atlantic": compagnie concorrenti come la Swallow Tail e la Black Ball non riuscirono mai a superare le sue prestazioni. Eppure l'epoca dei grandi velieri era finita e la sua vita sembra essere il canto del cigno.
Una croce rossa, logo della compagnia era disegnata sulla vela di parrocchetto (la vela intermedia dell'albero di trinchetto), e poteva portare fino a 200 passeggeri.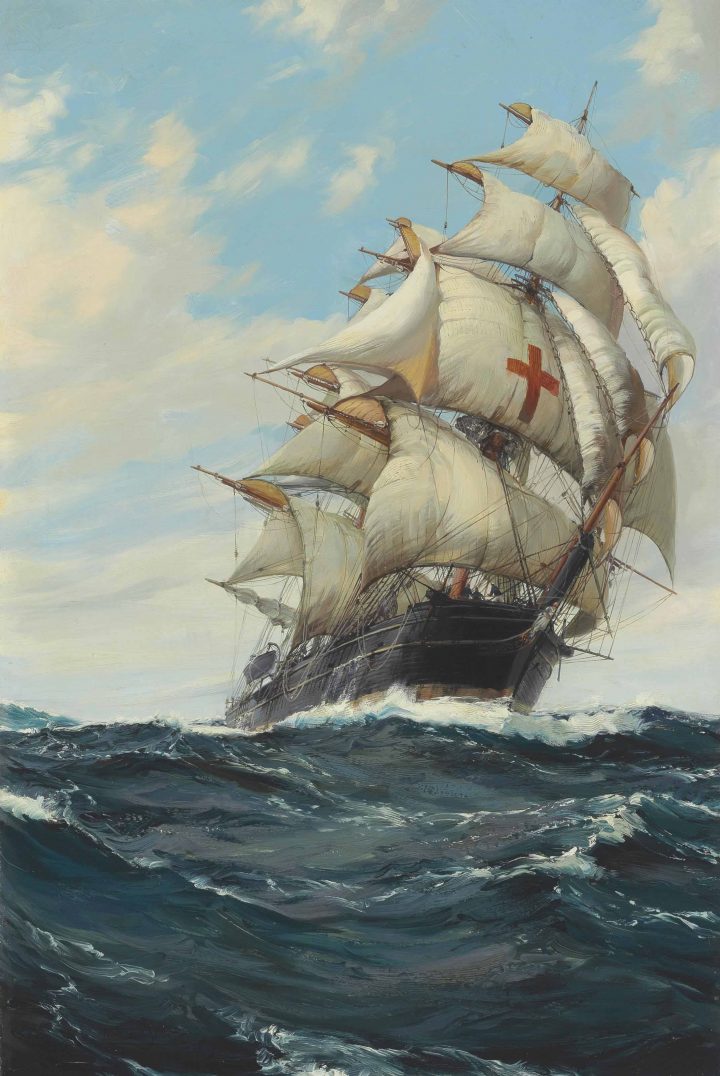 The Dreadnought fece rotta nell'Atlantico, per lo più nella tratta New-York-Liverpoo, fino al suo naufragio al famigerato Capo Horn dopo che era salpata da Liverpool per San Francisco (1869).
Derry Down, Down, Derry Down
Secondo Stan Hugill era una forebitter cantata sulla melodia nota come "La Pique" o "The Flash Frigate" (che richiama "Villikins and His Dinah"). Anche Kipling nel suo libro "Capitani Coraggiosi" la fa cantare dai pescatori sui Banchi di Terranova.
Nella versione capstan shanty si aggiunge un ritornello più lungo cantato in coro
Bound away! Bound away! 
where the wide [wild] waters flow,
Bound away to the west'ard
in the Dreadnaught we'll go!

La melodia con cui è associata la shanty non è univoca essendo utilizzata anche l'aria "The Dom Pedro". La versione forebitter porta il ritornello di un solo verso, una frase nonsenso talvolta utilizzata nelle ballate più antiche. La melodia è mesta, pur decantando i pregi della nave, sembra essere un compianto alla memoria di una nave famosa per le sue prestazioni, conclusasi nel naufragio. E' anche un addio all'epoca dei velieri, oramai surclassati dalle navi a vapore.
Ewan MacColl

Iggy Pop & Elegant Too  in "Son Of Rogues Gallery 'Pirate Ballads, Sea Songs & Chanteys" ANTI 2013


The Dreadnoughts, la band di Vancouver ha preso il nome non dal postale ottocentesco ma da una innovativa nave da battaglia detta "corazzata monocalibro" sviluppata a partire dai primi anni del XX secolo (Dreadnought, dall'inglese "non temo nulla") strofe (I, III, IV, V) il piglio alla "pogues" la trasforma in un lament rock

Versione completa (qui)
I
There's a flash packet,
a flash packet of fame,
She hails to (from) New York
and the Dreadnought's her name;
She's bound to the westward
where the strong winds blow,
Bound away in the Dreadnought,
to the westward we go.
Derry down, down, down derry down.
II
Now, the Dreadnought
she lies in the river Mercey,
Waiting for the Independence
to tow her to sea;
Out around the Rock Light
where the salt tides do flow,
Bound away to to the westward
in the Dreadnought, we'll go.
III (1)
(O, the Dreadnought's a-howlin'
down the wild Irish Sea,
Her passengers merry,
with hearts full of glee,)
As sailors like lions
walk the decks to and fro,
She's the Liverpool packet,
O Lord, let her go!
IV (2)
O, the Dreadnought's a-sailin'
the Atlantic so wide,
While the high roaring seas
roll along her black sides,
(With her sails tightly set
for the Red Cross to show,
She's the Liverpool packet,
O Lord, let her go!)
V
Now, a health to the Dreadnought,
to all her brave crew,
To bold Captain Samuel (3),
his officers, too,
Talk about your flash packets,
Swallowtail and Black Ball (4),
The Dreadnaught's the flier(5)
that outsails them all.

Traduzione italiano di Cattia Salto
I
C'è un postale veloce
un postale veloce rinomato
che salpa per (da) New York
e si chiama la Dreadnought
Fa rotta per l'Occidente
dove colpiscono i venti di tempesta
imbarcati sulla Dreadnought
verso Occidente andiamo.
Derry down, down, down derry down
II
La Dreadnought
è in rada nel fiume  Mercey
in attesa dell'Independence
che la rimorchierà fino al mare;
oltre il Faro
dove s'alza la marea
imbarcati sulla Dreadnought
verso Occidente andremo
III
La Dreadnought fa vela
verso il Mare d'Irlanda
I suoi passeggeri felici
con i cuori pieni di gioia
mentre i marinai come leoni
camminano sui ponti indaffarati
E' il postale di Liverpool
per Dio, fatela andare!
IV
La Dreadnought naviga
l'oceano Atlantico
mentre le onde alte ruggiscono
e scorrono lungo le sue fiancate
con le vele dispiegate
per mostrare alla Red Cross
che è lei il postale di Liverpool
per Dio, fatela andare!
V
Alla salute della Dreadnought
e a tutta la sua ciurma di bravi
al valente Capitano Samuel
e anche ai suoi ufficiali
e riguardo i vostri veloci velieri
Coda Forcuta e Palla Nera
la Dreadnought  è il postale
che li supera tutti.

NOTE
1)  i Dreadnoughts dicono invece
With the gale at her back/ What a sight does she make
A skippin' so merry/With the west in her wake
2)  i Dreadnoughts dicono invece nella seconda parte della strofa
With her sails tight as wires/And the Black Flag to show
All away to the Dreadnought/To the westward we'll go
3) il suo primo capitano si chiamava Samuel Samuels, "In his own words: "Swearing, which appeared to me so essential in the make-up of an officer, I found degrading in a gentleman and I prohibited its indulgence. I also insisted that the crew should be justly treated by the officers." He seems to have known when to turn a blind eye to the particular brand of justice which had to be handed out to over-troublesome "packet rats" by his mates. To the passengers and his officers he was the model of the young clipper captain, respected, well-groomed and quietly spoken, but always perfectly self-confident and calm in an emergency. The Dreadnought undoubtedly owed her conspicuous success at a difficult time to the personality of her master.(tratto da qui)  i Dreadnoughts dicono " To bold captain Willy"
4) compagnie concorrenti alla  "Red Cross Line"
5) scritto come flier o flyer, ho preferito tradurre con la tipologia di nave
LA VERSIONE DI STAN HUGILL
Hulton Clint la canta sulla melodia  "Dom Pedro." E' la versione più estesa della precedente, con alcune variazioni (ho ancora delle difficoltà nella trascrizione a distinguere alcune frasi)


I
There's a saucy wild packet,
a packet of fame;
She belongs to New York,
and the Dreadnought's her name;
She is bound to the westward
where the wide water flow;
Bound away to the west'ard
in the Dreadnought we'll go.
Chorus
Derry down, down, down derry down
II
The time of her sailing
is now drawing nigh;
Farewell, pretty maids,
we must bid you good-bye;
Farewell to old England
and all we hold dear,
Bound away in the Dreadnought,
to the west'ard we'll steer.
III
And now we are hauling
out of Waterlock dock,
Where the boys and the girls
on the pierheads they do flock;
They will give us their cheers
as their tears they do flow,
Saying, "God bless the Dreadnought, where'er she may go!"
IV
Now, the Dreadnought she lies
in the Mersey so free,
Waiting for the Independence
to tow her to sea,
For to around that rock light
where the Mersey does flow,
Bound away in the Dreadnought,
where'er we'll go.
V
Now the Dreadnaught's a-howling
down the wild Irish Sea,
Where the passengers are merry,
their hearts full of glee,
her sailors like tigers
walk the decks to and fro,
Bound away in the Dreadnought,
to the west'ard we'll go
VI
Now, the Dreadnought's
a-sailing the Atlantic so wide,
While the high rolling seas
roll along her black sides,
With her topsails set taut
for the Red Cross to show
Bound away in the Dreadnought,
to the west'ard we'll go
VII
Now the Dreadnought's has reached the banks of Newfoundland,
Where the water's so green
and the bottom so sand;
Where the fish in the waves
They swim to and fro,
Bound away in the Dreadnought,
with the ice and the snow
VIII
Now the Dreadnought's lying
on the long .. shore
??
as we have done before
? your main topsail ?
Bound away in the Dreadnought,
to the west'ard we'll go
IX
And now we arrived
in New York once more,
We'll go to the land we adore,
we call for strong liquors
and merry we'll be
Drink to the health to the Dreadnought, where'er she may be.
X
So here's health to the Dreadnought
and all her brave crew;
To bold Captain Samuels
and his officers too.
Talk about your flash packets, Swallowtail and Black Ball,
but the Dreadnought's
he clipper to beat one and all
XI
Now my story is finish
and my tale it is told
forgive me, old shipmates,
if you think that I'm bold;
for this song was composed
while the watch was below
and at the health
in the Dreadnought we'll go.

Traduzione italiano di Cattia Salto
I
C'è un postale biricchino
un postale  rinomato
che appartiene a New York
e si chiama la Dreadnought.
Fa rotta per l'Occidente
dove scorrono i flutti impetuosi,
verso Occidente imbarcati
sulla Dreadnought andremo.
Coro
Derry down, down, down derry down
II
Il tempo della partenza
si avvicina
Addio belle fanciulle,
dobbiamo dirvi addio,
addio vecchia Inghilterra
e a tutti  i nostri cari
imbarcati sulla Dreadnought
verso Occidente faremo rotta
III
Ora leviamo l'ancora
dal molo di Waterlock
dove i ragazzi e le ragazze
si ammassano sulla banchina
ci saluteranno con gli applausi
mentre faranno scorrere le lacrime
dicendo " Dio benedica la Dreadnought ovunque vada"
IV
Ora la Dreadnought
è in rada nel fiume  Mercey
in attesa dell'Independence
che la rimorchierà fino al mare;
per superare il Faro
dove il Mersey s'alza
imbarcati sulla Dreadnought
verso Occidente andremo
III
La Dreadnought fa vela
verso il Mare d'Irlanda,
i suoi passeggeri felici
con i cuori pieni di gioia,
mentre i marinai come tigri
camminano sui ponti indaffarati
imbarcati sulla Dreadnought
verso Occidente andremo
IV
La Dreadnought naviga
l'oceano Atlantico
mentre le onde alte ruggiscono
e scorrono lungo le sue fiancate
con le vele dispiegate
per mostrare la Croce Rossa
imbarcati sulla Dreadnought
verso Occidente andremo
V
Ora la Dreadnought  ha raggiunto
i Banchi di Terranova
dove l'acqua è così verde
e il fondale è sabbioso
dove i pesci nel mare
nuotano a frotte
imbarcati sulla Dreadnought
con ghiaccio e neve
VIII
Ora la Dreadnought è in rada
sulla lunga spiaggia ..
?
come abbiamo già fatto prima
?
imbarcati sulla Dreadnought
verso Occidente andremo
IX
E ora  che siamo arrivati
ancora una volta a New York,
andremo nella terra che adoriamo,
a ordinare liquori forti
e felice saremo
a bere alla salute della Dreadnought,
ovunque vada
X
Alla salute della Dreadnought
e a tutta la sua ciurma di bravi
al valente Capitano Samuel
e anche ai suoi ufficiali
e riguardo i vostri postali rapidi
Swallowtail e Black Ball,
la Dreadnought
è il clipper che li supera tutti.
XI
Ora la mia storia è finita
e ho raccontato tutto
perdonatemi vecchio compagni
se credete che sia stato audace;
perchè questa canzone è stata composta nel turno di riposo
e alla salute della Dreadnought
FONTI
http://www.fresnostate.edu/folklore/ballads/LD13.html
http://www.shippingwondersoftheworld.com/dreadnought.html
http://www.traditionalmusic.co.uk/sea-shanty/Dreadnought.htm
http://www.contemplator.com/sea/dread.html
http://www.musicanet.org/robokopp/shanty/isingofa.htm
http://czteryrefy.pl/data/dskgrtx/teksty/eteksty/eng_flashfrigate.html
http://www.boundingmain.com/lyrics/dreadnaught.htm
https://mudcat.org/thread.cfm?threadid=62355
https://mudcat.org/thread.cfm?threadid=85200